Motif XS, XS6, XS7, XS8 Digital Synthesizer + workstation sequencer
Yamaha
MotifXS/XS6/XS7/XS8
SPECS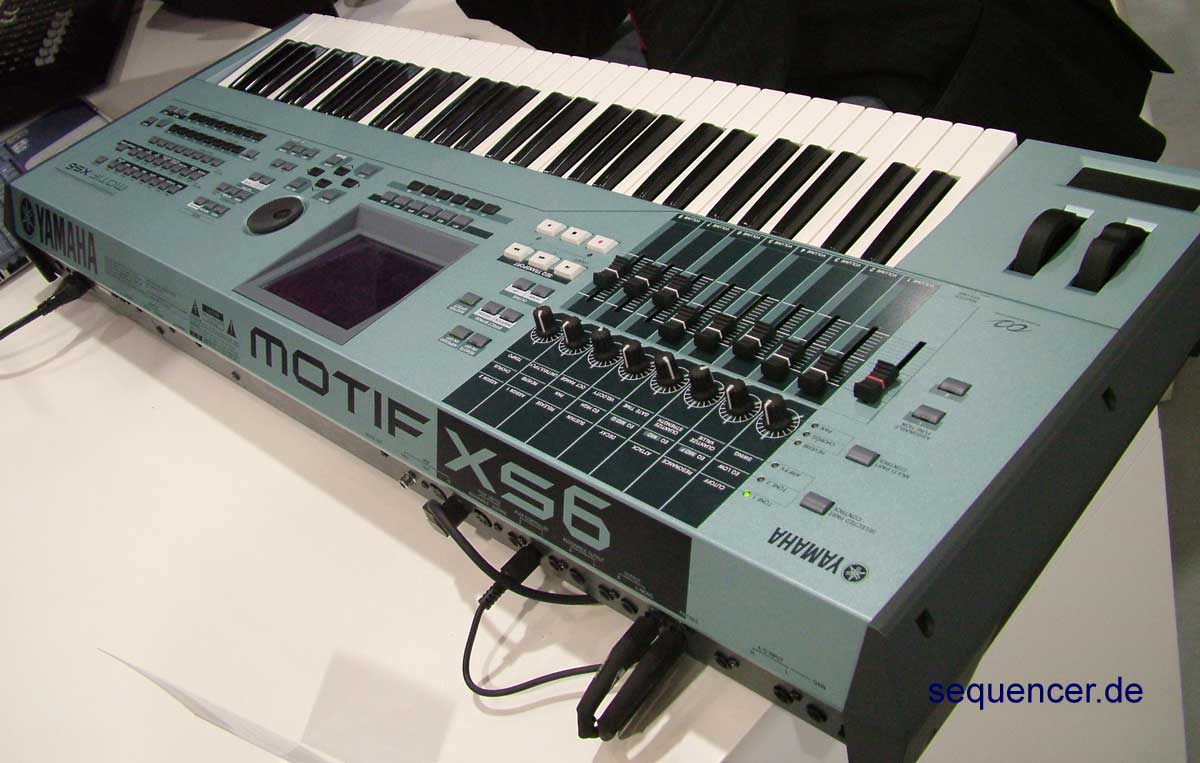 Motif 6 Motif 7 Motif 8.. here is the Motif Rack.
click image to enlarge - Bild klicken zum vergroessern
other YAMAHA gear..


ABOUT this is the most modern Motif, the XS seris.Yamahas anwer to Fantom Series and Triton, also with Sampling and USB, ES Version 128 voices, non ES Motifs are 64 voices, MO Version also newer version without PLG expansion slots..
ABOUT Letzte Inkarnation von Yamahas grosse Workstation, Konkurrent zu Triton und Fantom mit ähnlichen Möglichkeiten inkl Sampling und USB, Die ES Version war 128stimmig, ohne ES 64stimmig, MO Version abgespeckt ohne "PlugIn-Hardware (PLG Module)"-Möglichkeit und 64 Stimmen..
ABOUT
DETAILS layers possible, easy USB or firewire data exchange. Ethernet and Firefire for Audio (optional Firewire in XS 6/7). Work fine for Audio 16outs/6ins. usb for MIDI emulating 3 ports, so no audio via usb which is fine. per layer LFO works as 16step sequencer. has 8 Layers instead of 4 as it's prdecessor the ES series and it has ethernet.
DETAILS layerbar und natürlich austausch von samples via USB und firewire, sehr bequem. 8fache Layer sind möglich, Ethernet und Firewire sorgen für anständige Audioverbindung zum Rechner und Datentausch, USB ist für 3 Midi Port Emulation da. Firewire ist Option in SX6 und 7. der hauptLFO kann als 16 step sequencer arbeiten. ist fast audio-schnell, aber nur fast, hüllkurven ok, recht schnell.

gegenüber ES zwar nicht mehr mit PLG Boards ausrüstbar, dafür 8 Layers statt 4 und Ethernet Anschluss.
DETAILS
SOUND bread + butter + samples
SOUND brot und butter + samples
SOUND
VERSION rackversion + keyboard size motif 6,7,8 for 61,76 and 88 keys. half voice version: "MO". XS and ES Versions
VERSION rackversionen + verschiedene keyboardgrößen motif 6,7,8 für 61,76 und 88 tasten, MO: neuere abgespeckte Version. ES und XS Versionen
VERSION