RM1x groovebox + TR sequencer
SPECS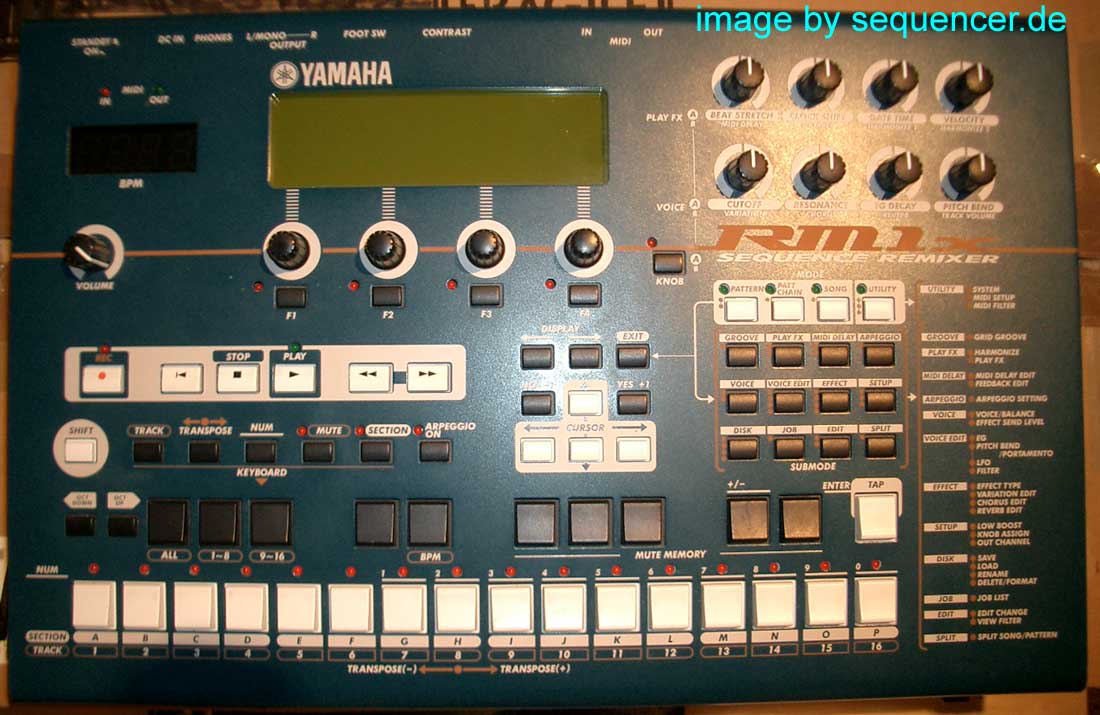 Yamaha rm1x pic thx to Kaneda.
click image to enlarge - Bild klicken zum vergroessern
other YAMAHA gear..


ABOUT the RM1x is a Rompler Version of the later RS7000 Sampling Groovebox. It can be edited in Realtime
ABOUT Die RM1x ist quasi die Rompler-Version der RS7000 mit Lauflicht und Realtime-Sequencer. Schwerpunkt ist das Arrangieren an der Maschine und recht schnelles Umsetzen von musikalischen Ideen. Klangerzeugung ist rel. gewöhnlicher Rompler-Standard mit leicht muffigem Grundklang.
ABOUT
DETAILS the V1.2 update of the RS7000 wasn't available for the rm1x, so it has still lpf filters and no real easy to use grid mode (chase light seq). anyway, it is a good arrangement tool still. easy to use. 3 envs for pitch,filter, amp. and one LFO with lots of waves, as most Yamaha romplers do..
DETAILS Die V1.2 Software der RS7000 greift hier leider nicht, daher ist der Lauflichtmode etwas eingeschränkt und noch keine Multimodefilter, dennoch ist Arrangieren sehr angenehm gelöst und MIDI outs können auch externe Synthesizer ansteuern. Der Rompler ist rel. einfach aber für eine Groovebox schon recht vollständig.
DETAILS
SOUND grooves, beats
SOUND grooves, beats und co..
SOUND