german
ANALOGUE SYNTH + DRUMCOMPUTER
first there are jomox.de,they did the fab SUNSYN (audiodemos? here), that is an 8 voice real analogue synth of modern times. so it's the hardest andromeda compatitor atm among the NEW real analog synths!
it has even real analogue envelope genereators, and a special filter: you got four 6pole filters (hpf or lpf switchable!) every pole can be adjusted and "morphed". 2 VCOs and 2 digital RCOs with some digital waveforms (atm no modulation of waveforms to make a wavetable scan like the waldorf or ppg synth do, but is planned)


in GERMAN/DEUTSCH:
jomox sunsyn und alesis andromeda A6 im subjektiven vergleich "aus dem kopf" zu lesen hier sunsyn vs. andromeda
JOMOX Xbase 09 und airbase 99 hier
airbase and jazbase have been sold out now - xbase went into the last 500pcs production to end that xbase / airbase line after that..

the drumcomputers and analog sound modules for drumsounds are also very deep and good sounding ones with 16 step tr-style sequencer - you can chain some patterns for longer patterns - mine had some problems when you did not start at the first pattern in that chain, but it is better than others.. (exept the korg electribe, yes!!) .. (plus 3 mono-melodies). has 3 voice polyphony but you can program every step, so you can get an impression of having 16 different snares or bassdrums! one of the best features on the xbase 09 (german info/deutsche info zur JOMOX Xbase 09 und airbase 99 hier). the sampled stuff (hihats and some typical stuff) can only played by ONE instrument at the same time! so this is a monophonic "sampler".. dr.walker and some others did a special edition with airbase board inside with some individual samples inside.. well.. you can hear the hihats, but if you want to programm one of the other samples it is possible but not really priority on this machine.. but for the analog sound source: this is the best tr909 replacement one can get right now. airbase (the rack) and xbase audio here

want another very analogue drumsynth? the fricke mfb502 has very "vintage" but good sounding cr78-kind of feeling.. imo with a bit more punch. built in sequencer. they also did some sort of the future retro 777 - a very small and good sounding synth (called the MFB-SYNTH and mfb synth lite! you will be exited by this little synth..)

of course I should mention our Semtex synth module quite like a SEM (oberheim),with FM, sync, 2 subOSCs, etc..

drumsynth? find the vermona drm2 test here (successor of the mam adx 1)! (german) but the sounddemos are free and no matter what language.. more the "new wave style of sound"..
also find the vermona perFOURmer (per4mer) here, too.. (review and audio) very special synth!.. some sort of monopoly, 4 voice and semi-something-modular ;) think different here!! vermona is a former east german company (indeed it is the haller family).

the only polyphonic east german (GDR) synthesizer was some sort of a korg poly61 clone. the 6voice 2VCO tiracon 6V, it had digital control quite like the poly61 and poly800 synthesizers from korg.


the other one is the vermona synthesizer - with a moog ladder and one special feature (see m.a.r.s): glide per VCO (so any of those 2 VCOs could be set a separate glide time)

not german, but: there is another fine small synth - not hear so far - no hands on so far.. dave smith's evolver! monosynth with lots of envelopes and features close to the prophet VS..
what is it?

last but not least: the most and well known modular system manufacturer doepfer! possibly the largest offer of modules ever seen!

eine kleine site für reparaturen und kleine sequencer.. hier
ANALOGUE SYNTH and DRUMCOMPUTER
from germany..
NEW: Xbase 999 - has now full Set of 16 Instruments per Pad, Toms, BD;SDs from the xbase 09 and all instruments are polyphonic, the sequencer is still like the xbase 09 one, but "larger" , and 5 external tracks can be controlled by the new xbase 999.
it's still all analogue exept the hihats etc, which are 8bit samples as you might thinkk ;)
16 controls, endless encoders and still the very cool step programming for each instrument.. means: you can give each step another set of parameters..it has a/b mode now, so it is 32steps each of max 128 patterns.. maybe you can still chain patterns together to have 64 or up to 99 steps as on the old xbase.. and replace the sounds via sample dump standard.. not perfect but far better than ever and maybe this features wasn't meant to be used as the electribes "on the fly" sample xchange..
filter for ext. audio.
this thing is going to be the real "new TR909"..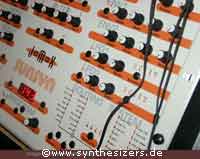 the jomox sunsyn seems final now!!..
well sounding machine..
but will be cancelled soon in 2005 or something..

sunsyn info / big picture (deutsch/german) HIER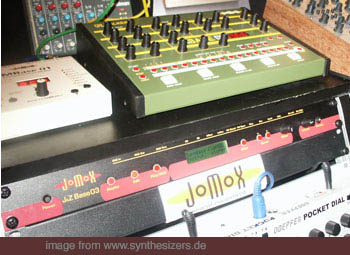 jomox : mbase , dr. walkers xbase edition and the jazbase..
hier info in deutsch. //
audio demos of TOKTOK xbase are here

mehr über jomox drum maschinen und synthesizer
more jomox drum sounds/drummachines hier / here



NEURONIUM RESONATOR
experimental neuronal system
sold for around 2500 - about 20pcs will be made..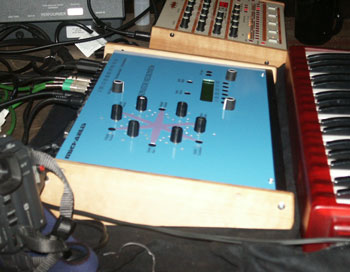 more on this here: RESONATOR
VIDEO - HEAR IT - follow the link: or click here

and basic info on new synthesis product here

new neuronium version.. click here..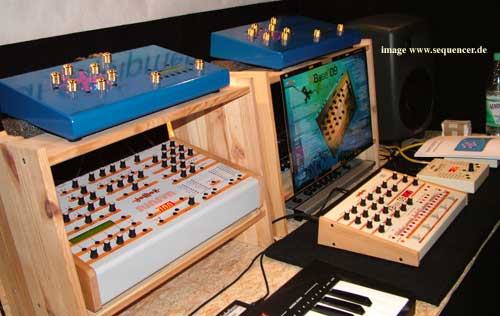 more german synths..
PPG
Waldorf , Hartmann
Jomox (this site and more.. Jomox Drums )
+ Jayemsonic , Neuronium
MFB / fricke
Vermona
SemTeX
syntec / banana
Doepfer
Boehm (Böhm)
BME / Axiom
Curetronic

Rüdiger Lorenz / Loran Synth.. (no pic here, unique DIY)
and more.. most have their own section, use the menu (or click the links) to go there..