Educational , Modular Synthesizer Lab Modular Synthesizer
ARP
Educational/ModularSynthesizerLab
SPECS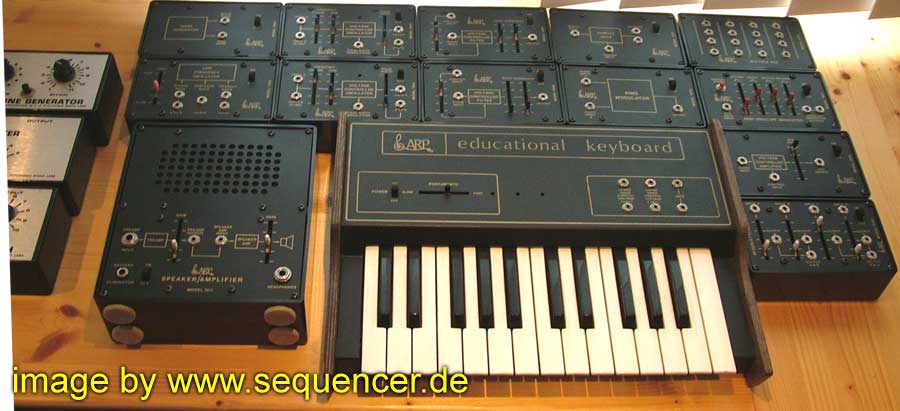 ARP Modular Synthesizer Lab
click image to enlarge - Bild klicken zum vergroessern
other ARP gear..


ABOUT the system is a number of modules that are not mounted in a cabinet or rack but like stomp boxes but everything is there to make a cmplete modular system. for educational use - the keyboard is simple: 2 octaves monophonic and with "educational keyboard" written in big letters..

no idea about the price.. so this time it is just phantasy.
ABOUT ein System aus einzelnen Modulen, die wie "Tretminen" per Patchkabel verpatcht werden, Baujahr.

einen preis weis ich nicht. daher ist er fantasie.
ABOUT
DETAILS these modules are freely arrangeable so it is unlimited - I am not sure if there was a multimode filter for this system?
DETAILS die module sind offenbar frei zu kaufen gewesen, daher theoretisch unlimiert durch irgendwas.. bin nicht sicher, ob es wirklich all diese filtermodi gibt.. evtl nur LPF 24dB/oct.
DETAILS
SOUND well if you get these you are a collector, right? nice modular..
SOUND wer sie bekommt, ist wohl sammler - selten!
SOUND