Quadra Analog Synthesizer + simple sequencer
SPECS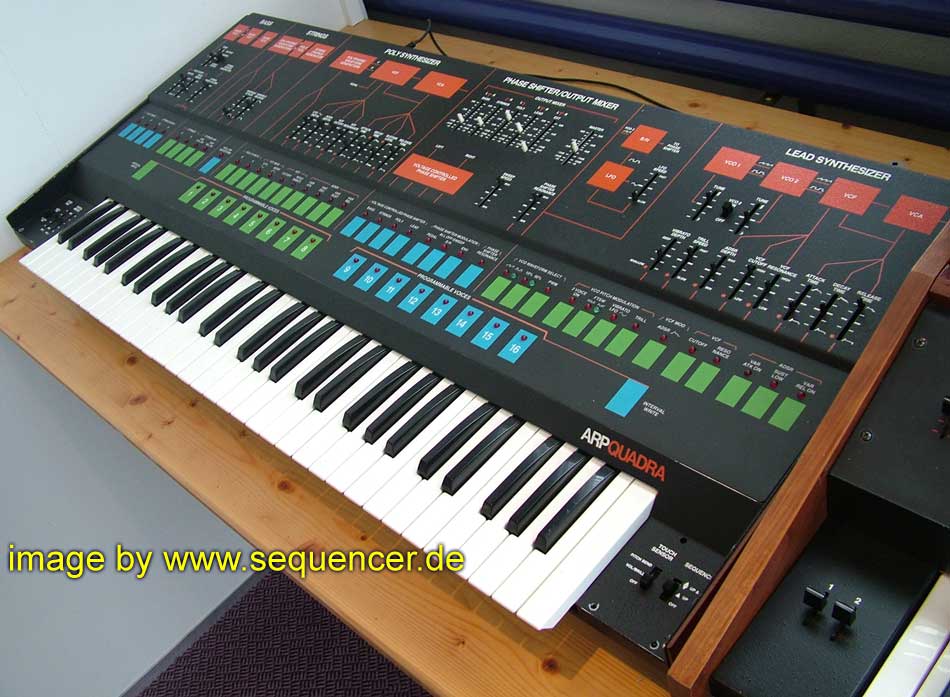 Quadra
click image to enlarge - Bild klicken zum vergroessern
other ARP gear..


ABOUT kind of 70ies Workstation with 4 Sections: Bass (mono), Lead (duophonic), String and Poly, of course it's a bit reduced to a minimum but just think , when this thing was made!
ABOUT Eine Art Workstation mit 4 Sektionen: Bass (monophon), Poly, Lead (duophon) und String (polyphon). Natürlich sind die Sektionen rel. reduziert.
ABOUT
DETAILS lead has s+h!! 4x CV. not bad for a combination "multi" synth.
DETAILS lead hat sogar s+h, 4x CV und für eine Kombi nicht übel..
DETAILS
SOUND allrounder, something like axxe and solus + string/poly in one box, so it's simple leads and poly pads and simple basses
SOUND allrounder, ein wenig wie axxe und solus plus string/poly synth in einem, eher simplere Sounds, die aber nicht schlecht klingen..
SOUND