Jupiter 8V software + analog step sequencer
SPECS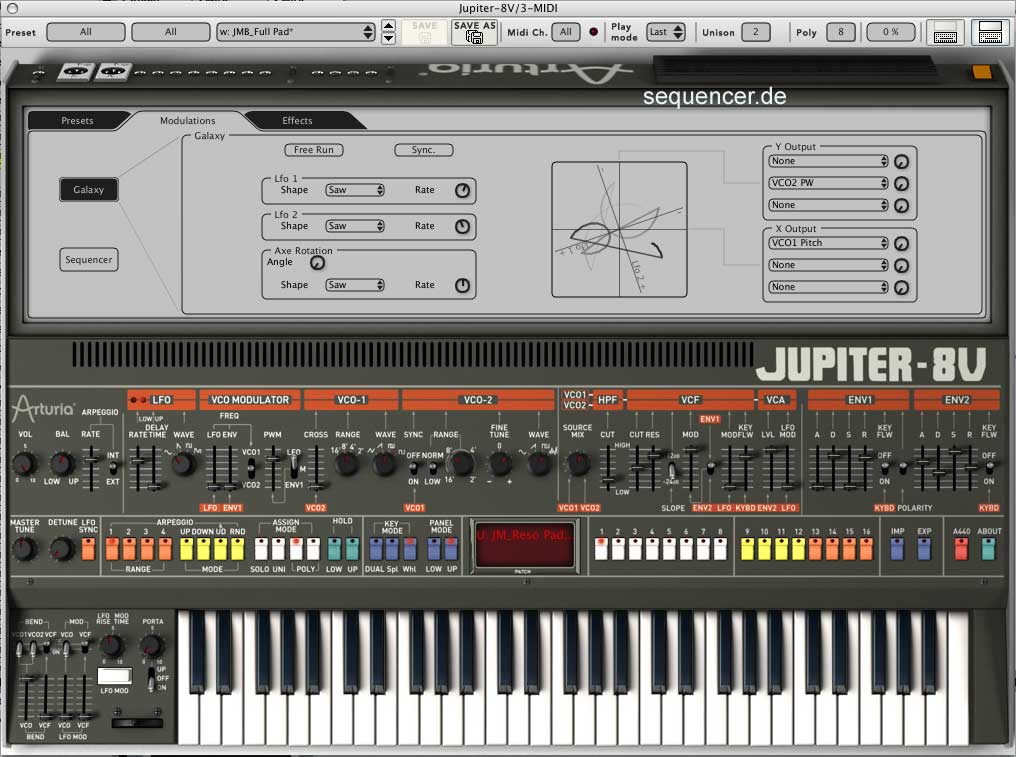 Jupiter 8V with 3D LFO and Modmatrix
click image to enlarge - Bild klicken zum vergroessern
other ARTURIA gear..


ABOUT Emulation of the Roland Jupiter 8 but with some extras
ABOUT Emulation des Jupiter 8, mit ein paar Extras.
ABOUT
DETAILS quite fast LFO (about 64Hz), cool sync in both directions. adds sequencer, has no velocity like the original and has a graphical lfo (3 lfos)
DETAILS schneller LFO (ca 64Hz) und sync, der in beide richtung schaltbar ist. hat keine velocity aber einen sequencer und einen mehrdimensionalen lfo (grafisch in 3 richtungen).
DETAILS
SOUND everything classic: pads, basses and sweeps
SOUND alles klassische: pads, bässe, sweeps und flächen
SOUND
VERSION as real as software sounds: the original is the Roland Jupiter 8, it's mac and pc (xp, OSX)
VERSION siehe Jupiter 8 - so echt wie Software so ist, ansonsten für Mac und PC
VERSION