Nord Drum , Nord Drum 2 Drummachine/Module
Clavia
NordDrum/NordDrum2
SPECS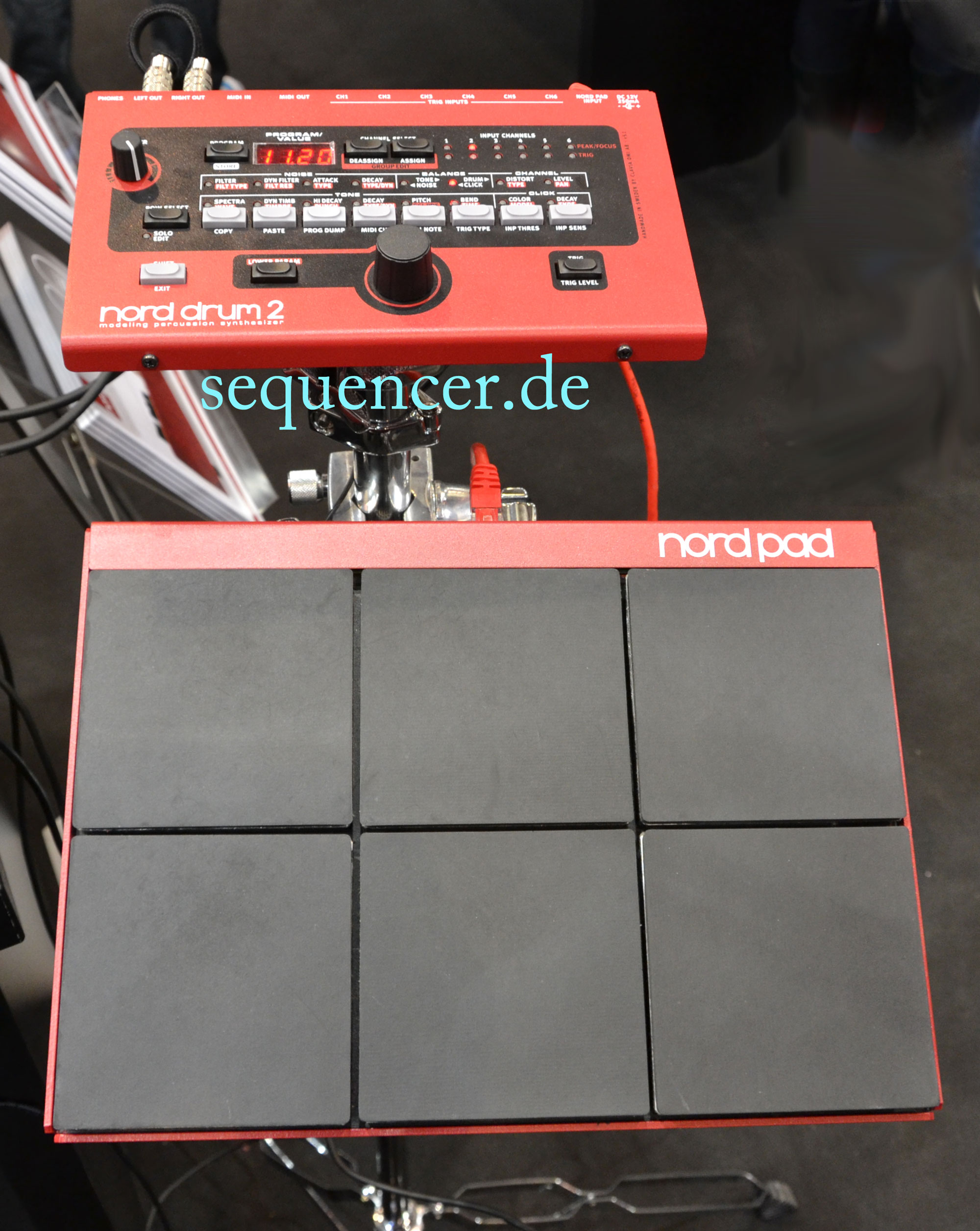 click image to enlarge - Bild klicken zum vergroessern
other CLAVIA gear..


ABOUT a special drum synthesizer.

the Nord Drum 2 has a special (RJ45, Ethernet-kind of connector) to attach some dedicated pads to it.
ABOUT Ein spezieller Drum-Synthesizer.

In der 2.Version gibt es einen Anschluss für Pads (Typ: Ethernet, RJ45), Trigger-Eingänge haben jedoch beide.

Eine iOS App sorgt für einen Lautlichtsequencer (via MIDI)
ABOUT
DETAILS special internal synthesis, simple and electronic with sound basic colour, bending and all the stuff you might know.

noise and a tonal part got their own envelopes along with filters.
DETAILS Es gibt Rauschen und einen tonalen Anteil mit eigener Hüllkurve

Ein Klicken kann eingemischt werden.

Ansonsten gibt es Vorwähler für bestimmte Soundtypen und auch Filter.

Das alles ist natürlich intern entsprechend per Synthese aufgebaut.
DETAILS
SOUND typical electronic drum sounds, classic ones. Performance with Pads with Version 2
SOUND typische Elektro-Drumsounds, alle Typen die per klassischer Synthese machbar sind.

Mit Version 2 kann man auch direkt Pads anschließen für eine Performance.
SOUND
VERSION Nord Drum identical to
Nord Drum 2 - but with connector to 6x drum pad.
VERSION Nord Drum und
Nord Drum 2 - wie erste Version aber mit Anschluss für 6 Drumpads
VERSION