DS8 Digital Synthesizer
SPECS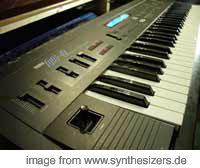 thx ds8 mini pic by theo / bluesynths.com
(
link
)
click image to enlarge - Bild klicken zum vergroessern
other KORG gear..


ABOUT This is a special Synth since it has the look and feel of a subtractive synth but is in fact FM with "analog" surface under the hood. Assumably it was made for thos who wanted FM sounds but feel hard to learn FM..?
ABOUT Der DS8 ist unter der Haube eigentlich ein FM-Synthesizer, hat aber die Oberfläche eines analogen Synthesizers, die Idee dürfte die Vereinfachung sein für den Nutzer.
ABOUT
DETAILS has Delay, Chorus and Flanger as FX, as said: it is a 4OP-FM-Synth with "subtractive interface".. plus FX unit.. the filter is also a simulation in FM!
DETAILS hat Delay, Chorus und Flanger als FX, eigentlich ist er ein 4OP-FM-Synth mit "subtractivem interface".. plus FX unit.. daher recht speziell.. das "filter" ist natürlich auch eine FM simulation!
DETAILS
SOUND cool effects and percussion stuff, not fat but very special for its FM nature plus FX
SOUND abgefahrene Effekte und Perkussion, nicht fett aber speziell und mit Effekten.
SOUND