Monotribe Analog Synthesizer + TR sequencer
SPECS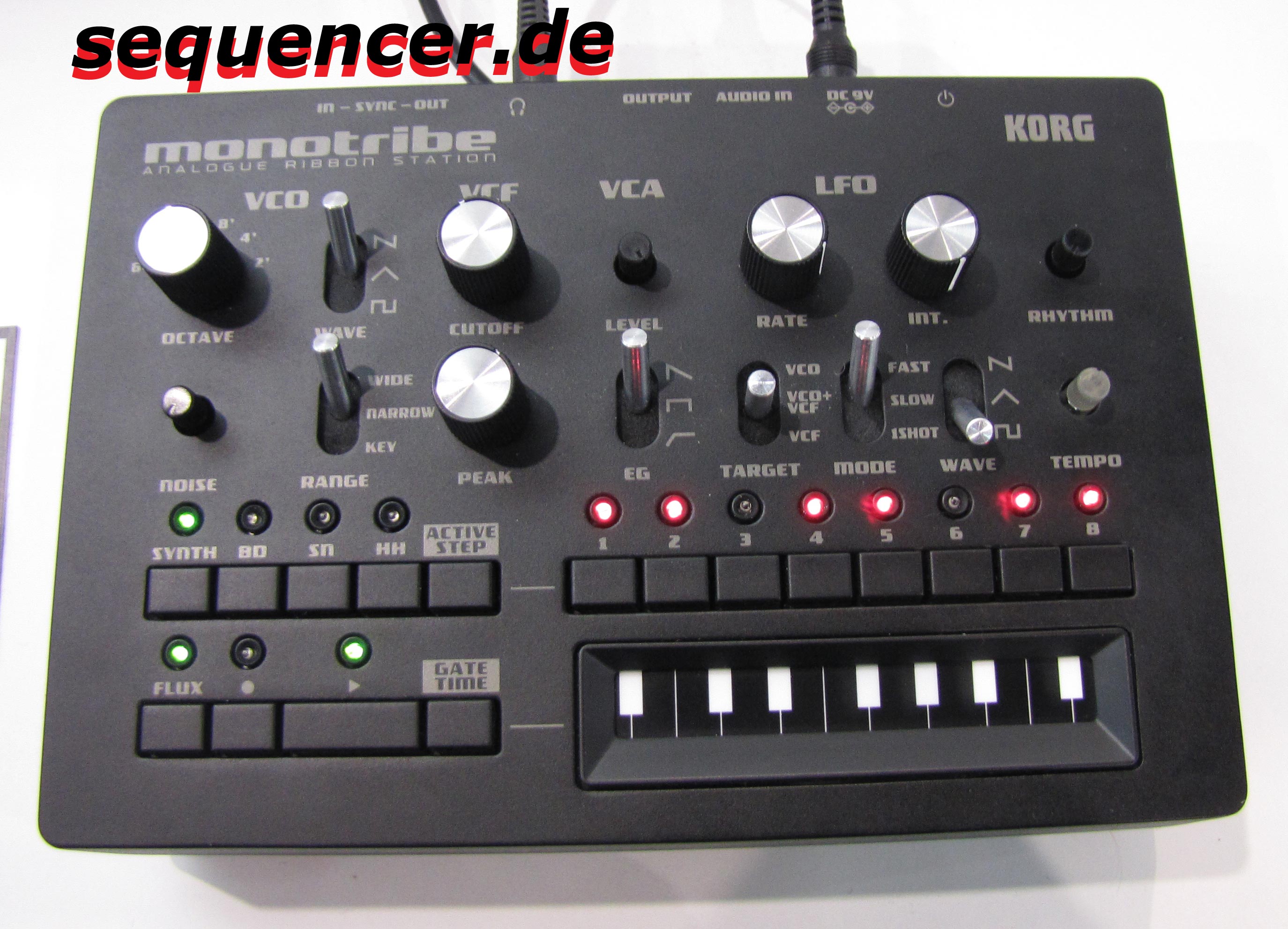 click image to enlarge - Bild klicken zum vergroessern
other KORG gear..


ABOUT Very simple, just OSC - Resofilter, external input, fast LFO
nice little keyboard the ZX81-style this time with quantization (chromatic and 2 others)
ABOUT sehr einfach, ein OSC - Resofilter, externer input, schneller LFO, kleine Folientastatur, die im Gegensatz zum Monotron quantisiert (chromatisch, über mehrere Oktaven gespreizt oder eine weitere Skalierung).

8Step Sequencer mit Stummschaltung einzelner Steps für 3 analoge feste Drumsounds und einem einspielbaren Melodieteil für den einfachen Synth.
Decaylänge wird durch Gate Length gespielt und nur für die Dauer der Berührung übernommen.
ABOUT
DETAILS very fast LFO, makes nice FM

filter and pitch modulation by LFO.

has no MIDI but can send and receive step gate signals that also accept audio signals as trigger.

LFO can be set to one shot to make another simple envelope.

Ext. audio input.
DETAILS sehr schneller LFO, macht nette FM, filter oder pitchmodulation möglich.

LFO kann als 1-shot geschaltet werden und so als zweite Minihüllkurve genutzt werden.

Die Hüllkurve ist eine von 3 Presets mit Decaylänge via Gatelength-Steuerung. Einstellbar daher nur beim LFO (der hat übrigens 3 Geschwindigkeiten.)

Kein MIDI aber Triggerausgang und Eingang sind vorhanden, man kann ihn daher als 8Step Triggersequencer misbrauchen oder steuern. Die Trigger können durch Audiosignale ausgelöst werden.

Externer Eingang vorhanden.
DETAILS
SOUND nice fm sounds, mangling ext. signals, nicely nasty analogue ms10 filter evil sister of 303
SOUND nett böses Filter, FM sound, aber simpel und externe signale verfiltern (heftiger sound), böse kleine Schwester der 303?
SOUND
VERSION Monotron - simpler and without sequencer and drum sounds
VERSION Monotron: Einfacheres Teil, noch reduzierter und ohne Sequencer / Drumsounds
VERSION