Sigma Analog Synthesizer
SPECS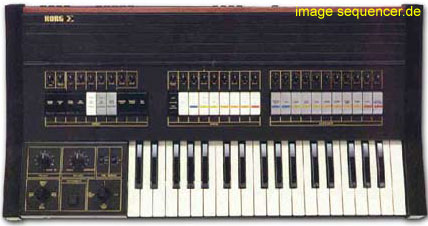 sigma pic by janoschrockt
(
link
)
click image to enlarge - Bild klicken zum vergroessern
other KORG gear..


ABOUT little Preset-kind of synth but has lots of macro controls that are much more than just a simple "entry level" synth.. it's like the channel concept of having 2 synthesizers in one with 2 different voices.

That interfaces looks a lot like convincing organ players of that time to go for a synth and have a lot more sounds than before.
ABOUT kleiner Preset-Synthesizer, der aber eher eine Art Makrobedienung hat und klanglich irgendwo zwischen MS20 und den alten Korgs liegt.. hat 2 filter.. eigentlich sind es 2 synthesizer.. mit 2 multis oder channels.. "ich bin 2 öltanks"..

Eigentlich ist es ein Simpel-Interface mit Orgel-Reminiszenz aber mit MS20 Hintergrund. Kann aber etwas weniger als ebendieser, da zwar mehr Bedienelemente da sind, aber dies dem damaligen Nutzer helfen sollte einen dieser neuen fantastischen Sounds zu erzeugen mit weniger Synthesebackground. Als Auskenner muss man etwas mehr nachdenken und wundert sich über so viele Taster für weniger Möglichkeit, aber - mit ein paar Fußlagentaster und so fühlt man sich von der Orgel kommend vielleicht wohler?
ABOUT
DETAILS sample+hold and ringmod in synthe section channel but in a macro / preset kind of concept. the knobs are above the preset switches.. in fact every preset is another synth (non synthe section)
DETAILS die regelmöglichkeiten sind nicht so wie bei anderen synthesizern, er hat presets und jeweils regler , die zB decay oder cutoff regeln.. sample+hold (synthe teil des sigma), eigentlich ist jedes preset ein eigener synthesizer..
DETAILS
SOUND old school sounds
SOUND old school sounds
SOUND