Synthe Bass 100 Analog Synthesizer
SPECS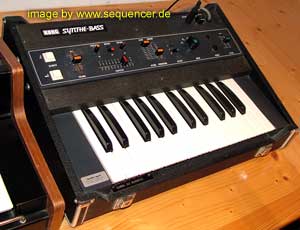 Korg SyntheBass
click image to enlarge - Bild klicken zum vergroessern
other KORG gear..


ABOUT very simple bass synth not much in it, but the old filter sound is still great.. simple envelope (2 sliders) and filter "traveler", resonance switch "bright".
ABOUT sehr einfacher bass-synth.. resonanz-schalter (bright) für an und aus der reso, wie bei allen alten traveler-filter synthesizern..
ABOUT
DETAILS very simple thing. not much to say.. AD env.
DETAILS wirklich sehr einfach, AD env und filter, sonst nix.
DETAILS
SOUND bass
SOUND bass
SOUND