Rozzbox Digital Synthesizer + simple sequencer
SPECS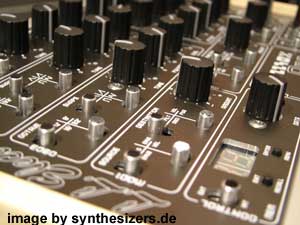 LL electronic rozzbox 1
click image to enlarge - Bild klicken zum vergroessern
other LL gear..


ABOUT once upon a time Kilian Leonhard and the german keyboards forum users desiced to make a synth, ok the forum was only for ideas, in fact Kilian did all the work and the aim was to make a synth for 250€, the frist bath was made and sold, Kilian exploited himself ,so V2 was made and the price wnet up to still very ok level and the voice number raised to 5 Voices..
ABOUT Die Rozzbox ist eine Idee von Kilian Leonhard, der im Keyboardsforum sogar Ideen sammelte und sich zum Ziel machte, einen Synthesizer für 250€ zu bauen ,dafür verkaufte er dann auch die ersten, leider war das dann eher Selbstausbeutung und er brachte die Rozzbox V2 heraus, sie ist 1 oder 5 stimmig (das erstmodell war noch monophon)..
ABOUT
DETAILS 2 filters: one digital, one analog (series), env: lin + exp - Rozzbox is a one man small "company". it all started to make a nice digital synthesizer for about 250€ on microcontrollers/pic - to make it cheap and no need for DSPs or the like.. so the idea was to make "ROZZ" (rotz = german for.. uhm.. dirt..) todays music lives from the digital imperfection here.. so you can turn up digital dirt in a special section "rozz (rotz!)" and reduces bits and depth of calculating filters / aliasing is WANTED.. so, yes.. it is not an 8bit C64 synth, but it was designed for lofi sounds.. in fact the ROZZBOX ONE sounds much more hi-ended then one might think of. additional to this there is an analog filter available as an option. it has 3 OSCs feat. digital waves also and an LFO and 2 "mod matrix"-kind of routing sections. the filter is LPF or HPF with resonance, oscs range from 4 to 32". there is a small display for saving your sounds and there are of course 2 ADSR envelopes.
DETAILS 2 in Serie geschaltete Filter: ein digitaler, ein analoger (tranistor-schaltung), env: lin + exp
DETAILS
SOUND specialized on nasty and evil sounds, also LoFI.. but can sound nicer also..
SOUND gedacht für Lofi und "rotzige" Sounds, Wavetable-artiges garstiges.. kann aber auch recht nett klingen..
SOUND
VERSION update 2: - Analog filter (transistor based) on all new Rozzboxes (V2) - Envelope-Follower + Audio In (seperate Ins) - much faster ENV + Modulation - 2 (plus "Global LFO") instead of 1 LFO - 4 mod routings instead of 2 - 9 more mod routings - more mod sources - sequencer - more lofi FX
VERSION update 2: - Analog filter (Transistor basiert) serienmässig V2 - Envelope-Follower + Audio In (seperate Ins) - schnellere Hüllkurven + Modulation - weiterer "Global" LFO - 4 Modulations-Routings statt 2 Knoten - 9 zusätzliche/ feste Modulationswege - mehr Mod.Quellen und Ziele verfügbar - ein Sequencer - mehr Lofi FX/Crunch etc.
VERSION