OB12 Digital Synthesizer + simple sequencer
SPECS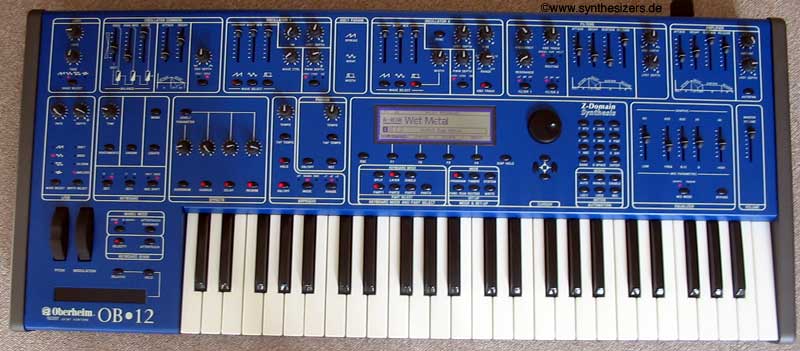 OB12 pic thx to joerg!
(
link
)
click image to enlarge - Bild klicken zum vergroessern
other OBERHEIM gear..


ABOUT first: this is no real oberheim! it is a Viscount, Gibson gave them the permission to make some weird Organs, Masterkeyboards and this virtual synth, but ok - just to tell you it is not connected to Tom Oberheim and the qualities one expected from the Oberheim Synths. It looks cool but it is no way analog (sonically). but better than most ppl speak about it, now. after os 1.5 it works and that makes it a nice tools for non-percussive sounds, they removed the attack-time bug, which may have damaged it's capabilities for years and was sold out in a sad way - maybe the company may thought "synths are not going well these days", but - you got the chance to a synth that is cheap and sort of special if you look for one today.
ABOUT Als erstes: kein Oberheim im Sinne Tom Oberheim, Gibson hat den Namen seit dem OB-MX an sich genommen und zur Zeit 2000 an Viscount (Keyboardhersteller) vermietet (so wie Hongkong England gehörte), nun er erfüllt eigentlich kein Oberheim-Kriterium, er ist optisch nicht schlecht gelungen ,sollte bei der Hardware mehr klangliches bringen? Ok, es ist nicht so schlimm, nach dem Fixing des Attack-Bugs ist er durchaus in der Lage den typischen virtuellen Sound zu generieren, es gab schon andere mit mehr Artefakten mit mehr Erfolg. So wurde er leider schnell nach dem etwas späten Update nur zum "Dancehammer"-Ausverkauf für wenig Geld "wieder 666Stk eingetroffen". Nicht so schlecht wie der Ruf, aber halt nicht "analog" nach einem update wurden einige schlimme fehler behoben, danach ist er für Nichtperkussives gut verwendbar. Der Vorteil heute ist, dass er eben keinen großen Ruf hat und er durch den baldigen Flop heute ein Exot ist und damit durchaus einen Blick wert.
ABOUT
DETAILS had some "latency" when i tested it.. some cool ideas in it nevertheless.. FX .. Ribbon Controller! not so fast envelopes but LFOs are fast enough.. A Fragment Sequencer can be found here ,too..
DETAILS naja, er hatte beim Antesten leider eine gewisse Latenz beim Anspielen, jedoch einige gute Ideen drin (trotzdem) FX und feine Oberfläche. Ribbon Controller! nicht so schnelle Hüllkurven, LFO aber schon.. "Phrase recorder" eine Art Fragment-Sequencer , keine schlechte Idee..
DETAILS
SOUND everything but fast/clicking sounds.
SOUND alle standards aber keine schnellen oder klickenden sounds
SOUND