Cat SRM Analog Synthesizer
SPECS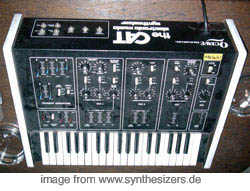 Cat SRM
click image to enlarge - Bild klicken zum vergroessern
other OCTAVE gear..


ABOUT reminds of the ARP Odyssey, in fact the end of Octave was a problem with ARP (patent reasons). in fact it was something like an update to the Odyssey. duophonic. Made by Carmine Bonanno. what? it's about the same as the odyssey II / III, but it has 2 (two) suboscillators and you could blend those waveforms (instead of just switching like on the odyssey).. so it may still be a good alternative.. with the so called SRM / SRM II update it could be played "duophonic".. so see this as an alternative choice.. there has been a smaller version "the kitten" with just one VCO but both were forced to stop production. copyright reasons..
ABOUT Cat erinnert stark an den ARP Odyssey, war aber gegenüber dem sogar deutlich erweitert. Das Ende von Octave war auch letzlich ein Patentproblem mit / gegenüber ARP. duophonic. das SRM / SRM II update brachte ihm einen ringmodulator, die duophonie und andere updates wie der statische HPF oder 2pol mode für den Hauptfilterteil etc. Made by Carmine Bonanno.
ABOUT
DETAILS unusual concept of upgrading (SRM. see versions), not cheap for this reason. the AR env is retriggarable ,so to say "loopable". the other ENV is ADSR, so for percussive sounds use the ADSR..
DETAILS ungewöhnliches Konzept durch upgrades Bauteile (siehe version) und Sektionen einzubauen, daher war er letzlich nicht so günstig. Wie beim Odyssey gibts nur eine ADSR Hüllkurve und dazu eine AR, die für Perkussives nicht ideal ist, aber dafür ist die ADSR schnell.. der AR ist loopbar / retriggerbar.
DETAILS
SOUND basses and leads. good sounding synth, works fine for "hefty" and percussion sounds (well as long as the AR is not for the percussive character.
SOUND bässe und leads, auch heftige sounds gut machbar. guter klang.
SOUND
VERSION SRM and SRM II misc upgrades : ringmod, 2pole mode, HPF, duophony, noise (white pink)
VERSION SRM und SRM II boten div upgrades : ringmod, 2pol mode, HPF, duophonie, noise (white pink)
VERSION