OSCar Hybrid Synthesizer + simple sequencer
SPECS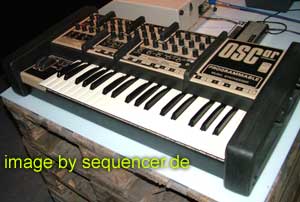 OSCar
click image to enlarge - Bild klicken zum vergroessern
other OSC gear..


ABOUT Oxford Synthesiser Company OSCar. another fine synth (beside the WASP by EDP (electronic dream plant) from Chris Huggett (about his other project: EDP and his teaming up with EMS-David Cockerell) (imo he's the one who is also responsible for EDP) It had additive synthesized waveforms as waveforms, interesting very "british" sounding rough filters with separation and drive! (sep sets the BPF bandwidth) this is the first and last synth by OSC 1982. 2 ENVS (adsr) and 1 LFO. also nice PW control. but very cryptic interface and look.. 2 filters, routable to model a 24dB/oct filter, both filters are multimode: lpf,hpf,bpf the oscs are special digital ones thaat can hold up to 24 waveforms where 5 can be edited in a kind off additive way.. there is a sequencer in it ,too (24 sequences storable) later software versions made those editable, but see them as (almost) preset ones. "duophonic" via the sequencer, so this is what it has in common with the arp odyssey and the roland sh7, duo is not poly. btw: there is a software out emulating the OSCar from g media, but I don't own it.. only seen the demo. huggett later worked for akai (the s1000), strange, but .. the Advanced Sound Generator ASG was planned but imho it was never made, sort of rack version of an advanced OScar.. about 1000 Oscars have been made..
ABOUT Oxford Synthesiser Company = OSC war die Firma von Chris Huggett (der auch für EDP verantwortlich ist und später bei Akai landete) Der OSCar klingt sehr britisch, er hat quasi diesen Begriff sogar geprägt: liebevoll ungeschliffen. Speziell sind seine digitalen Oszillatoren, die additive feste Wellen generieren können, sie können auch editiert werden.
ABOUT
DETAILS till 1984 without midi! has special additive edit mode for static additive spectrum edit (improved over time). Filters sound very special. very british. the filters have a separation offset. dual 2 pole in series or parallel.
DETAILS bis 1984 ohne midi! Es gibt eine etwas unkonventionelle (das gilt ansich für den ganzen OSCar) Editmöglichkeit der statischen additiven Oszilllator-Wellenformen. Die Filter klingen sehr eigen. filter hat offset/separation-stellung, seriell oder parallel.
DETAILS
SOUND from harsh digital rough sounds to special FX, but also basses and leads, even voice like
SOUND heftige digitalklänge und interessante aber auch eher heftige filter, effekte, bässe, leadsounds, sogar stimmähnliches.
SOUND
VERSION several software versions: Version 6 - edit 24 harmonics in edit mode , improved in Version 7. most changes in usablility.
VERSION div. Versionen, die meisten betreffen die Bedienung, Version 6 bringt neue Möglichkeiten bei den additiven Wellen (24 Harmonische sind nun editierbar).
VERSION