Jd Xa Hybrid Synthesizer + TR sequencer
SPECS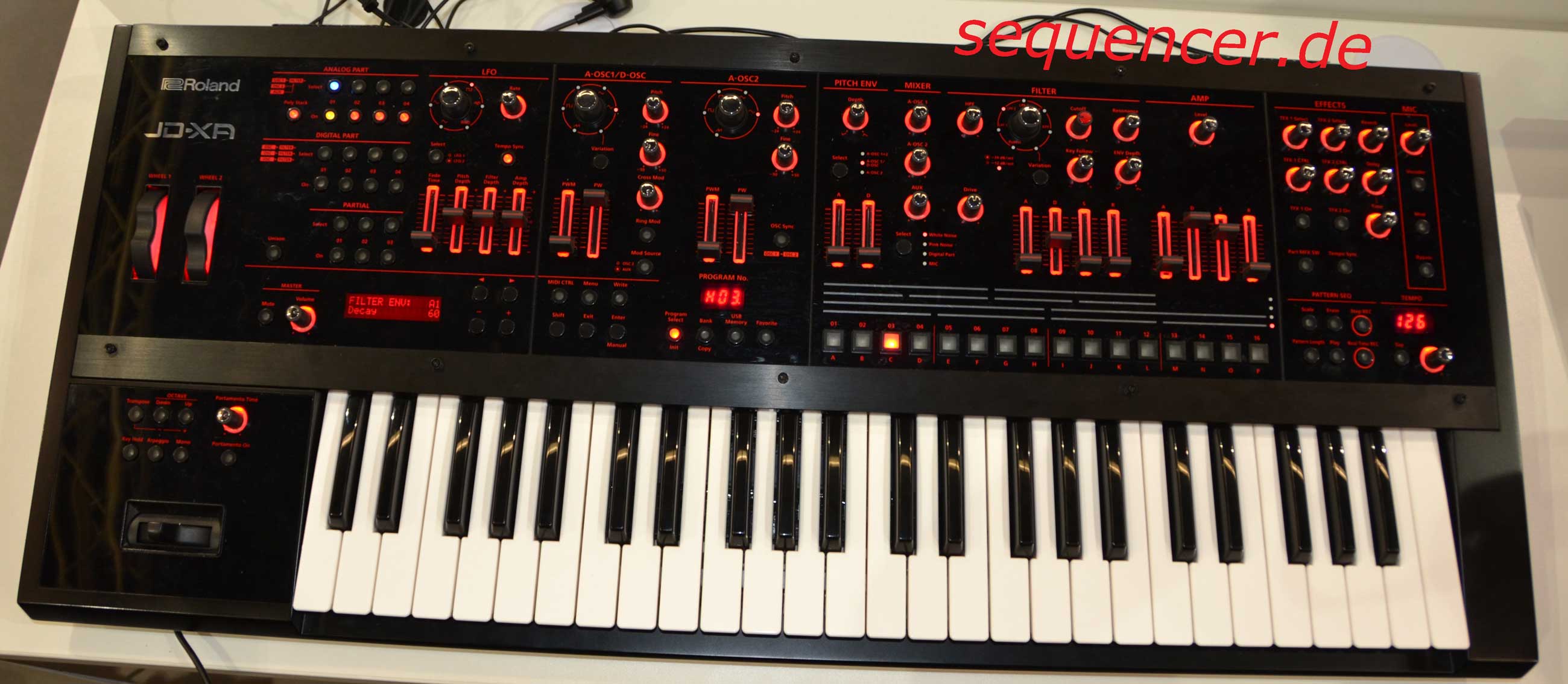 click image to enlarge - Bild klicken zum vergroessern
other ROLAND gear..


ABOUT this is a crossover synth - we call it hybrid which means:

you have 4 voices of analog 2-OSC synthesis with Xmod and all that stuff that the smaller Xi doesn't have.

you can attach to these a digital voice, so you can actually filter and work with that source along with microphones connected to it


a digital polyphonic synths like the Jupiter80 with 3x OSC-Filter-Amp Structure with Ringmod and Waveshaping and PCM Samples

(4x16 steps sequences in patterns that you can change as/in a performance)

ABOUT Hier gibt es 8 Parts mit je 3 OSC-Filter-Amp Strängen klassische digitale Synthesizer-Strukturen wie im Jupiter80/Integra, diese können per Ringmodulation und Waveshaping versehen werden und bieten diverse PCM Samples aber auch klassische Grundwellenformen und Supersaw an.

Dazu können diese in den 4OSC-Analog Part eingeschoben werden.
Der Analoge besteht aus 4 Stimmen mit 2 Oszillatoren, so hat man am Ende Noise und 2 OSCs,welche durch ein Multimode-Filter laufen Hier wird der Digitale oder der Audioeingang / Microfon eingeleitet als Teil der Sache, so können also auch digitale Elemente verarbeitet werden.

Ob eigene Samples eingebaut werden können? Vermutlich nicht.

Ein intuitiver Lauflicht TR-Style Sequencer gehört auch dazu, polyphon. Geht problemlos und sehr gut zu bedienen.
ABOUT
DETAILS 8x Fx for everything

for analog / digital synth:
2x ADSR
1x AR Pitchmod

Digital:
2x LFO, low speed

Analog: 1x LFO, HiSpeed

16 Tracks Sequencer

there is more behind the panel, so there's additional parameters to tweak inside the menu

_
8 synth parts that layer 3 osc-filter-amp sections with 2LFOs and 3 ENVs each plus analog synth.
DETAILS 8 Effekte für alles

2x ADSR für Analoge und DigitalSynth
1x AR für Pitchmod jeweils

2x LFOs für Digitale,langsam
-> für Analogen schneller (audio speed)

16 Tracks - Sequencer

Nicht alle Parameter sind am Panel erreichbar, es gibt also mehr unter der Haube!

8-fach synth mit je 3 parts OSC-filter-amp mit jeweils 2 LFOs und 3 Hüllkurven, dazu analoge Parts (4x) mit 2 OSCs.
DETAILS
SOUND combined analog/digital synth for all kind of classics and flexibiliy, sort of new JD800 kind of user interface. Sequencer sends MIDI, since it is a good one…
SOUND Analoges und Digitales kombinieren, alle Arten von Sounds und Songs, Sequencer sendet, wie JDXi auch nach außen. Ein wenig wie ein neuer JD800 der 2015'er
SOUND
VERSION the JD-Xi is the smaller 4 track brother which has 2 digital synths and a drum section with 24note drumsets and quite a large number of things to work with them (multistage envelope!)
also the analog synth is just one voice with subosc and low pass filter that just stands alone, no processing of the digital part through it
VERSION Kleine Bruder JDXi hat ebenfalls einen auwendigen Step-Sequencer mit 4 Spuren mit Drums als einer von 4 Synths, der Analoge ist aber nur ein einfach 1OSC-Synth und hat nur Tiefpassfilter zu bieten und keine Einleitung des Digitalen Teils.
VERSION