SR88 Drummachine/Module + step sequencer
SPECS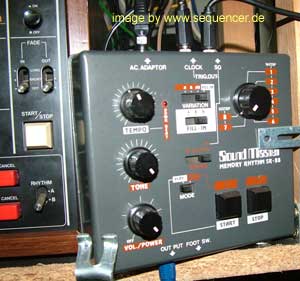 Sound Master SR-88
click image to enlarge - Bild klicken zum vergroessern
other SOUND MASTER gear..


ABOUT little Drummachine with Roland look - programmable (6x 16steps and 2x12 steps)
ABOUT Kleine Drummachine mit Roland-Look, 6 programmierbare Rhythmen mit 16 Steps (16 mal drücken!) und 2 mit 12 Steps.
ABOUT
DETAILS programmable by pressing the button 16 times (for 16 beats) - not too much memory (6x) and a bit unconvenient but it works, has clock in
DETAILS 6 + 2 Rhythmen können selber per 16x Tastendruck programmiert werden. es gibt 4 Insturmente. hat clock eingang.
DETAILS
SOUND very oldschool beats (70s like)
SOUND oldschool beats
SOUND