Modular Modular Synthesizer + analog step sequencer
SPECS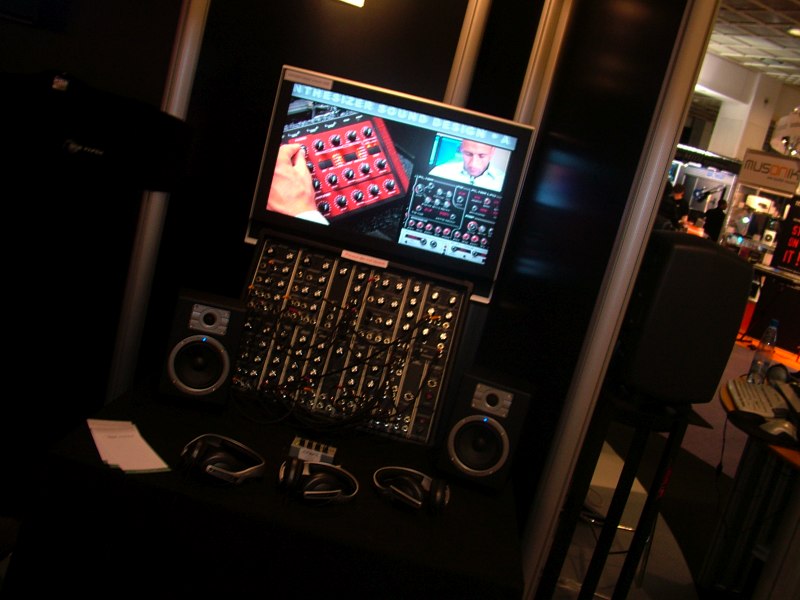 this is the Q119 sequencer..
click image to enlarge - Bild klicken zum vergroessern
other SYNTHESIZERS.COM gear..


ABOUT freely configurable Modularsystem very close to Moog (sonically), freely configurable..
ABOUT Roger Arrick baut sehr schöne, sehr an Moog erinnernde Modularsysteme, frei konfigurierbar. Sie sind (trotz lieferung aus den USA) einer der günstigsten Modularsystem mit dieser guten Klangqualität.
ABOUT
DETAILS they even made a very nice moog 960 sequencer clone.. quite moogish exept the mechanical things,, but it fits into the moog cabinets,too.. the dotcom sequencer can run backwarts, too!
DETAILS sehr ähnlich wie moog, dafür gibts aber auch einen sehr schönen Moog 960 sequencer clone, mechanisch sind die Module etwas anders, aber passen in ein Moog System.. sequencer kann sogar rückwärts laufen!
DETAILS
SOUND well everything is possible.. the "dotcom" systems sounds are very high quality: wide, fat, big (if you want it to)..
SOUND ALLES ist möglich! theoretisch natürlich. Die "dotcom" Systeme klingen ausserordentlich gut. breit, fett, wenn man es möchte.. es gab sogar bode shifter..
SOUND
VERSION masses of clones and systems avalable, (incl moog systems), modules quite like moog

see german section ---)
VERSION es gibt massenhaft clones und systeme.. modulliste ziemlich moog-like

Q104 MIDI Interface
Q105 Slew Limiter
Q106 Oscillator
Q107 Filter
Q108 Amplifier
Q109 Envelope Generator
Q110 Noise Source
Q111 Pan/Fade
Q112 4-Channel Mixer
Q113 8-Channel Mixer
Q115 Reverb
Q116 Ring Modulator
Q117 Sample & Hold
Q118 Instrument Interface
Q119 Sequencer
Q120 Connector Interface
Q121 Banana Jack Interface
Q122 Mini Jack Interface
Q123 Standards
Q124 Multiples
Q125 Signal Processor
Q127 Fixed Filter Bank
Q128 Switch
Q130 Clipper & Rectifier
Q131 Blank Panels
Q138 Logo Panel
Q140 Fixed Filter Bank Aid
Q141 Oscillator Aid
Q142 Pedal Interface
Q143 Presets
Q146 Normalization
Q147 Distributor
Q149 Signal Selector
Q150 Tran Ladder Filter
Q161 Oscillator Mixer
Q162 Filter Mixer
Q960 Sequential Controller (moog seq clone)
Q961 Sequencer Interface
Q962 Sequential Switch
Q963 Trigger Bus
VERSION