ER9 Drummachine/Module + simple sequencer
SPECS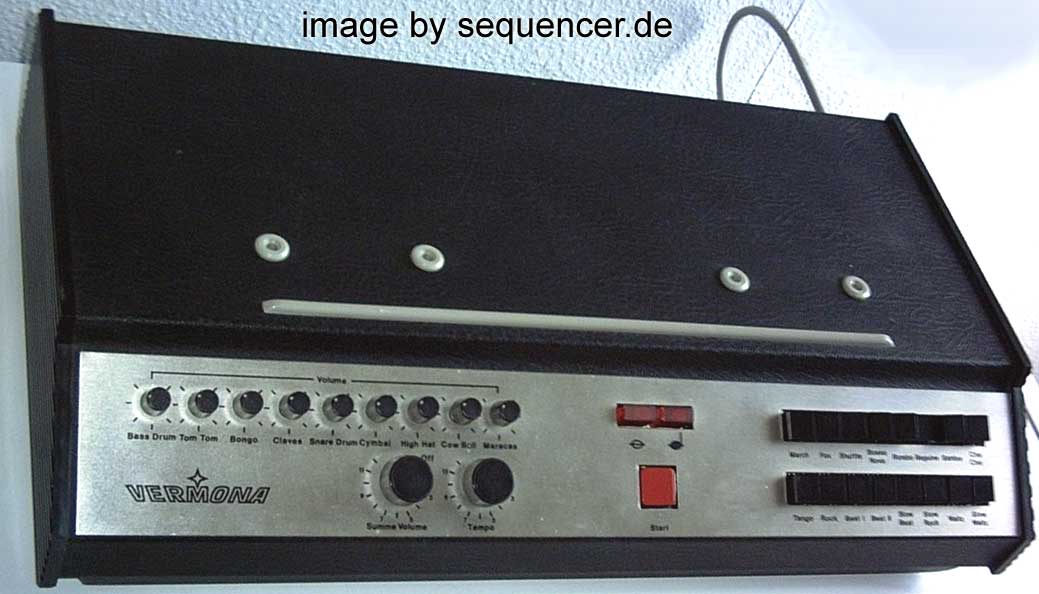 ER9 drum computer pic thx Lutz - vermona.de
(
link
)
click image to enlarge - Bild klicken zum vergroessern
other VERMONA gear..


ABOUT former east german product with some pots to modify the sounds..
ABOUT Ost-Drummachine damals für 1550 Ostmark. Hat einige Regler um die Sounds zu beeinflussen.
ABOUT
DETAILS has 5 pole DIN connector (like midi) for audio, as usual at that time in germany, even in east germany..

has 16 preset rhythms , all mixable.
DETAILS hat 5 pol DIN Ausgang für Audio. 16 preset-rhythmen (mixmbar für walzer-disco-salat)
DETAILS
SOUND very old school kind of sounds
SOUND old school elektro-sound.
SOUND
VERSION was also part in some organs, different tech for memory: transostormatrix and later chips where used.
VERSION verschiedene speichermethoden der rhythmen, manche haben chips, andere haben eine transistor-matrix - auch als beattbox in div. vermona orgeln
VERSION