Rocket Hybrid Synthesizer
SPECS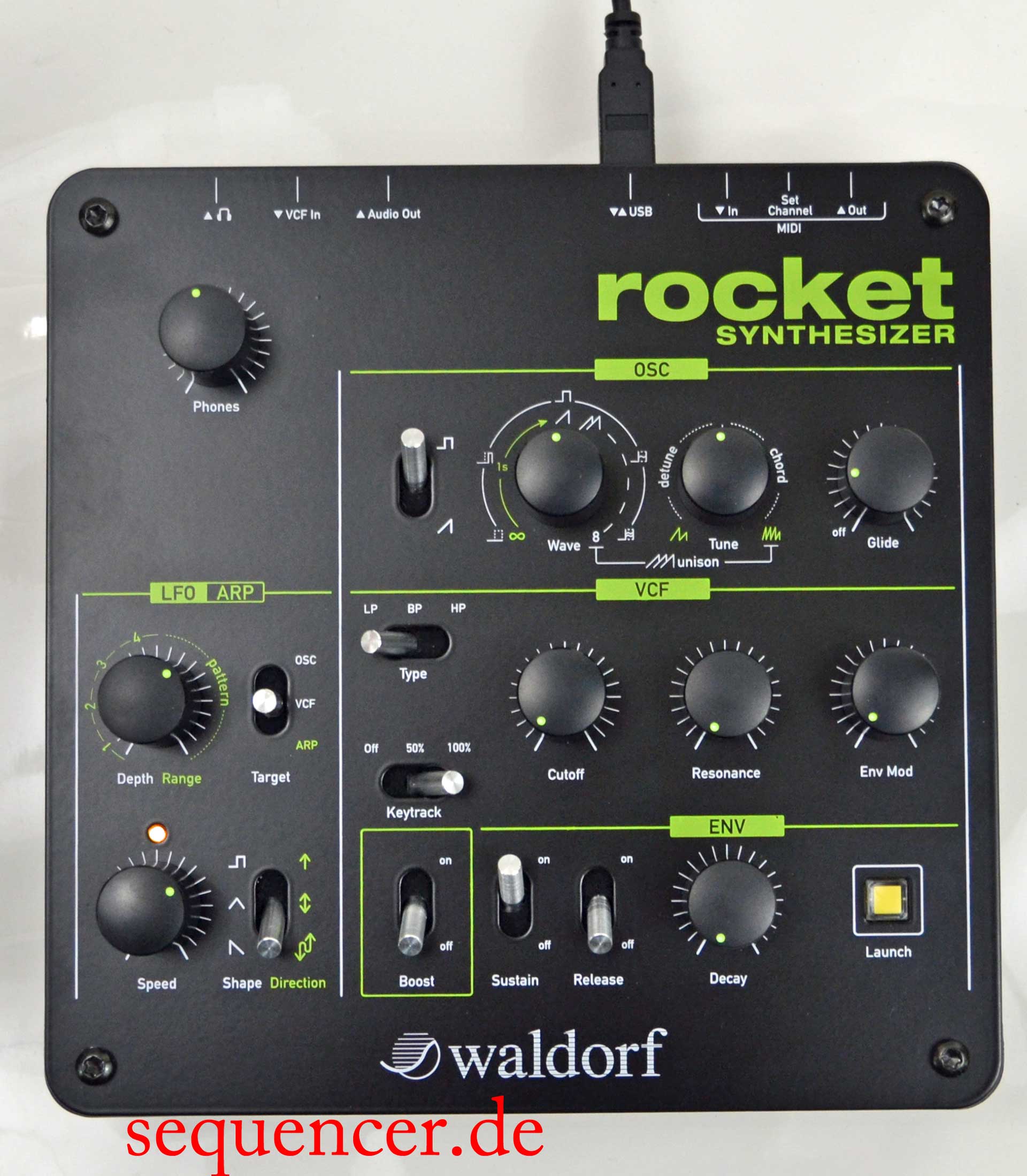 click image to enlarge - Bild klicken zum vergroessern
other WALDORF gear..


ABOUT analog filtered digital synth.
this gadget has special oszillators that integrate sync sound with envelope and doubled oscillators - no it's 8times doubled - with intervals.
ABOUT Ein Gadget, aber mit guten Filtern.
Einfachste Hüllkurve, aber auch spezielle Oszillatoren.

8fach gedoppelt und mit verstecktem Sync-Sounds in digitalen Oszillatoren mit analogen Filtern.
ABOUT
DETAILS turning waveform, detune or LFO mod amount beyond the "twelve o clock" position brings in some special magic -

- supersaw'ing the waveforms up to 8times works for all osc shapes.
- sync with own envelope withing the saw wave setting via waveform/shape
- intervals between the oscs on "detune"
- 1-4 octave range for the arper but special patterns as well for the arpeggiator

envelope: sustain and release switch

no attack, so no "soft pads"..


Tech stuff:
CPU: ARM STM32L151 RBT6
Filter/VCA: 2x LM13700M OTA
DETAILS ab einer halben Drehung (ab 12 Uhr) sind Oszillator Waveform, Detune und Mod Amount des LFOs mit Spezialfunktionen versehen.

darunter spezielle Muster für den Arpeggiator und 4 Oktaven Range.

Sync-Sound im Oszillator wenn Sägezahn aktiv ist statt Pulsbreitenmodulation mit eigener kleinen Hüllkurve deren Zeit via Detune geändert wird.

Supersaw-Dopplung oder genauer 8fach Verdopplung der Oszillatoren, also fett.

Hüllkurve mit einfachem Decay - aber als Release verwendbar (Schalter) und mit aktivierbarem Sustain (fest)
aber kein Attack, damit keine soften "Pads" möglich.

Tech:
CPU: ARM STM32L151 RBT6
Filter/VCA: 2x LM13700M OTA
DETAILS
SOUND percussion, bassdrum, bass, zapps
SOUND Bässe, Perkussion, Bassdrums, Zapps
SOUND