Streichfett Digital Synthesizer
SPECS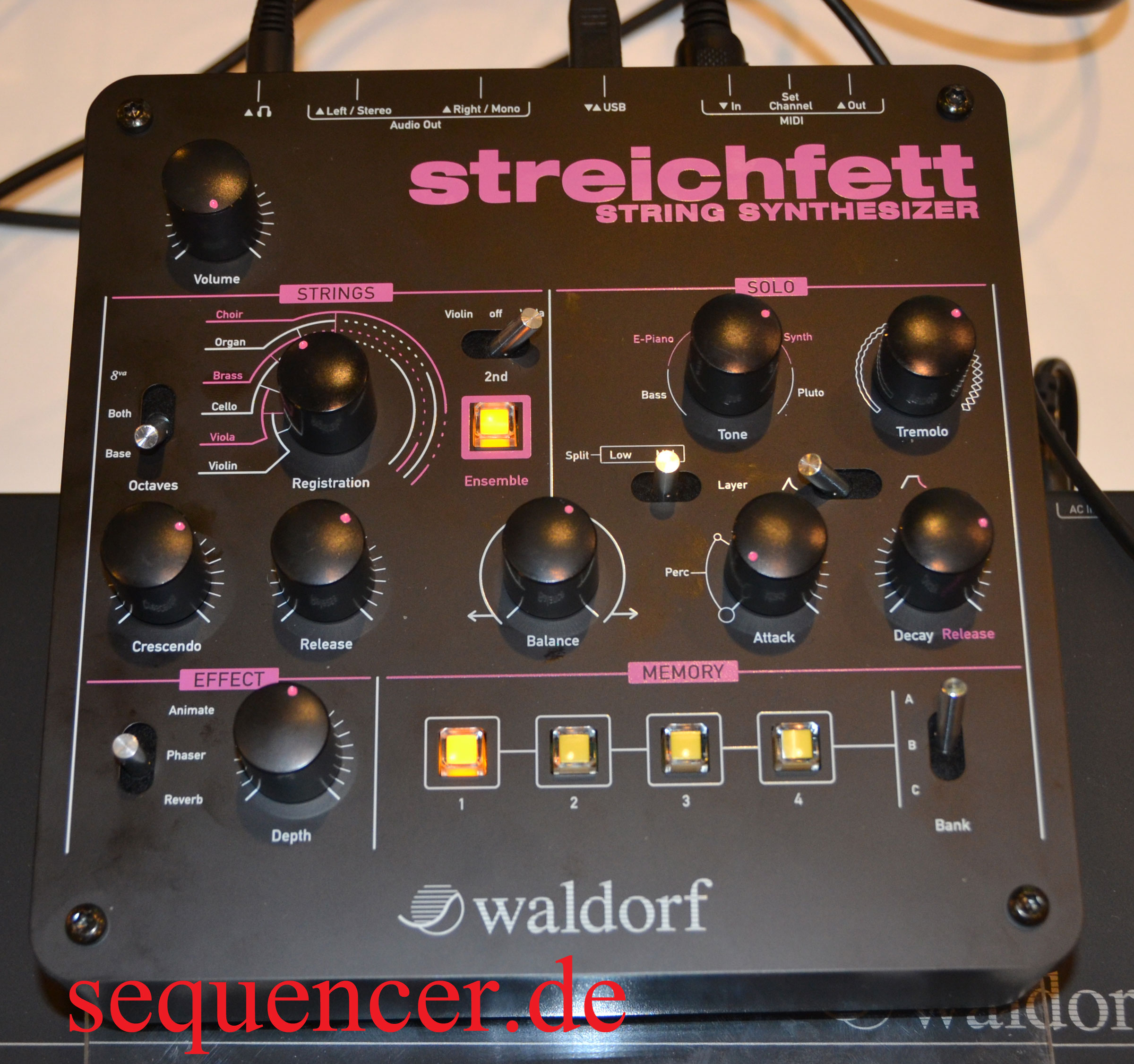 click image to enlarge - Bild klicken zum vergroessern
other WALDORF gear..


ABOUT a full polyphonic string machine in the same case as the Rocket and 2pole (filter).
ABOUT Vollpolyphone String-Machine im Gehäuse des Rocket und 2Pole-Filters.
ABOUT
DETAILS a balance knobs sets the volume of the string section and the solo/percussion section.

both sections got a knob that morphs through all the settings of the oscillator wave shapes are done here, so there is no direct access to classic synthesis stuff but very very effective.

and there is effects like ensemble and 3 more "external" effects (Phaser, Reverb, Animate).

Crescendo is a macro control for the envelope
DETAILS Über einen Balance Regler können der Stringsound und ein Percussion Sound überblendet werden.

Beide Abteilungen haben einen Zentralknopf der durch sämtliche komplette Registraturen fährt (Wellenformen und Zusammenstellungen) für Stings von Violine/n bis Chor bzw. Bass bis Synth / Pluto als Steigerung von Synth/Erdensounds - sehr sehr effektiv - aber kein direkter Zugang zu den Wellenformen etc.

Ansonsten bieten klassische Modulation durch einen LFO für Vibrato und 3 Effekte und Ensemble -Taster für die richtigen Zusätze.

Crescendo ist eine Art Macro für die Hüllkurve insgesamt.
DETAILS
SOUND classic electronic string sounds from the 70s - easy to re-register - so it's nice for live/stage use
SOUND klassische alte (elektronische) Stringsounds der 70er - sehr transportabel - schnell umstellbar - Bühne!
SOUND