CX5M Digital Synthesizer + arranger sequencer
SPECS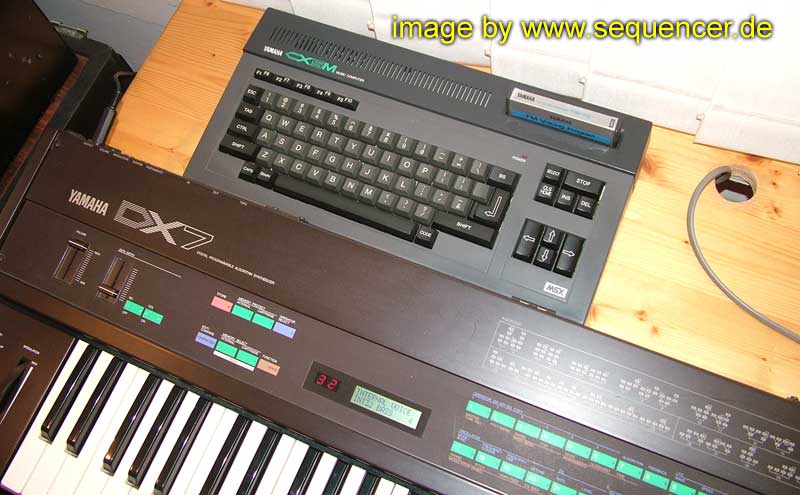 CX5M
click image to enlarge - Bild klicken zum vergroessern
other YAMAHA gear..


ABOUT an MSX Computer (thats BASIC quite enhanced!) with 4 OP FM Synth Module inside which is quite like the DX100 or FB01, Editor and Sequencer are extra cartridges - you can not reach the 4OP via BASIC directly..
ABOUT MSX Computer mit 4OP FM - entspriucht in etwa dem DX100 oder FB01, Editor (der war ok) und Sequencer (kein allzu intuitiver) kamen als extra Cartridges, kosteten auch nicht wenig. Dummerweise kommt man mit dem Basic nicht an den 4OP Chip dran, schade..
ABOUT
DETAILS 12bit DACs and 4 OP FM. 8 algorithms how the OPs (OSCs) are routed. fast lfo. all OPs have velocity control. Envelope: like ADSR but with 2 Decay rates and Level (quite like 2nd Sustain).

there is a FM voicing card in the slot, you need the editor to change the sounds.. otherwise you need to program it yourself (if you know where to poke to?) ;)
DETAILS 12bit Wandler und 4 OP FM. es gibt 8 algorithmen wie die OP (Oszillatoren) verschaltet sind. fast lfo. jeder OP hat Velocity-steuerung. Hüllkurve: Attack mit 2 Decayphasen ( D1, D2 und Level) plus Release.

vermutlich muss man die 4OP Card via POKE erreichen, direkt addressierbar ist er leider nicht.
DETAILS
SOUND everything metallic, percussive, bizarre digitale landscapes, bells, e-pianos, experimental
SOUND alles metallische, perkussive, glockige, e-pianos aber auch interessante bizarre digitale landschaften, experimentelles.
SOUND
VERSION Lots of alternatives with 4OPs of that generation: identical Versions: with speakers (DX27S), with small keys (Dx100) or with Dual/Split Mode (DX21), the CX is much like the FB01 as a soundmodule.

There was the super rare CX5MII..
just klick the more link..
VERSION Key/Rackalternativen: es gab identische Versionen mit unterschiedlichen Tastengrößen (DX100 (klein) / DX27 (normal)) mit und ohne Lautsprecher (DX27S-Version) und mit Dual/Split (DX21), der kleine FB01 entspricht dem CX stark.

Es gab noch den superraren CX5MII.. siehe "mehr" link..

VERSION