QY10 Digital Synthesizer + workstation sequencer
SPECS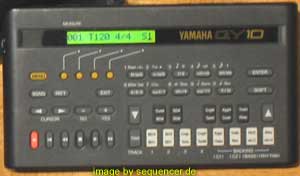 QY-10
click image to enlarge - Bild klicken zum vergroessern
other YAMAHA gear..


ABOUT nice little sequencer with simple sound generator (no edits here). can also control ext. synth.
ABOUT Kleiner Taschensequencer ohne viele Soundmöglichkeiten, aber nett als songnotitzbuch und Hilfssequencer.
ABOUT
DETAILS Sequencer: 8 tracks. Has little 1 Octave "Keyboard". 30 sounds - no more.
DETAILS Sequencer: 8 Spuren. Kleines "Keyboard" mit 12 Tastern ist integriert. 30 sounds müssen reichen.
DETAILS
SOUND make songs on the road, battery powered
SOUND unterwegs songs basteln. batteriebetrieben.
SOUND
VERSION QY20 / QY22: the "bigger" brothers (can do a bit more)
VERSION QY20 / QY22: größere Brüder
VERSION