QY700, QY70, QY300 Digital Synthesizer + workstation sequencer
SPECS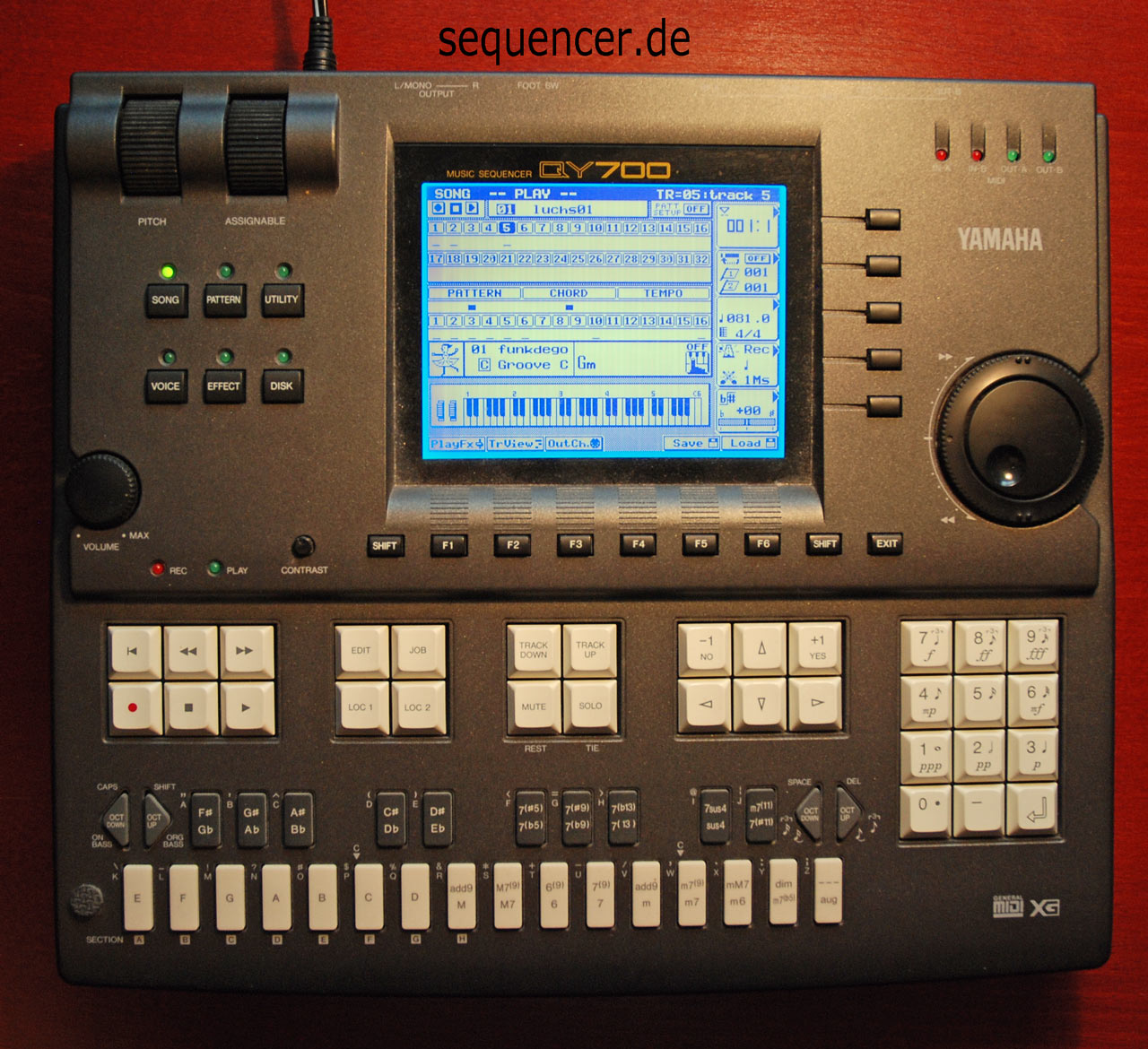 Pic shows QY700 (thx MC4)
click image to enlarge - Bild klicken zum vergroessern
other YAMAHA gear..


ABOUT the bigger QY. Not as portable but with better (and more) ROM-Samples plus larger display.

QY70: Smaller (QY20-sized) version of the QY700.

QY300: Preset version of the QY700 but no sound edits possible.
ABOUT Die größere Ableger der Rompler-Sequencer QY-Serie seinerzeit ist der QY700. Er ist nicht mehr ganz so klein und kompakt, jedoch beinhaltet er bessere Rom-Sounds.

QY70: Wesentlich kleinere nur leicht abgespeckte Version im Format des QY20

QY300: Presetversion ohne Klang-Edit-Möglichkeiten.
ABOUT
DETAILS Sequencer: 64 tracks. Editable sound edit possible (XG/GM). Has 3.5" floppy disc drive. Has little 2 Octave "Keyboard". 2x MIDI out/in.

QY300 has no edit page.
DETAILS Sequencer: 64 Spuren. Gegenüber dem QY300 editierbare Klangerzeugung (XG / GM). 3.5"
Disklaufwerk ist eingebaut. Kleines "Keyboard" mit 24 Tastern ist integriert. 2x MIDI out/in

QY300: Klang kann nicht editiert werden!
DETAILS
SOUND bread and butter
SOUND Brot und Butter
SOUND
VERSION QY300: "smaller" preset only Version without Sound edit page.

QY70: smaller but almost same features as QY700. One MIDI in/out only of course.
VERSION QY300: kleinere Version ohne Soundedit-Möglichkeiten.

QY70: Kleiner aber nahezu gleiche Features. Natürlich mit "nur" einem MIDI in/out.
VERSION