SYNTH DB: Modular | Analog | Digital | SoftSynth | Drum Machine | Groovebox | Sampler

CHIPS in synths .. -> CEM,SSM DSP
what chips work in your Hardware Synthesizer?

- more in the WIKI Section - Hardware Chips in Synths..
(add more to the list in the Wiki..)
<<--
choose category (DSP or ANALOGUE)

CEM + SSM + DSP - what chip is what?

SSM - Solid State Microtechnologies by solid state music

CEM = Curtis Electromusic Specialities - s special analogue small scale chip.
by DOUG CURTIS
- USA : synthtech.com (motm..)
--> Paul Schreiber is the current stock-piler of all things CEM/SSM, and he has a list on his site about what's where:
http://www.synthtech.com/cem/cemdata.html
--> Germany : Micon Chip Distribution, www.heinz-bacher-gmbh.de
Dave Smith has a special amount of CEMs for the Evolver series (new ones) but its unique and a special deal... so he will not sell them ;)


Curtis Chips List CEM
CEM3310 ENV ADSR
CEM3312 ADSR + VCA
CEM3318 ADSR but microprocessor controlled
CEM3320 24dB/Oct. Filter (multi)
CEM3328 same but LPF only
CEM3330 exp/lin VCA
CEM3335 exp VCA
CEM3340 VCO (Saw,Tri,Pulse)
CEM3345 VCO (Saw,Tri,Pulse) with comparator
CEM3350 12dB/oct Multimode Filter x2 (no notch)
CEM3360 VCA x2
CEM3365 DAC
CEM3371 Envelope x2
CEM3372 24dB/oct. Filter, Mix, VCA
CEM3374 VCO x2 (PWMable Pulse, Tri, Saw)
CEM3378 24dB/oct. Filter, Mix, VCA but microprocessor controlled
CEM3379 24dB/oct. Filter, Mix, VCA but microprocessor controlled
CEM3381 VCA x2 linear
CEM3382 VCA x2 log.
CEM3385 24dB/oct Filter (LoFi)
CEM3387 signal processor 3-4 pole cascade Filter, VC Pan/VCA
CEM3389 signal processor 4 pole Filter, VC resonance, VC Pan/VCA
CEM3391 Microprocessor Ctrld: VCF,VCA,Env (ADSR)
CEM3394 Microprocessor Ctrld: 1 Synth Voice: VCF,VCA,Env (ADSR),VCMix
CEM3396 Microprocessor Ctrld: Wave-Shaper x2 - VCF,VCA
PA381 VCA (low noise)
PA382 VCA (low noise)
PD508 S/H (8x)
5508 predecessor of PD508 same function
5530 30ch multiplex sample&hold (Prophet VS)


durch einen link hier? wenn keine Navigation zu sehen ist: hier klicken! RESET
no navigation? you came here by some link?? CLICK HERE, to get it back!!

Waldorf Q --- Motorola 56303
(3 of them in the Q KB and raQ, where 2 are for the synthesis and 1 is dedicated to FX only!
only 1 but faster DSP works in the micro Q/micro Q KB for all synthesis and FX!)


CLAVIA
Clavia Nord Lead-1 --- Motorola 56002 (4-voices from a Turtle beach Fiji chip)
Clavia Micro Modular --- Motorola 56303
Clavia Nord Modular --- Motorola 56303 (4 of)
The Nord Lead 3 has 6 Motorola 56362 DSPs,
The Nord Lead 2 has 4 Motorola 56002 DSPs
The Nord Modular has 4 (expandable to 8) Motorola 56303 DSPs.


Novation
Novation Supernova --- Motorola 56303 (8x)
Novation Nova uses 5 Motorola 56362 (synth engine), and 1 Motorola 56303 (fx unit)


RADIKAL
Spectralis - Texas Instruments TMS320C6713BPYP200
Floating Point DSPs. one DSP for the Sampling Engine + Effects
the other DSP for Hybrid-Synth + Filterbank.
Renesas M16C Controller (Processor)
Creamware

Pulsar/Scope, ASB Series (Pro12,Minimax,Prodessey,etc.)
- SHARC by Analog Devices
ACCESS
Access Virus A --- Motorola 56303
Access Virus B --- Motorola 56311
virus c - unknown motorola (1x DSP !)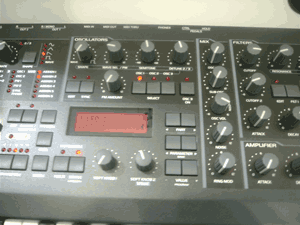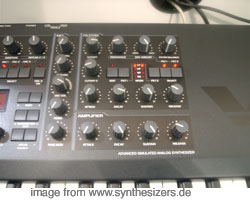 Quasimidi
Quasimidi Polymorph --- Dream SAM9707

Symbolic Sound
Symbolic Sound - Kyma --- Motorola 56309

Korg
Korg Oasys (Synthesis/Effects/IO on a PCI card):
DSP Processing MIPS: 480
One 80MHz Motorola 56301, with 384k SRAM
Four 100MHz Motorola 56303's, each with 384k of SRAM and 6 MB of DRAM
Alesis
Alesis Andromeda / A6: Coldfire processor 90MHz for LFos and ENVs,mods, ASICs (real analog custom)
same:



EMU
EMU Coldfire 33Mhz for the Audity2000 and 40Mhz for the Proteus2000

btw: please keep in mind that the only cool 303 is the 56303 ;-)
---
a lot of info came from:

Philip Pilgrim The Lab
5 Evan's Drive Synth Mods/Repair
Hammond's Plains Software
N.S. Canada http://www.robotnik.com/the_lab
B4B 1M8
mailto:thelab AT sprint DOOOT ca (has moved to ireland, and possibly back?)

also thanks to Than Muir for add. help /corrections!

more and more... Xtended by Moogulator / Consequence ;-)) (DSPs, Film etc..)

- more in the WIKI Section - Hardware Chips in Synths..
---