Fairlight CMI30AX Hybrid Synthesizer + midi sequencer
Fairlight
FairlightCMI30AX
SPECS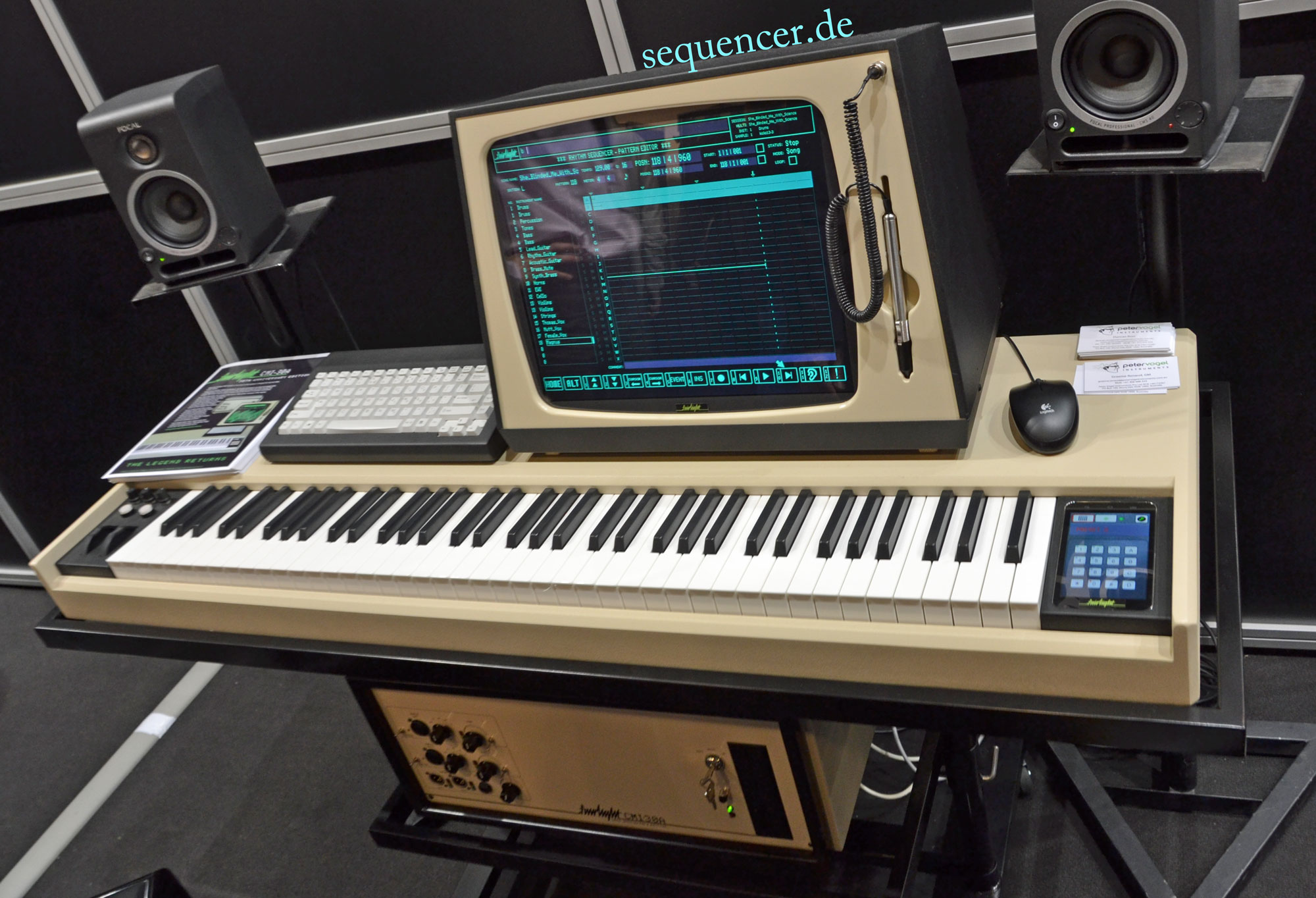 fairlight > Peter Vogel
click image to enlarge - Bild klicken zum vergroessern
other FAIRLIGHT gear..


ABOUT this is a clone of the original CMI series fairlight computer, later renamed to one of the founders of fairlight - Peter Vogel. Also the Fairlight App for iOs was renamed - so Fairlight still do exist and separated from Peter Vogel.
ABOUT Dies ist eine Reproduktion auf Basis eines PCs des klassischen Fairlight Computers, also der ersten Serie - Es gibt auch eine entsprechende App.

Diese und das Gerät wurden 2012 allerdings umgenannt zu Peter Vogel, einer der Gründer von Fairlight. Rechtlich geht man also getrennte Wege.
ABOUT
DETAILS Limited to 100 pcs made, for the real fan.

his machine was maybe the most expensive (digital) gear in the 80ies.. 0.5secs samples, additive and resynthesis (no, it's NOT like the k5000 and the cube.. but maybe inspired), after this PCM sampling like in the korg M1 and D50 samples became very popular.. the fairlight was a complete system with sequencer controlled by lightpen, 2x 8" floppy discs, and midi (not like the midi-less synclavier).. famous users: vince clarke / depeche mode, cabaret voltaire, erdenklang, peter gabriel.. filter hardware: 8 CEM3320 VCF in earlier versions 8 SSM2044 VCF in later versions - data sheet
DETAILS Limitiert auf 100 Stück. Für echte Fans.

der LFO und ENV bereich kann nicht klar beantwortet werden ,da es additive sektionen gibt mit 64stufigen time-level konstrukten.. samples, die ersten fairlights hatten nur 0.5 secs, spätere durften länger sein, 8 Zoll Disketten! und 8 6800er Prozessoren (nicht 68000!) später midifiziert worden, erste hatten dies natürlich nicht.. Analog filter: 8 CEM3320 VCF in earlier versions 8 SSM2044 VCF in later versions
DETAILS
SOUND digital hi end engine for so to say everything, todays view: a bit slow simple sampler with a nice 3D and historically very interesting.

you won't listen to the library without knowing the song that was made with this.
SOUND digitale hi end maschine - eigentlich ein recht einfacher Sampler.

Historisch sehr interessant, auch für die Klanglibrary - man kann hier in sehr vielen Sounds schnell diverse Hits der 80er erkennen.
SOUND
VERSION Fairlight series 1, Fairlight series 2, Fairlight series 3 differ a lot.. (more to come..)
VERSION Fairlight series 1,Fairlight series 2,Fairlight series 3 recht unterschiedlich (more to come..)
VERSION