Beatkangz – Drum Machinend: they
Sampling with onboard waveform editing
Over 3000 Blazin' Brand new sounds designed by The Beat Kangz
16 Track MIDI sequencer
500 production ready Platinum beats and loops created by The Beat K ngz
Sleek design and styling with customizable "Paintz" and "Grillz" (don't ask me, this seems some US-inside "slangz" ;) – I am german)
Convenient, light-weight portable design with internal rechargable battery
USB In & Out
Pitch and Mod Wheels
On Board FX including Reverb, Delay, Automated Filters and tons of Crazy "Freak FX" including "Chopped and Screwed"!!!!
On Board "Mo Bang" (obviously Slang, too) Mastering with EQ and Limiting
256 MB Ram standard
2 High Speed SD Card Slots
Export Beats to a Mac or PC
Very Easy to USE!!!
More top Secret Features and Surprises that we dont want our sleezy, thieving corporate competitors to know…. but we'll tell ya soon!
I tell you what: they call us "baby"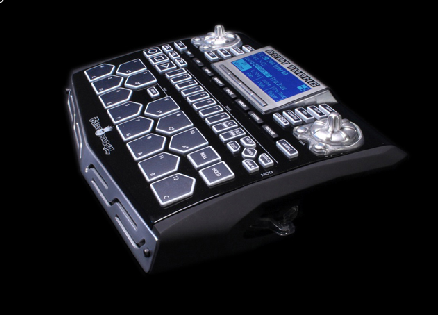 Forum: Beat Kangz Beat Thang