The historic Studio of Electronic Music – Cologne, Germany.
Images: scroll down, I reuploaded them – sorry for some glitches & loading time but may be worth it.
-> Update 2017: WDR Studio für Elektronische Musik zieht um nach Kerpen ins Haus Mödrath "Räume für Kunst"
Vielen Dank an Volker Müller (WDR) für Führung und Erklärungen. (6/2008)
(Nice visit of the Studio where Stockhausen, Xenakis and others did their works in cologne, germany – it's not a complete walkthrough, I got some more images of everything there..). Yes, it's the Synthi 100 in the foreground here and there was more…
Studio für Elektronische Musik Köln 2008 Part 1 VIDEO
Studio für Elektronische Musik Köln 2008 Part 2 VIDEO
Er ( http://www.youtube.com/user/elgauchoandres ) hat 5 dicke und bessere Videos gemacht – He made some much better Vides. So you may see most of us, incl the grea Volker Müller, who did a GREAT Job..
1 – Images I
WDR Electronic Music Studio (1 of 5)
2 – Images Zwo – oldschool galore! "sind ja nur Geräusche" – just noises, huh`?
WDR Electronic Music Studio (2 of 5)
3 – wir reden über Musik.. Talking music now.
WDR Electronic Music Studio (3 of 5)
Rechnerraum (ne Menge Macs) – Der abstimmbare Anzeigeverstärker (hört, hört!).. – lots of Macs in da house
WDR Electronic Music Studio (4 of 5)
(5 von 5) – Bandmaschinen stabil laufen synchron ab start, some more reel to reel stuff, works sync'ed when you start them – thats quality stuff.
WDR Electronic Music Studio (5 of 5)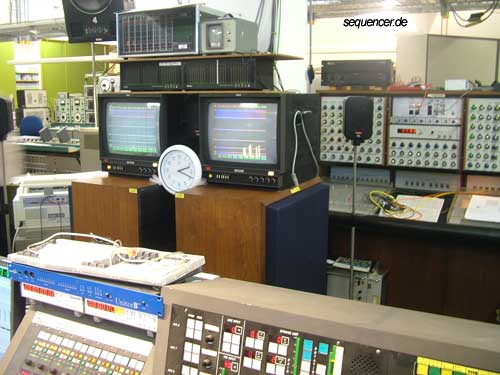 Info: Privatbesuch beim 'Studio für elektronische Musik' in Köln
Wiki: Synthesizer/Elektronische Musik_Vorgeschichte
(Studio für Elektronische Musik Köln (des WDR))
Note: This is not the real PLACE where the original recordings have been made but it's still in cologne!
Hinweis: Natürlich sind das hier nur einige Geräte und der Originalschauplatz wo die Aufnahmen gemacht wurden ist natürlich nicht genau hier gewesen, dies ist nur eine Art Abstellraum im Keller (ein Jammer) – Aber hier sind alle Sachen versammelt, die noch gerettet wurden. Da Elektronische Musik für die meisten scheinbar weniger zählt, ist es immernoch nicht soetwas wie ein Museum oder Begehbarer Erlebnispark. Wer sich einsetzen will, fragt den WDR nach der Musik aus diesem Studio – Auch für Geld. Nach den Geräten, den Bändern. Man weiss nie, wie lange die Sachen hier noch stehen werden.
erste Bilder von Jan van Volt / Elektrolabel
(Hier als "Stockhausen Studio" bezeichnet. Es handelt sich aber nur um das Studio für Elektronische Musik, wo unter ANDEREN auch Stockhausen gearbeitet hat. Es ist also nicht "sein" Studio.)
Hier ein Rundgang – Part II, Intro