Electribe 2.02 – blue & red – Update
Korg bringt die bisherigen Electribes in den beiden klassischen Farben der alten X-Serie und ein Update auf 2.02 für alle, auch die schwarzen/grauen Electribes. Die Petition zum Thema wurde inzwischen aktualisiert (Ian Bradshaw statt der Entwickler des Minilogue wird adressiert und die Liste wurde korrigiert). Die Liste ist lang und daher nicht "erfüllt", aber einige wichtige Elemente wurden erledigt – sehr wichtige sogar. Wem das nicht reicht, kann hier wählen gehen.
Diskussionen zu den Electribes gibt es natürlich im Forum hier: Korg Electribe Sampler 2S …
Achtung: wer bei OS 1.15 ist muss erst OS 1.16 aufspielen und DANACH erst OS 2.02 sonst erscheint "invalid file".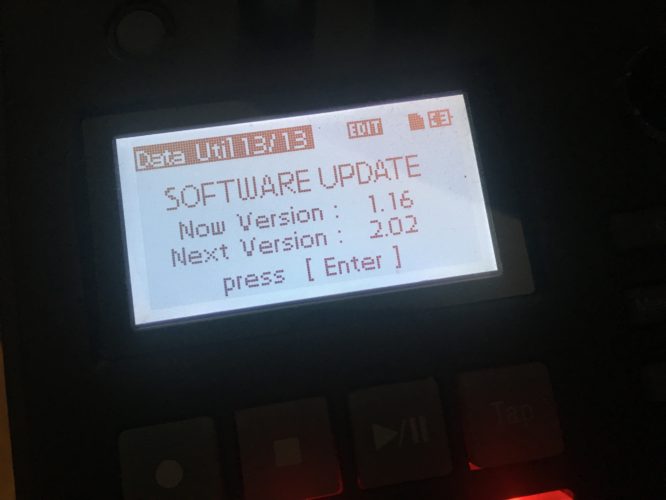 electribe | electribe sampler | version 2
The Electribes got a blue/red colour scheme and a new OS 2.02.
the OS was highly appreciated but it may not be what the Petition wanted Korg to do. it has been updated as well. So it may not be obsolete – but very very important things have been done:
Chain function – plays multiple patterns in succession.
Pattern parameters Global parameters
CHAIN TO "Off" or Chain to "patternname"
CHAIN REPEAT "1"
– means you can set any pattern to be played with a pattern – so you set another name/number of a pattern there – so this is a clever work around for appending patterns – so the limit of 4 is no longer a problem – it can be longer than the older electribes. The way it was implemented is perfect for programming long patterns but not made for performance – it can be switched off via a global switch and exactly that is a very very good solution to the "64 step problem"!
• Added an UNDO function.
for parameter edit, sequence recording, or Erase.
–> hold down the shift button and press the < button.
• Added an "Original Value" function that indicates the saved value of the parameters.
• Reduced load/save time samples.
so some parts of the petition are done.
Download V2.02 OS – Sampler – please note – if you are at 1.15 update to 1.16 first and then to 2.02 because you get "invalid" message and no update.
NOTE: it's 2 OS'es for Electribe and Electribe Sampler!
the Synth has it's own OS. Can be found at Korg.com as well.

Diego M did a nice helpful shortcut list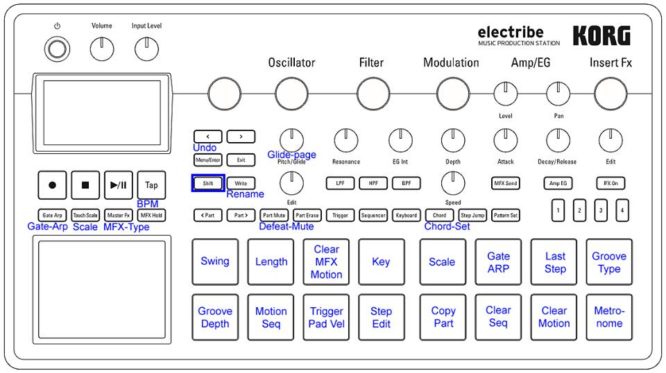 Hilfreich / helpful (made for the older one) -> here: Sampler 2S (2015)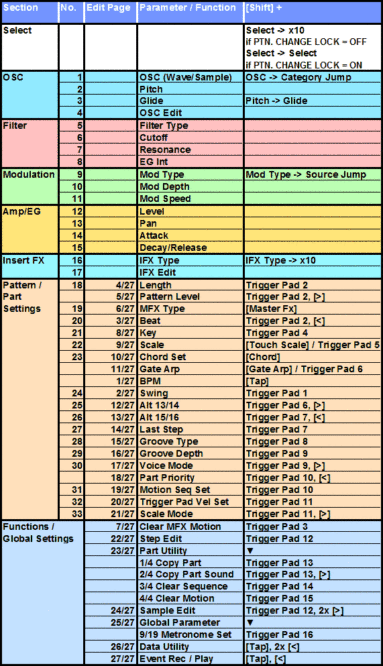 ---
ah, Ableton brings 9.7 shortly.. which will bringt Slices to the Push 1 and other little updates.