Euterpe Vertice – Filterbank – great vintage look by ESL
Erstmal sieht die Filterbank von Euterpe Synthesizer Laboratories einfach mal gut aus.
Es gibt zwei Filter-Abteilungen mit Tief-, Hoch-, Bandpass und Resonanz, dazu eine ADSR-Hüllkurve und Envelope Follower, offensichtlich kann man den in drei Stufen "empfindlich" machen für bestimmte Zwecke (Perkussiv oder Komplex).
Für das Resonanzverhalten gibt es 3 Schalter, je 3 Eingänge für CV und Audiosignale mit Abschwächern und weiteren CV Eingängen darunter scheinen angemessen zu sein, einen VCA gibt es auch, was eigentlich bedeutet- das ist ein Synthesizer ohne Oszillatoren, fast. Die Hüllkurve kann man loopen und es gibt offenbar auch eigene Knöpfe um die Filter gekoppelt steuern zu können. ESL ist eine Firma aus Italien.
found these 2 nice images on FB by Analogowa Dusza
This Filterbank has 2 filters with 3 switches to adjust the resonance behaviour and 3 filter modes (lpf,hpf,bandpass) – so everything but notch is in – it has lots of cv inputs and 3 audio inputs along with attentuators. the ADSR envelope can be looped and is coupled to an envelope follower – those 2 big knobs can control both filters – the sensitivity to scan the audio can be adjusted in 3 modes. in fact this is a synth without oscillators – so to say. and of course there are VCAs or at least there is one Amp as well. ESL is located in italy.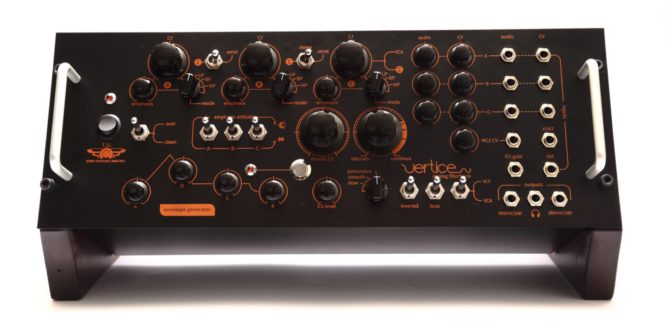 E.S.L. Vertice Seconda Serie Divertimento (first official demo)