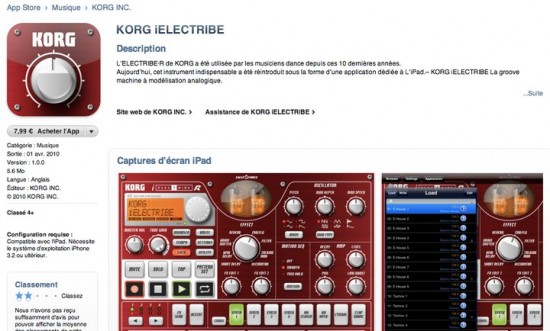 Nice little Electribe on iPAd, but if you have a closer look this is much much smaller and just 4×16 Steps, so the Interface is a bit irritating..
from korg at appstore via this FB page:
Facebook | Logic Studio Blogs Fotos – Wall Photos.
ok, may be 1.April? But.. no, it's true, but $9,99
Press Text is:
Yonac Software is pleased to announce the release of the miniSynth PRO for the iPad. Conceived and designed by the same team behind the original synth and the theremin for the iPhone OS, miniSynth PRO is a completely new, cutting-edge sound engine crafted especially, and deployed only, for the iPad platform.
miniSynth PRO is a fully-featured, professional-grade virtual analog synthesizer. It incorporates an improved version of the time proven zero latency "push-pull" Yonac keyboard algorithm that powers their existing synthesizers, and features a highly customized version of their original analog-clone "Vincent" tone shaping filter. More importantly, it marks the debut of the brand new YASSE (pronounced "Yah-See") modular sound sequencing and synthesis engine, developed in Yonac labs over the last three years.
As a step up on its predecessors, miniSynth PRO is designed as an FM / Subtractive hybrid synth. Among other innovations, it features custom "Vari-wave" dynamic waveform selection algorithm, individually parameterized voice processing, and carefully selected waveforms driving its dual interactive oscillators and its five-destination LFO.
miniSynth PRO offers many other features to render music making easier. They include a dedicated arpeggiator module, dual individually adjustable keyboards, user control matrix, and 82 presets designed by actual musicians. Users are able to record their own performances, as well as save and recall any number of their own presets in the brand-new YPAT patch design format.
miniSynth PRO will be available at the opening of the iPad iTunes Store for $9.99.
Yonac Software was founded in New York City in 2008. The company mainly focuses on the development of music and sound related software. Yonac's iPhone applications include miniSynth, the first iPhone synthesizer, TuneORama, an easy-to-use guitar tuner, and Thereminator, a touch screen theremin.
Thread im Forum: iPad Electribe