Koma Filter SVF201 (3HE Module)
this is the new 12dB/Oct state variable filter – therefore it has all filter modes except the notch type.
the mix outputs are CV-controllable, and that illuminated something arount the cutoff is not just photoshopped, it's illuminated. also there is an overdrive to get very saturated sound. will be at 259€
it's brother is the FT201 – both are vactrol-filters which are not too fast but they simple sound good. the Malekko Borg Filters also got vactrols in it.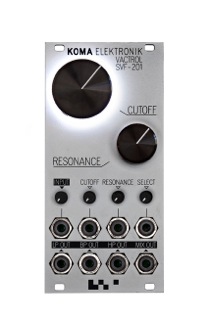 KOMA Elektronik SVF-201 Analogue State Variable Filter Module
A youtube demo of the SVF-201 by KOMA artist Jimmy Edgar can be found here: http://youtu.be/raC0ZXxNdO4