Korg Monotribe analog synth
This is how it looks like – New Korg Monotribe – Analog Synth gadget. they call it  "Analogue Ribbon Station" and it's real analog. and it's 199€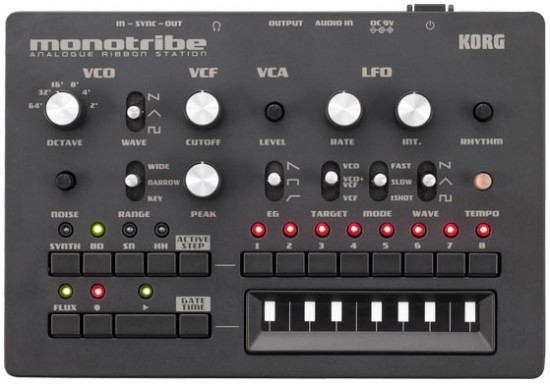 So to say a bigger Monotron – so to say a more real synth with sequencer and drum machine. 1 VCO, VCF, VCA and LFO – Also there are 3 Drumsounds on Board. The Step-Section looks a lot like there is a sequencer in there but 8 steps. The Keyboard is the same as the Monotron's (I never managed to play proper melodies since it doesn't quantize. there is a sync-input and audio in. There we have it – a nice little gadget synth. not clear if melodies can be recorded and possibly quantized (tonally) to make it easier to play it directly.
UPDATE: it IS quantized, there are 3 modes including chromatic quantize.
and this one:
Active Step and Flux Mode
Active Step editing lets you remove or re-insert individual steps, creating short loop-like effects or off-beat patterns that weave in and out of complex rhythms. The step buttons provide this Active Step control during playback, and also provide an instant return to the original 8-step sequence if needed. Flux Mode allows the creation of sequenced synth parts that are not rigidly tied to the step grid, providing more musical versatility. The creation and morphing of edgy beats and stuttering rhythms has never been easier.
along with 8step Chase light thats a nice toy..
Sync Jacks: A Return To Analog or Modular
The monotribe provides both Sync In and Sync Out jacks, empowering multiple monotribe units to play and work together for a synchronized performance. Not just other monotribes, either. Audio line level pulses can trigger the Sync Input so the monotribe can be synchronized to a DAW system, for example. In addition, the polarity of the pulse waveform can be changed for both the input and output, so you can enjoy synchronized performance with a variety of equipment equipped with Sync connections.

Korg Mono Tribe
im Forum…