Ok, this looks like a real synth now and  at 04 September 2:30 PST (8:30 morgens bei uns in D): http://www.livestream.com/korgusa
you won't find this: but some of us might be happy about it..:
this (from the panel) is a 2 OSC synth with Ringmod and FM, 2 ADSR Envelopes and Multimode Filter and one LFO and memory, so it seems a direct strike to and against the Minibrute, if that thing is true, and see the Reverb and Delay Knobs on top? Photoshop or real – well,..
well – lets see this a a suggestion by a creative user, right? to me much more suitable compared to the monotrXX series for a lot of people? true? Korg? Perhaps Korg would use Mini Keys on synths like this, which would be cool as digital hell and analog heaven.
so – it's all speculation and just measure those knobs and keys and compare!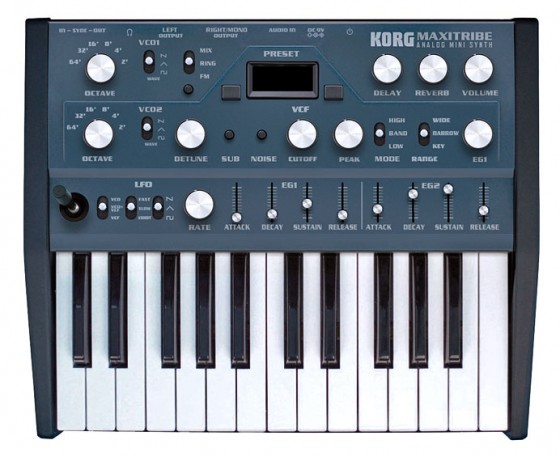 Forum • Korg bringt was neues ….
Was Minibrütet denn Korg oder Fans von Korg da aus? Also der klingt oder sieht sicher schon sehr nach Interessant / Haben wollen aus, oder? Ich mein bei einem Thread zu einem vergleichbaren Gerät mit 42 Seiten Diskussion könnte das doch Interesse heißen? Aber ich weiss ja nichts, also hier zur Erdung aller Hersteller: Arturia Minibrute NAMM 2012 – Analogsynth – ob Speicher aber realistisch ist und dennoch kein MIDI?
naja, hier steht, was du wissen willst bzgl. Photoshop.
image:  bobborries
UPDATE: Korg has something new, announced 4.Sept. 2:30 PST – Um 8:30 morgens gibt es beim Livestream mehr Info über neue Sachen, die WIRKLICH von Korg kommen.Livestream.com/korgusa