MIDI Kits for Jupiter 4 & Juno 60 incl full MIDI Controller Support + upcoming Drum Synth 808/909 BDs
Since I am a happy user of the Jupiter 4 MIDI kit – Laszo Kovari is back and the retrofit kits are available again..The improved version of Io, the Jupiter 4 retrofit is released on 28th of March along with the ultimate Juno 60 retrofit, called Minerva. The Promars Kit will follow in Q4/2011 with FM and Arpeggiator!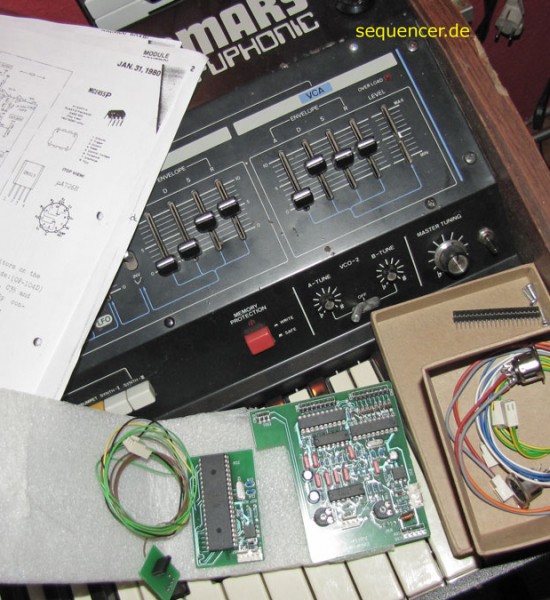 Io specification JUPITER 4 Retrofit
– Easy to install, modular internal retrofit
– Seperate boards for patch programmer and keyboard assigner extension
– Full MIDI on keyboard, all programmable sliders and switches back and forth
– MIDI control for pitch bend, VCF, VCA, Portamento and arpeggio rate
– Two extra LFOs on pitch bend and VCF
– Memory upgrade to 64 patches
– Price is 129 EUR for the keyboard assigner board and 99 EUR for the patch programmer board
The new version adds master keyboard functionality to Jupiter like it sends note data not just receives.
Old version kits are still available for 99 EUR if you do not need the note sending.
Upgrade for existing customers from the old version to the new only for 30 EUR.
Minerva specification
– Internal non-destructive retrofit, no-drilling installation
– Replaces the patch programmer processor without removing the original CPU
– Full MIDI on keyboard, all programmable sliders and switches back and forth
– MIDI control for pitch bend and arpeggio rate
– Flexible extra LFO, routable to several parameters
– Velocity assignable to VCA or VCF
– Dedicated mono ADSR for the VCF
– Memory upgrade to 80 patches
– Patch dump and controller snapshot for easy sound management
– Price is 129 EUR + 10 EUR shipping fee
As a special gift, a high quality 6-color limited series t-shirt comes with the first ten kits from "The Dole" t-shirt manufacturing. www.thedoleshirt.com
Manuals:midipolis.blogspot.com
Minerva in action: soundcloud.com/covariance/minervadeep
Upcoming projects
=================
– Kicron, analog kick generator, based on 909/808 circuits with full automation
– Syncron, smart synchronizer with delay compensation for MIDI clock and DIN/Sync
there will be:
– authentic 909 kick circuit with high quality components (no SMD, no cheap capacitors)
– all popular 909 improvements included (extra control for distortion, pitch, pitch depth, gate time, noise shape, noise level, pulse level)
– improved 808 circuit with pitch control, extra long decay, attack control
– the 808 can be pitch-synchronized to the 909, even as a suboscillator
– user interface with 2×16 character LCD display, four pots and navigation knobs
– extra LFO, memory and MIDI control as usual
– Elektron Turbomidi support, also Kicron can serve as bridge to non-TM gears, controller mode to tweak external gears