• Since 2006 we do the modular gathering / Modular Synthesizer Treffen seit 2006
INFO PAGE –  https://happyknobbing.synthesizers.de
2019
next up in 7 . – 9. 7. (June)
•: 2018, 18.-20.5.

walk through
Happy Knobbing 2018 Modular Synthesizer Meeting - Part 1
the jams
HK2018 Jams - Part 2 Modular Synthesizer Meeting Happy Knobbing 18
Fragen=? Questions? Ask @ Forum – please answer the survey -> the 1. option – bitte im Forum klicken ob du kommst->  https://www.sequencer.de/synthesizer/viewtopic.php?f=17&t=123895#p1462881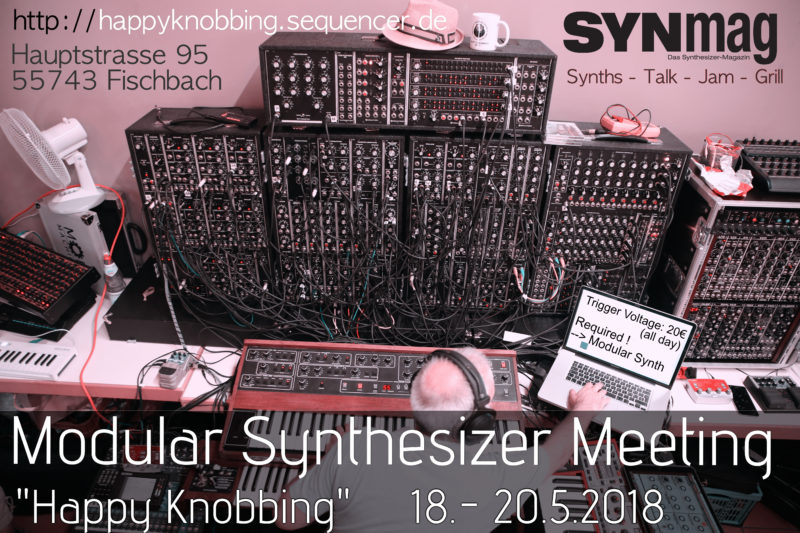 Roundtrip 2017 – enjoy…
Happy Knobbing 2017, Modular Synthesizer Meeting, Germany
some Jams 2017
Jams II / round trip by Ralph B.
Modular Synthesizer Meeting at Happy Knobbing 2017 (Talking about Modular Gear and Live Synth Jams)
• video impression at my synth youtube channel..
•Moogulators best images & some performers check this set of images
• Images batch 1  & more


• Fragen / Questions? @ Forum: 2. – 4.6. 2017 Happy Knobbing Modular Synthesizer Meeting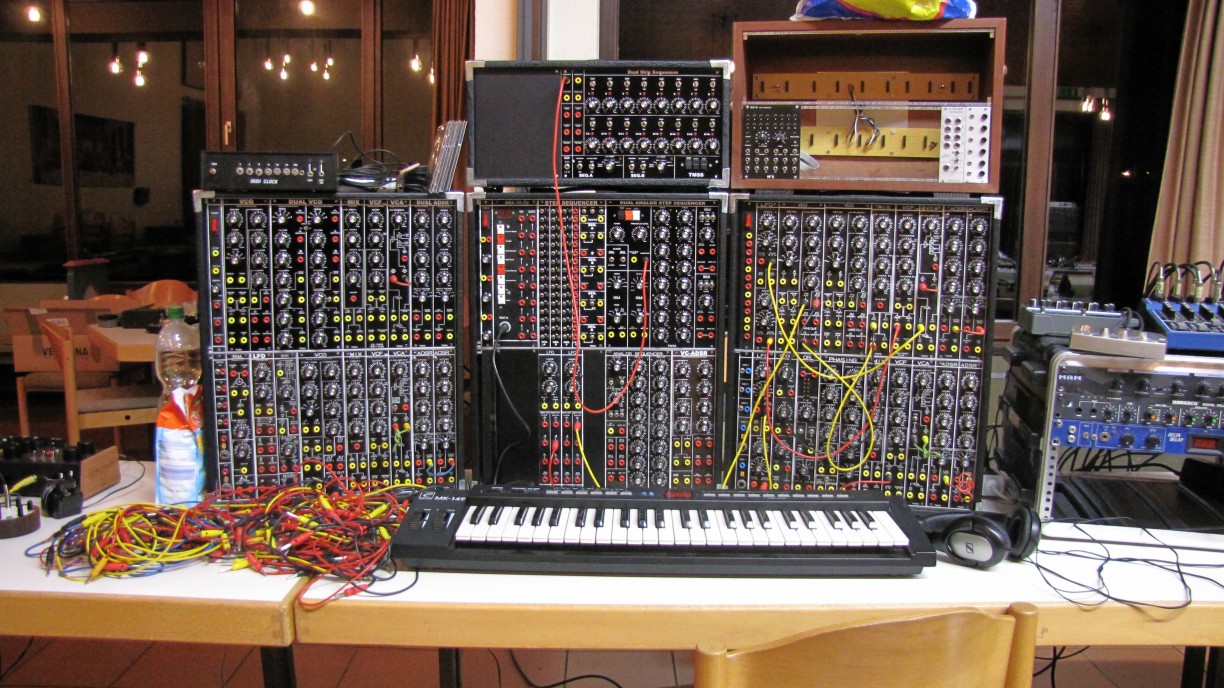 what you need / was brauchst du?
bring your modular, anything you need to use it (patchchords, power, adapters, mixer, headphones (you need it to listen to other systems – since we do NOT hear 50 system -at once, we got tables and chairs, PA and a room)
Bringe alles mit, was man für dein Set benötigt – Patchkabel, Strom, Mehrfachstecker, Kopfhörer ist extrem wichtig zum reinhören!
Tisch und Stuhl und der Raum ist da.
• 20€ per person / modular synth required!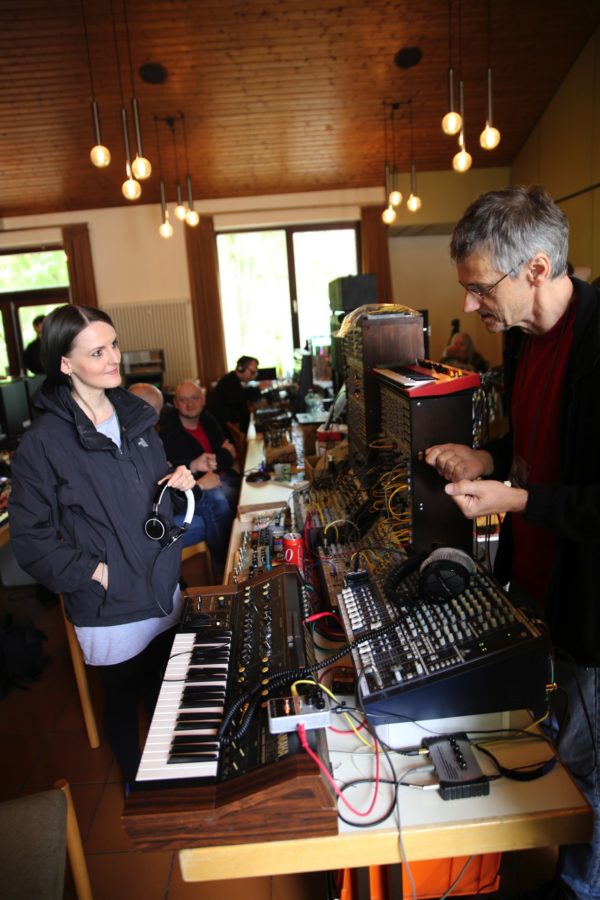 Friday app.15:00: come & set up, talk, check out (use your one headphones)…
aufbauen, austesten, fachsimpeln – immer mit eigenem Kopfhörer!
Saturday (all time): talk, jams starts at 19:00, check out (your own headphones), jams, performances & workshops via our PA, grill BBQ as there!
jams & konzerte, workshops über die PA – testen, reden und ausprobieren mit dem Kopfhörer, grillen (der ist groß!)
Sunday 15:00: talk, relax, start packing…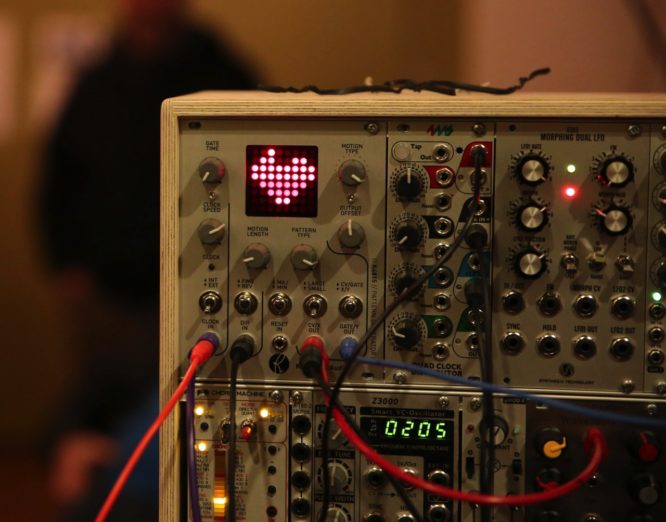 • Location
the building beside the only church in a small village in germany beside a little creek //
Das Gebäude ist direkt neben der einzigen Kirche im Dorf, neben einem niedlichen Flüschen
> Hauptstraße 95a, 55743 Fischbach 
• large BBQ grill
• nice place  ok for tents – man kann zelten und grillen
• close (walk): Italian Restaurant "Grotte" (Pizza)
• nearby: shopping & gas station  // in der Nähe: Tankstelle und Globus Monstershop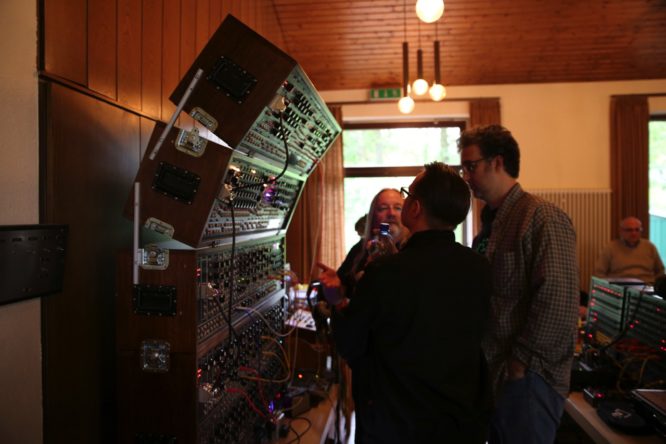 2006 – 2016 coverage – just check
• video impression at my synth youtube channel..
• Images and more can be found here
• link here / info: http://happyknobbing.sequencer.de
the gatherings / selected videos
Happy Knobbing 2016 - Modular Synthesizer Meeting
Happy Knobbing Modular Synthesizer Meeting 2015 (Germany) Music: Moogulator
Happy Knobbing 2012 Modular Synthesizer Meeting, Fischbach, Germany - Music: Moogulator
_
the playlist..
Happy Knobbing 2012 Modular Synthesizer Meeting, Fischbach, Germany - Music: Moogulator
powered by SynMag – Das Synthesizer-Magazin
Random Images
---
The library:
ENGLISH Info
simple rules
bring your modular (required!), all cables and power cords you need & headphones
help to pay the location: 20€ come and go whenever you want
join the jam on saturday or bring something interesting you are working on for demo, workshop…
since 2007 at Whitsun / Pentecost – so it may help to plan the next meeting…
we are users, developers and designers of synths, DIYer and performers – even artists ;)
we do not have Wifi, but it's a good reception with Eplus / O2 – which is available as Prepaid SIM, which you should get and register before. The prices are 7-15€ for 300MB to 5GB within one month atm. at Alditalk.de (buy them at the Aldi shop at 10-12€ incl. 10€ which includes NanoSIMs as well, not you need to register them via net or by fax – will work about 1-6hrs after reg – normally they work immediately after registering – and there's an app to make it all happen for iOS and android), so it's all reasonable.
The first meeting took place in June 2006 in Heusenstamm, Germany. At Bernies studio [1]
since 2007 we met in 55743 Fischbach, near Idar Oberstein (there are more Fischbachs, so watch the ZIP Area Code, It's Fischbach an der Nahe (Fischbach at the River Nahe) in Germany, the address is Haupstrasse 120. Thomas from Anyware is the host.).
starts FRIDAY 15:00 ends SUNDAY – when they are all gone (app. early evening) – it's not recommendable to come on sunday, thats the day of leaving…
Hauptstrasse 95, 55743 Fischbach – google shows the best position with Hauptstrasse 95. Map: [2] it's the flat building behind the only church in this village – so just come from the Fischbacher Strasse and turn into the Hauptstrasse near House No.85 and pass the church, there's enough room for your car, gear, tent etc..
We/you can jam & play SAT is the best day – in the evening – or want to show us something? do a nice workshop? anything or just be with us… any day and time from FRIDAY 15:00 to SUNDAY evening
If you want to to talk about your system, do workshops, synthesis or special modules or music stuff, just come and do it. There will be a chance any day – just ask. we'll help. there will be jams also (saturday)
there's room for tents, sleeping in the car or guesthouse quite near the scenery or just bring all you need to sleep in the hall next to the synth room.
Check your plugs: In germany we got a 2 PIN plug, so in some countries you can build one, in case of confusion check this http://de.wikipedia.org/wiki/Schuko if you can not manage it bring a multi-plug that is ok for your stuff and we try to get a "Schuko Plug" or at least euro (which is just 2 plugs, so be carefull than!!)
try to bring everything YOU need and a little bit more to connect to others near you (next table), especially when other than germany / euro connectors are used.
questions? just ask me or post your questions to the Forum
Bring your synth to sell or modules to offer, there's always a good chance to find buyers for it. Please don't forget to mark your items for sale and to show it. it does not need to be modular. CDs and stuff are also welcome.
got nice big or rare synths or a new controller-sequencer-something or any cool new software you did that works nice in the modular context: just show us! we are interested!
don't forget cables and all you need to play, listen and powering, phones, food, drink. you will get a nice table and be prepared to plug in at your neighbour's table. but be aware we do not have non-german plugs etc. so it's 220-240 Volts, 50 Hertz. and things you might want to sell (synths, CDs, whatever..)
questions? just Email me or check the Forum under "modular" or "termine" mentioning the meeting. https://www.sequencer.de/synthesizer/
from here it's all german, but also a nice list of videos und images of previous meetings since 2006, enjoy…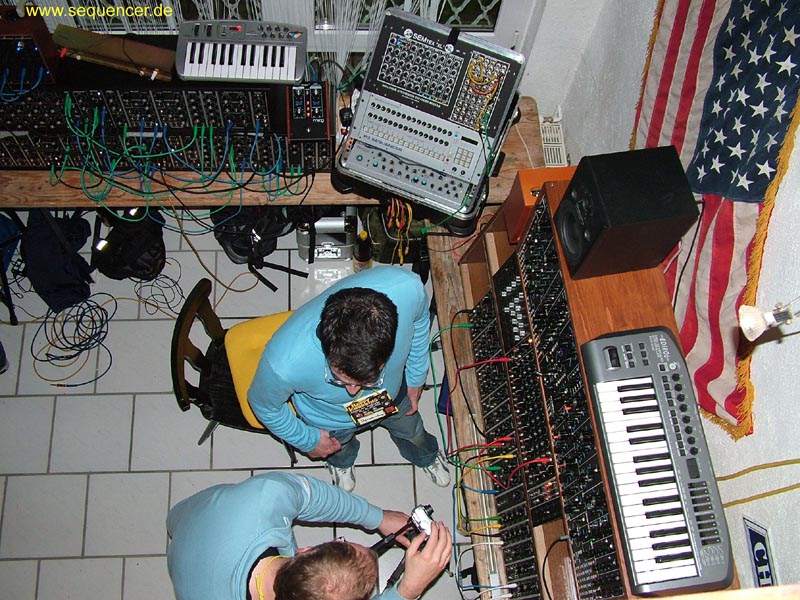 DEUTSCH Info
ab 15:00 Freitag durchgehend bis Sonntag abend,
es ist zuende wenn alle weg sind. Bedenke, dass sich nur lohnt am FR oder (wenn's nicht anders geht SA sehr früh) zu kommen – dann wird es aber schon eng, Sonntag ist Aufbruchstimmung.
Infothread im Forum www.sequencer.de/synthesizer unter Termine "Happy Knobbing"
Es gibt 2 Bedingungen:
20€ Beitrag Kosten (Miete für Location), bitte Tommy in die Hand drücken, Forums-Nickname bitte nennen
Eintritt nur mit Modularsystem (alle Typen, MS20/M geht auch, auch wenn diese nicht wirklich modular sind)
wir sind: Entwickler von Modulen, Nutzer, DIY / Löter oder einfach Performer oder Künstler
Für Samstags-Jams / PA bitte lange Kabel nicht vergessen (Klinke ist ok)
Bitte NICHT OHNE MODULAR kommen!
Kommen und gehen wann man will – Geld bleibt das Gleiche. Platzplanung bitte via Forum!
Supermarkt offen FR,SA bis 22:00 – "Globus" für Lebensmittel – etwa 1km am Verteilerkreisel
Grill vorhanden, groß!, Es gibt auch oft einen Gemeinschaftseinkauf für Fleisch und Vegetarisches. Frühstück und Co solltet ihr selbst mitbringen, ebenso Getränke
Gegrillt wird idR gegen frühen Abend, bis dahin ist idR Selbstversorgung angesagt, es gibt eine Pizzeria "Grotte" und einen Laden für Vergessliche. 2x Frühstück und 1x Mittag sind auch mit eigenen Getränken aufzufüllen – aber zum Grillen wird man vom Gastgeber idR gefragt, ob man ein "Sauiersteak" haben will (1-X) – Veganes sollte man sich aber selbst mitbringen oder mitbringen lassen – nicht immer wissen die Einkäufer was genau, daher einfach angeben – es gibt einen Monstereinkaufzentrumsblock recht nahe – guter Fußmarsch oder mit dem Auto in 5 Minuten zu erreichen – da kommt das Zeug dann auch her. Man verhungert also nicht! Ist bis 20:00 offen (SA).
Es gibt eine voll ausgestattete Küche mit Geschirr, Besteck, Heißwasserkocher, Kaffeemaschine. Allerdings kein Herd und keine Dusche.
Zelten möglich (das Gelände ist groß genug dafür), in der Halle schlafen oder im Auto geht auch (kostet nicht extra, stört keinen und der Fischbach fließt direkt daneben, sehr hübsch…)
Gastgeber / Fragen zum Ort seit 2007 Tommy von Anyware, Erbauer div. analoger Maschinen – Im Forum als ANYWARE zu finden (für Fragen zum Ort, er liebt Telefone).
Zeitraum: Freitag ab ca. 15:00 bis Sonntag ca 16:00, Kerntag mit Jams ist Samstag, sie beginnen idR am frühen abend irgendwann.
Wenn du was neues, spannendes oder so hast – wir freuen uns drauf. – Workshops geben ist gern gesehen – es bilden sich aber meist von allein interessierte Gruppen, die irgendwas untersuchen wollen. Daher auch die Bitte euer interessantestes Zeugs mitzubringen. Es geht natürlich nicht darum, wer die dicksten oder teuersten oder ältesten Sachen hat. Synthesizerhippies, Modernisten, Maschinisten, Player, Frickler und Löter – alles willkommen. Nur bitte nicht nur "zum gucken" kommen.
Es gibt IMMER einen Forums-Beitrag in TERMINE rechtzeitig vor dem Meeting – dort können Fahrgemeinschaften gebildet werden, Vorfreude ausgetauscht werden, Projekte dort geplant oder koordiniert werden oder Sachen, die man sich mitbringt oder austauschen möchte – Flohmarkt geht auch immer – Bring ein Schild mit Namen und Preisen mit oder verabrede den Kauf direkt im Forum!
HINWEISE UND WICHTIGE MITBRINGSEL
Es gibt kein WLAN oder DSL, der Empfang mit eplus/o2 ist gut, der Empfang mit Telekom ist eher schwach, versorge dich bitte selbst mit Netzzugang, bei Aldi gibt es Monatsflats von 7-15€ mit ausreichend Kapazität für einen Monat, falls das wichtig sein sollte – versuch das vor der Anreise zu klären.,Es gibt meist 3G Netz, LTE solltest du aber nicht erwarten! Bei Alditalk gibt es Startkits mit NANO-SIMMs für 10-12€ wo etwas Guthaben schon drauf ist, was für die wichtigste Kommunikation reichen wird, aber muss registriert werden, tue das also zuhause vorher).
Bringe alle Kabel und Stromversorgung mit, die du für dich brauchst und nimm dazu noch 1-2 weitere Mehrfachsteckdosen mit, damit du dich an den Nachbartisch anschließen kannst. Verlängerungskabel ist super und Audiokabel (lange) sind auch von Vorteil. Wer keinen Kopfhörer hat, wird nichts anhören können, also MITBRINGEN und vergiss nicht einen Adapter auf 3.5mm für die Eurofraktion.
Location
Location: In Höhe Haupstr.120, 55743 Fischbach – fürs Navi am besten PLZ merken, Es gibt viele Fischbäche! Unsers nennt sich Fischbach an der Nahe bei Idar Oberstein. (Treffen 2007-201X…)
Direkt neben der Kirche – das ist eine Art Gemeindehaus. Es gibt nur eine Kirche!
Die Umgebung [3]
Der Zugang ist am einfachsten über Fischbacher Str. in die Hauptstraße einbiegen auf Höhe Hausnummer 85 führt ein schmaler Weg an der einzigen Kirche des Ortes vorbei zu unserem Flachbau.
Tipp: Hauptstr.85 und 120 in Google Maps anschauen! Der Weg ist schmal, deshalb langsam fahren beim suchen!
Der Ort hat sogar eine Website http://www.fischbach-nahe.de
Google Maps sagt wo es ist: [4]
Wissenswertes
Mitbringen: Idealerweise kleines Pult, Alles was man zum Betrieb braucht, Patchkabel, Strom/Mehrfachstecker Verlängerungskabel, Kopfhörer, Steuerkeyboard (CV, MIDI to CV, Volta, was auch immer).
Anmeldung / Fragen im Forum oder per Mail – vor dem Treffen wird immer ein Eintrag unter "Termine" sein, in dem man Fragen stellen kann, meist Monate vorher: [5]
Es wird Jams und Performances und auch kleine spontane Vorträge geben – Jeder kann und darf!
Es wird nicht laut. Es gibt kein Dauergeräusch, ist einfach entspannter, deshalb Kopfhörer nicht vergessen – Aber für spezielle Ideen, Workshops und so weiter gibt es die PA.
Du kannst im Forum bekannt geben, was du mitnimmst, dort gibt es dann auch eine Liste
Du bist einverstanden mit Film, Video und Photos und mit deren Veröffentlichung hier und im SynMag, Web 2.0 Systemen a la Youtube und Co.
Alle haben Respekt, niemand fummelt rum, es ist sehr familiär und alle passen auf.
Achte auf dein Steckerformat, wenn du nicht aus Deutschland kommst – Unsere Stromkabel heißen "Schuko (Schutzkontakt)" und sehen so aus http://de.wikipedia.org/wiki/Schuko – Wenn du das nicht hast, bring eine Mehrfachsteckdose mit und rüste sie am besten zuhause vorher damit aus. Eurostecker gehen auch, unsere Stecker haben halt keinen mittleren Pin (Schweiz, Frankreich aufgepasst!)
ÜBERNACHTUNG IM HOTEL
Pension Anni Am Schindberg 20, 55743 Fischbach 06784 8661 http://www.pensionanni.de Weg via Google Maps: [6]
Schon belegt oder Hilfe? Am besten im Forum fragen, viele kennen noch Ausweichquartiere
Fragen? Questions?
Weitere Fragen am besten im Forum: https://www.sequencer.de/synthesizer (Es gibt immer einen Beitrag dazu unter Termine, besonders 1 Monat vor dem Treffen, oft sogar 1 Jahr vorher – Wenn nicht, dann im Modular-Subforum nachfragen)
Wieso Modularsystem mitbringen?
… und wieso ist der MS20 die kleinste Kategorie? Reicht ein iPad oder irgendein LFO Modülchen als Alibi?
Der ganze Kram hat den Sinn den ich oben beschrieb, es sollen die Leute mit dem besten was sie haben kommen, damit es auch andere als Motivation haben das ebenso zu tun. Es geht im 2fel nicht um Details, es geht aber darum dass das ein begrenzt großer Raum ist und sich diese Regel bisher recht bewährt hat. Es kann wohlwollend gewertet werden. Die Idee ist halt das sich Modularsynthleute treffen und nicht mit leeren Händen da sind. Ein LFO oder ein iPad wäre ja so gesehen passender, aber auch darum geht es nicht die Regeln per Wort zu zerlegen sondern den Sinn dahinter zu verstehen und einfach Spaß an der Veranstaltung zu haben.
Glaube, dass das so am besten ist. Beim MS20 kann man nicht mal ne FM zwischen den VCOs herstellen. Es sollten so wenig wie möglich ausgeschlossen werden aber das Treffen ansich nicht darin enden sollen, dass alle ihre Viren mitbringen oder gar nichts .. und "nur gucken", dann wären die Tische irgendwann leer oder nicht mehr so interessant wie bisher.
Hoffe, dass sich das nachvollziehen lässt. Es gibt auch eine ungeschriebene Regel, dass Leute mit interessanten Projekten auch gern kommen dürfen, abgefahrene Controller/Sequencer/Module/Musikzeugs die sie vorführen können oder so.. Na, denke das nicht unbedingt ausdiskutiert werden muss was modular ist und was reicht. Der Sinn dahinter ist jetzt spätestens klar, oder?..
Ja, ein Matrix 6/12 wäre so gesehen auch so ein bisschen modular im Sinne von ein paar Leuten.. Aber das ist halt nicht der Sinn eines Modultreffens. Aber wenn da einer dabei ist, dann ist das auch nicht schädlich. Ebenso andere Nichtmodulare, besonders die gewöhnlicheren Sachen sind nicht so gut als Alternative zu sehen. Das ist dennoch keine Besitzschau und sollte nicht so verstanden werden. Es waren schon Leute da mit ein paar selbst beschrifteten Modulen und so, alles klein und einfach… etc.. Weggeschickt haben wir noch nie jemanden, aber etwas Verständnis wird schon erwartet, was der Sinn dieser Treffen ist.
an alles gedacht?
nicht vergessen
Patchkabel
Netzkabel
Modular / Module und Stromversorgung / Netzteile und sowas.
Steckerkram / Mehrfachdosen und so weiter, lasst ein paar Steckplätze für Tischnachbarn – lieber einen Mehrfachsteckdings zu viel mitbringen
Pult und am besten einen Satz laaange Kabel und am besten bereit für Klinke, Cinch oder XLR idealerweise
Klinkenkabel und Co..
Kopfhörer (Ratsam sind Adapter für 3.5 und 6mm Klinken und ggf. Verteiler).
Guuude Laune
Essen und Trinken
Livekram für Vorführungen.. Wer mag. Kleine Konzerte und Workshops und Modulhörvergleiche.. Wir werden ja Zeit haben!!
Grillwerk und Schlaf-Toolz™ (Schlafsack, Matte / Zelt / Nerven, Grill ist nicht notwendg, es gibt einen großen in der Mitte des Platzes mit Dach – aber Veganes und Vegetarisches bitte lieber mitbringen für eigenen Verbrauch)
Geräte für Flohmarkt mitbringen – ggf sogar im Forum abgesprochen
WICHTIG:
Bitte keine eigenen Lautsprecher mitbringen sondern nur eine PA für alle für die Jams und Einzelvorführungen. Jeder kann gern etwas vorführen oder für einen Vergleich oder ähnliches "die PA" bekommen. Nur bitte kein Gedudel aus allen Ecken 24h – damit es nicht wie auf der Messe zugeht und man sich keine 3h-Dauersequenzen anhören muss. Es ist gern gesehen, wenn es 4 PA Boxen (aktiv/passiv) gibt, um Experimente zu machen. Alles andere bitte per Kopfhörer, vergiss nicht Adapter für kleine Klinken oder Verteiler für kleine Gruppen, wenn vorhanden.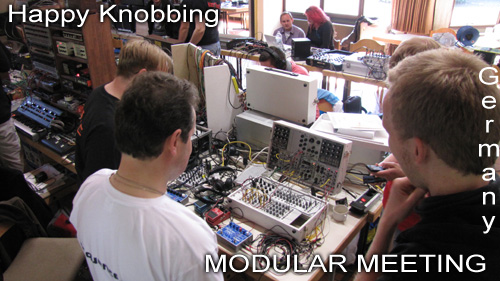 was bisher geschah
Das erste Modular Meeting fand am 2006 statt, wir waren ca. 40 Nerds mit mindestens einem Modularsystem, viele hatten mehr mitgebracht. Es gab und gibt auch spontane Sessions, Fachsimpeleien, Grillen, Tipps und Tricks und Musik / CD Austausch.
Die Leute kamen aus der Schweiz, Österreich und Deutschland, oder weiter weg. Das erste Treffen fand bei Aliens-Project (Bernie) statt, der netterweise 2 Räume und Garten mit Luxusgrillstelle und Kaffee anbot. Das ist über Jahre eigentlich so ähnlich geblieben, später fand das Treffen in Fischbach statt mit mehr Platz und von Tommy (Anyware) "gehostet". Eigentlich ist es frei und kann nächstes Jahr woanders statt finden. Die Info gibt es dann immer hier und im Forum.
Generell sollte man sich Essen und Trinken mitbringen, die Möglichkeiten stehen immer aktuell hier oben. Die Location ist nicht immer "frei", sondern muss angemietet werden. Deshalb bitten wir um einen Eintritt, der bitte einfach beim Gastgeber abgeliefert wird. Das klappte bisher super, dafür gibt es mehrere Tage Spaß. Die Treffen dauerten bisher meist von FR bis SO je nach Veranstalter und Möglichkeiten. Der Verantstalter hat natürlich Einflussrecht für Eintrittspolitik etc. Bisher hatten wir einfach "nur mit Modularsystem Zutritt" beschlossen, damit es nicht zu voll wird und die Kosten und die Aufmerksamkeit im Rahmen bleibt. Deshalb hatten wir auch meist kleine Orte gewählt. Aber Pflicht ist das nicht, es hat sich nur bisher so ergeben.
Es gibt auch die Möglichkeit eines Flohmarktes / Verkauf. Also bringt einfach eure Module und was sonst noch rumfliegt mit, ein paar Synths, die ihr loswerden wollt und natürlich Geld, denn Bar ist immer besser. Auch CDs oder DVDs, Magazine oder Nichtmodulares darf hier liegen, es gibt einen extra Tisch dafür, macht aber am besten Preise dran. Die meisten kennen sich via Forum und einen Geldautomaten gibts in Fischbach auch. Ansonsten ist das immer lustig und man trifft viele Leute. Wer spontan eine Idee hat, sollte sie einfach loswerden. Wir freuen uns auf Workshops zu allen Themen, Vorführungen oder auch Firmenmenschen, die ihr neues Modulartier vorzeigen wollen oder andere geniale Erfinder, Programmierer, Musiker oder einfach nur Nerds.
Happy Knobbing Showcase
XI.Modular Meeting 2017
2.-4. June 2016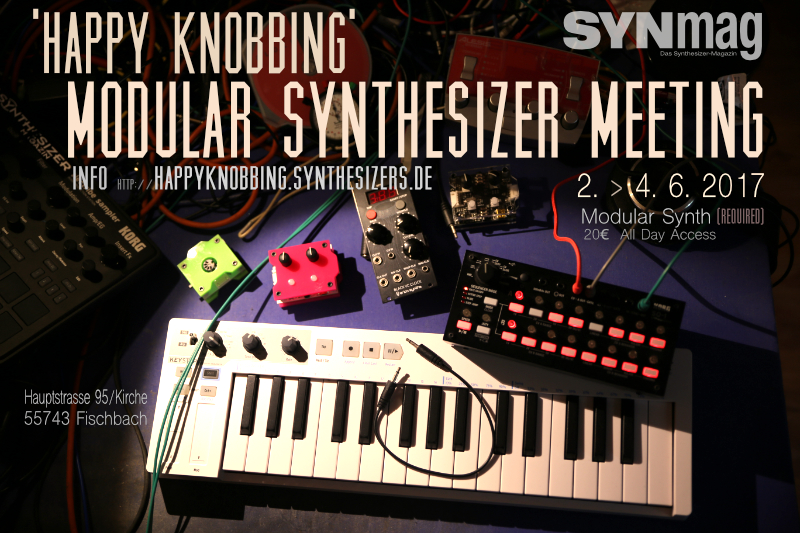 3.1.1

Photos
3.1.2

Videos
X.Modular Meeting 2016
13.-15.May 2016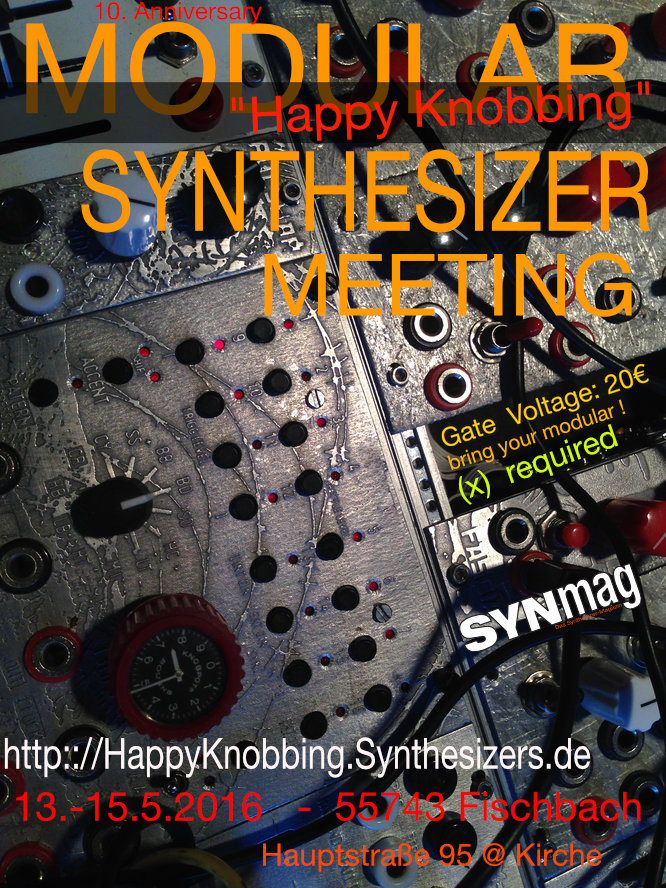 Photos
Videos
Modular Meeting 2015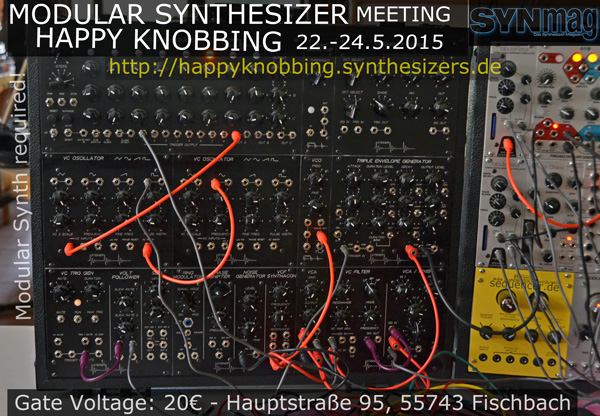 Flyer (large/groß): FLYER DOWNLOAD
Photos
Video
Music / Jams
Audio
Podcast zu diesem Meeting
Modular Meeting 2014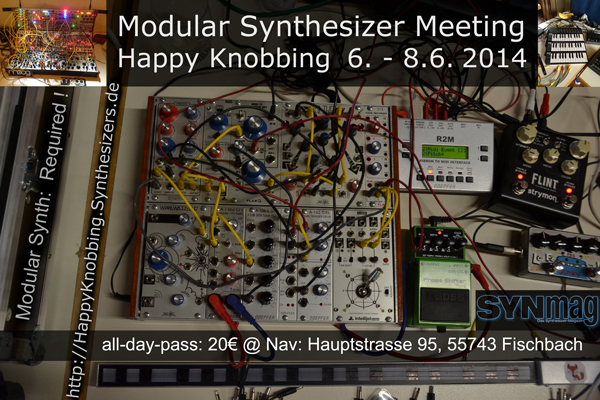 Flyer (large/gross): FLYER DOWNLOAD
6.-8.Juni 2014
Photos
Video
Modular Meeting 2013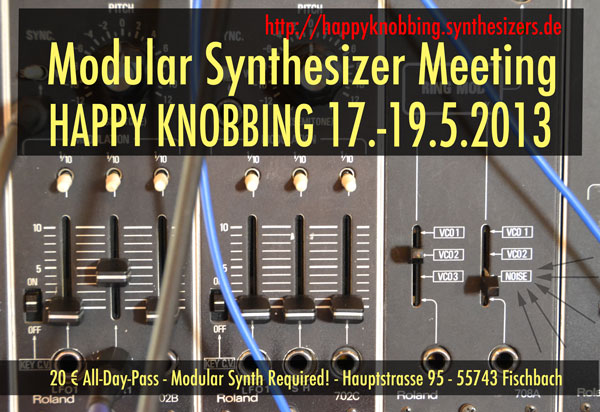 Flyer (large/gross): FLYER DOWNLOAD
Photo
-> und extra: https://www.box.com/s/5bd8dcpns3f72or5au2d sowie https://www.box.com/s/zl13j9bkzou0hl7iqd4d
Video
Modular Meeting 2012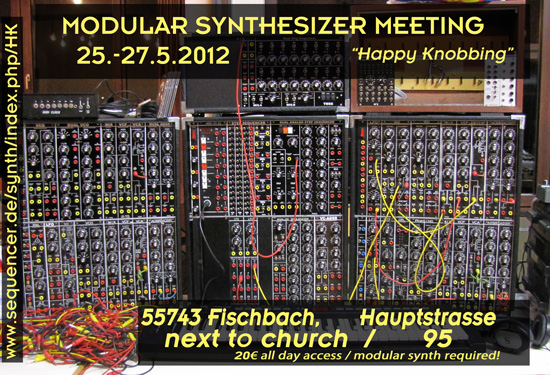 Flyer (large/gross): www.sequencer.de/events/flyer/HappyKnobbing2012_gr.jpg
Photo
Video
Audio
via Citric Acid:
via haesslich:
Modular Meeting 2011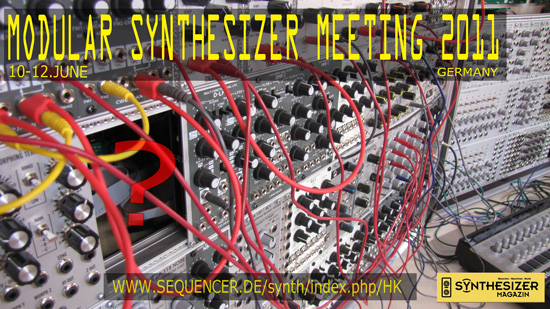 all tables occupied by modular synths, a lot of people, still! ;)
Photo
Video
jams & gearshots von:
Moogulators Videos von den Jams..
Modular Meeting 2010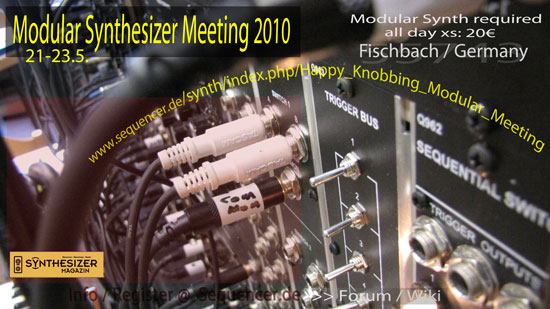 21-23.5.2010 Fischbach, Germany
Pics & Vids: Zusammenfassung – All in One https://www.sequencer.de/blog/?p=7951
Videos
Jams
Photos
Modular Meeting 2009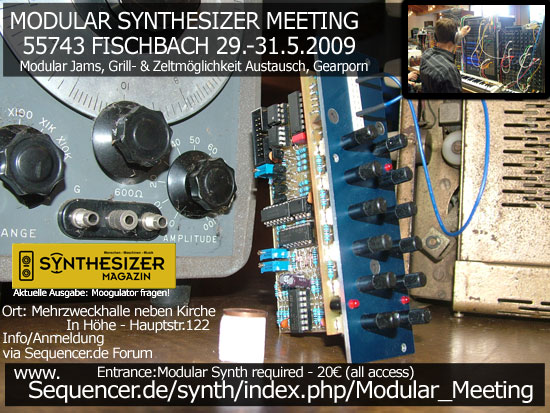 Photos
und http://www.pattysplanet.de/de/blog/modular-meeting-happy-knobbing-fischbach-2009/
Video
Modular Meeting 2008
Flyer 9-11.May 2008: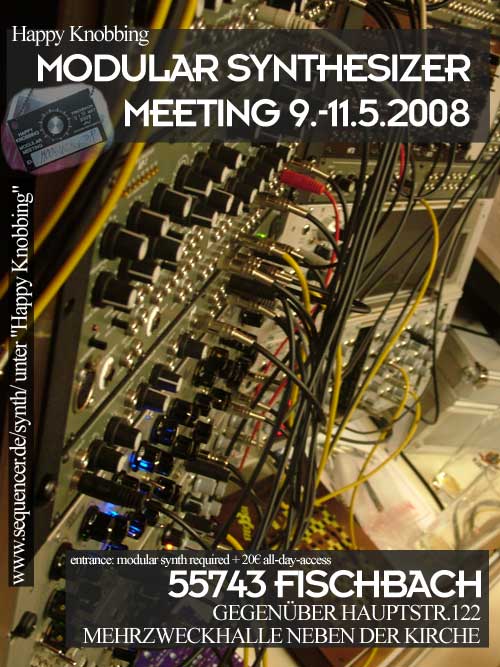 Videos & Images
Pfingsten 2008 9-11.Mai 2008 war das Treffen mit. Ort Fischbach, gegenüber Hauptstr.120 neben der Kirche. FR-SO kann man kommen mit Modularsystem, es wird am SA Zeit für Performance/Jams/Livesound geben (abends). Davor und danach kann gefiept und gebleept werden.
Flohmarkt: Nehmt eure zu-vielen Module mit, bietet eure Synthesizer gleich mit an und bringt sie mit. Es wäre sinnvoll sie evlt hier in die Member-Liste einzutragen, ist aber nicht Pflicht. Der Flohmarkt ist ab jetzt bestandteil des Meetings und läuft so nebenher mit. Einfach Preis drankleben und gut sichtbar aufstellen!!
Modular Meeting 2007
25-27.5.2007
Info: Forumlink: [7]
Flyer Modular Meeting 2007: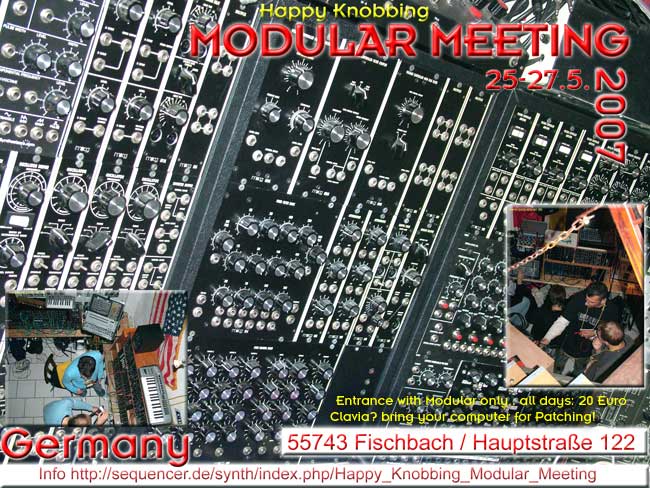 Für 2008: Pläne der Gigs + Workshops für FR, SA, SO werden dann an die Wand gepinnt. und zzt im Forum gesammelt.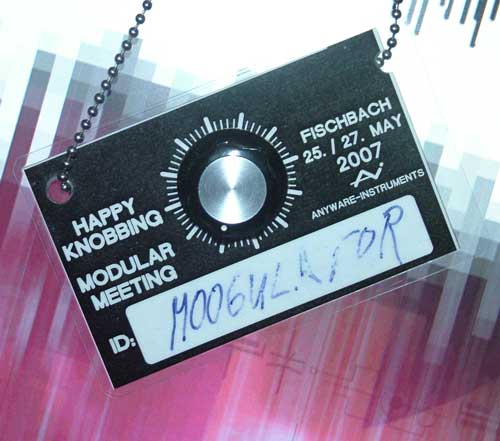 Video & Images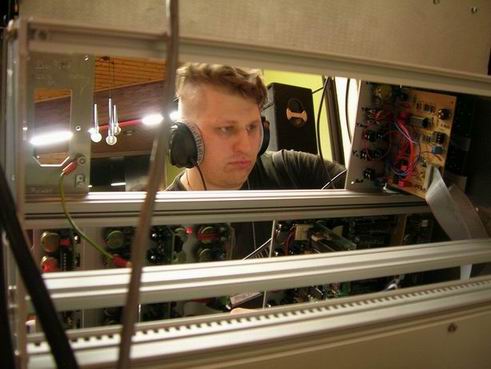 Einige Teilnehmer [10], nicht im Bild sind Anna Lüse, Feinstrom, Moogulator, h.exe / Pattysplanet, Franky, Oliver, Fonik, 2..
Video
(das .wmv File hat den qualitativ besseren Ton)
Modular Meeting 2006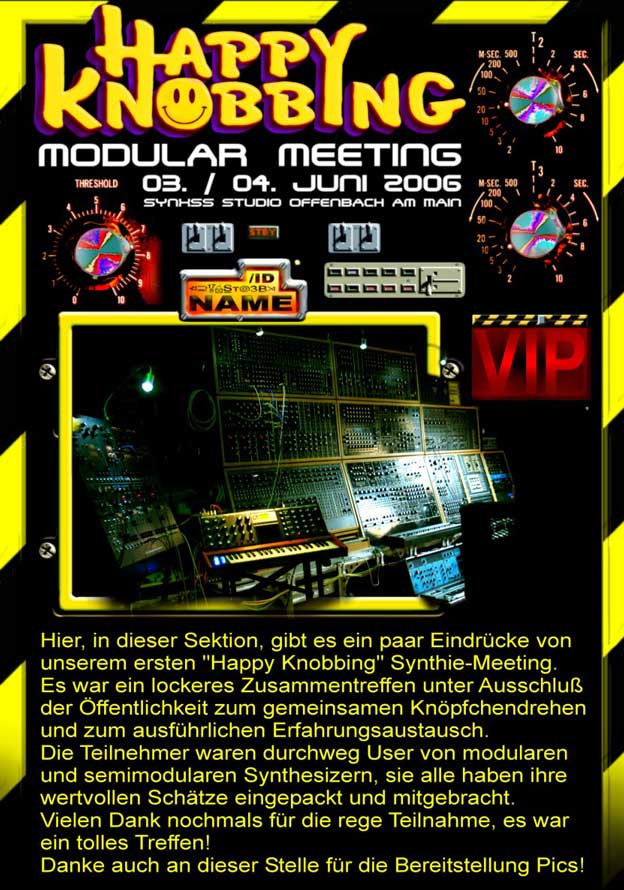 The Gearporn:
Photos
Video