Wir machen wieder Programm im Radio 674.fm im Rahmen des LSB-TV
Heute ist Rorschach Garden dran.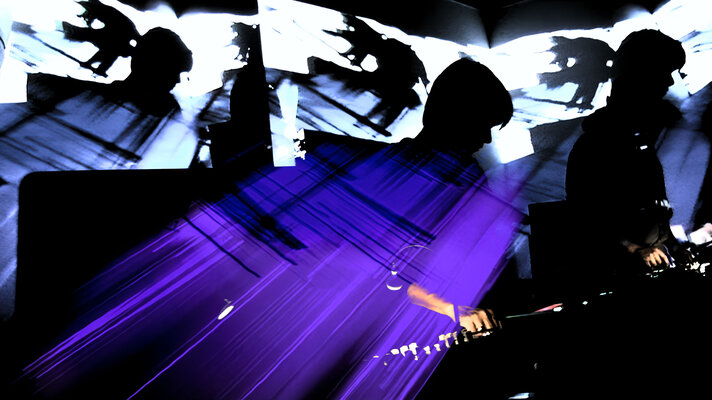 Info about the artists on 29.04.2023:
The Rorschach Garden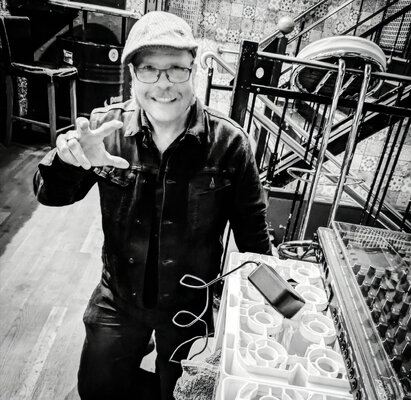 The Rorschach Garden
The musical project of the talented artist
Philipp Münch
,
The Rorschach Garden
,
has undergone an amazing musical development since its foundation in 1987.
Started without a fixed style, the project has developed over the years into an important
developed into an important representative of minimal synth pop music.
In the 90's,
The Rorschach Garden
anchored itself deeply in the emerging tape scene
and developed its distinctive style. Since the early 2000s, the project has been a direct member
of the
Ant-Zen
label and has released several singles and CD albums. Today, Münch still releases
digitally on
Bandcamp
and reissues old tapes in new form again on the market.
Live performances are an important part of the project, where Münch is is accompanied
by his impressive groove box. The mix of modern and classic tunes he presents,
offers the audience the bittersweet pleasure of his unique music.
The
Rorschach Garden
stands out with its artistic vision and distinctive style
in the ever-growing world of electronic music, and is a shining example of how musical ideas
can evolve and transform over time. The project has evolved from its humble beginnings
to become an important representative of minimal synth pop music.
https://www.discogs.com/artist/25639-The-Rorschach-Garden
20:00 Konzert, 21:00 Interview (ich moderiere)
Man kann inzwischen vorbei kommen im Sender - der ist nämlich umgezogen und hat jetzt Platz.
Ubierring, Köln
LIQUID SKY ARTISTCOLLECTIVE presentz
lsb.TV
experimental music and visual art
lsb.TV@674fm
29.04.2023
hosted by Moogulator
Concert:
The Rorschach Garden
Live visuals:
AJ Polonia
Start of broadcast: 20h CET
Location: 674fm Studios
Live stream
on:
https://www.facebook.com/lsb.TV/
https://www.youtube.com/@LsbTv
Further dates:
30.05. / 31.10. / 30.11.2023
Supported by Kulturamt der Stadt Köln and Musikfonds e.V. Berlin.
After 2 years of successful collaboration with
674fm
and over 20 streamed live concerts
from the studio on Aachener Strasse in Cologne,
lsb.TV@674fm
starts in the new rooms
at the Ubierring in the Südstadt.
For the first time in front of an audience,
lsb.TV@674fm
presents live musical and visual sets.
Supplemented by artist talks with the audience and in chat.
Moderated by artists and producers from the
Liquid Sky Artistcollective
.
The
Liquid Sky Artistcollective
is a family of producers,
DJs and visual artists from around the world.
The collective collaborates in an extensive network of activities,
projects and websites.
https://www.liquidskyartistcollective.com/
Responsible for the idea and concept of
lsb.TV
are
Dr Walker
and
Uli Sigg
.
Dr Walker
is considered an innovative pioneer in the techno areas of Frankfurt and Cologne.
He founded the groundbreaking
Delirium Cologne
(later
Kompakt
)
and the
Liquid Sky Cologne
"living room" bar/club. Together with his longtime musical ally Cem Oral,
the duo created the
Air Liquide
project, which brought
Dr Walker
international fame
as the creative mind behind labels like
XXC3
,
Hotel Lotte
,
Djungle Fever
,
Syncom Productionz
and more to international fame. After touring worldwide, managing Cologne's
Club Camouflage
and artistic director of legendary events like
Electro Bunker Cologne
and
Battery Park Cologne
Dr Walker moved to southern Portugal to set up the
Liquid Sky Europe
headquarters and to lead
Liquid Sky Project 27027
- a reforestation initiative of the
Liquid Sky Artist Collective
.
https://de.wikipedia.org/wiki/Ingmar_Koch
For over three decades,
Uli Sigg
has traversed the world of audiovisual art and experimentation
and established himself as a leading figure in video art, projection and modern audio-video fusion techniques.
His extensive portfolio and unparalleled expertise demonstrate a visionary approach in the audiovisual landscape.
Uli Sigg
's diverse body of work ranges from stage projections on tour for bands such as
Air Liquide
,
Nightmares On Wax
, and
Ancient Astronauts
, to concept designs for the renowned
Jazz Festival Moers
,
participation in theater and TV productions for
WDR
,
Deutsche Oper Berlin
,
Cologne Opera House
,
Friedrichstadt Palast Berlin
, contributions to the
Gamescom
trade fair, video productions and live direction
for the
Federal Ministry of Labor and Social Affairs
.
https://ulisigg.com/
AJ Polonia
AJ Polonia is an artist who uses a unique combination of street art and traditional media,
to create stunning works of art. With her distinctive combination of freehand drawings,
stencils and spray paint, she has developed a style of her own, characterized by bright colors,
playful shapes and a touch of humor.
Inspiration for
AJ Polonia
's art comes from a variety of sources, including comic books,
cartoons, and graffiti culture.
AJ Polonia
's work has been featured in various art exhibitions,
galleries, and events throughout Germany and Europe. She has also collaborated with other artists,
musicians and writers to create impressive performances.
Her work has been featured in various media and even used for commercial purposes
such as advertising campaigns. In addition to her street art,
AJ Polonia
has also created
a series of digital paintings, animated web art, site-specific installations and live performances
in collaboration with
Uli Sigg
. Together, they form the artist duo
Catag
, creating artworks
that blur the boundaries between traditional media and digital art.
https://ajpolonia.com/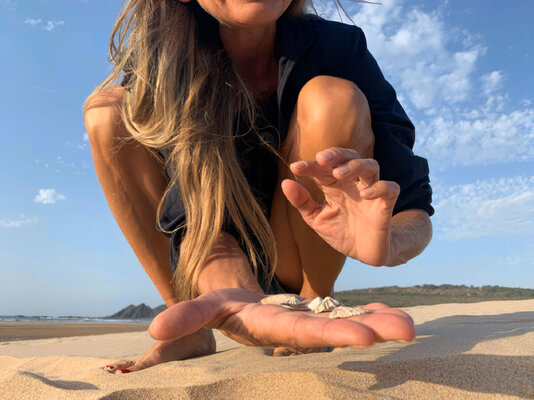 Moogulator
Moogulator (formerly known as Consequence) is not only a writer and expert on
synthesizer technology and music,but also a gifted live performer. He co-founded
the live and film soundtrack group
dAdA-iNN
and has also performed solo on stage
under the name
Moogulator
. With his mesmerizing sounds and beats,
Moogulator
manages to stand out from other performers in the genre.
His live performances are anything but classic and create an atmosphere that excites the audience.
With his flashing electronic instruments, each performance is different and everything is truly created live.
In the process, you see nimble hands and a guy as if thousands of nano-robots were working inside him.
Bleep! Pling! Britzel! Daredevil men like Gerd Fröbe at the britzeling boxes.
Moogulator
was musically influenced in the 70's and 80's and is a self-taught musician with a side-entry piano,
the first affordable computers and electronics. His musical repertoire includes art, film sound,
Club and concert performances of various kinds from strictly composed to freely improvised.
As the operator of a
musician/synthesizer web community
and magazine in paper,
Moogulator
is also a synthesizer specialist and likes to share his knowledge with others.
He often plays with others to create his live dates with solo and collaborative performances.
His ability to compose and perform music in a variety of ways is impressive and makes him
an important contributor to the electronic music scene. With his passion for synthesizer technology
and music,
Moogulator
has made an impressive career as a writer, performer and synthesizer specialist.
https://moogulator.com/moogulator/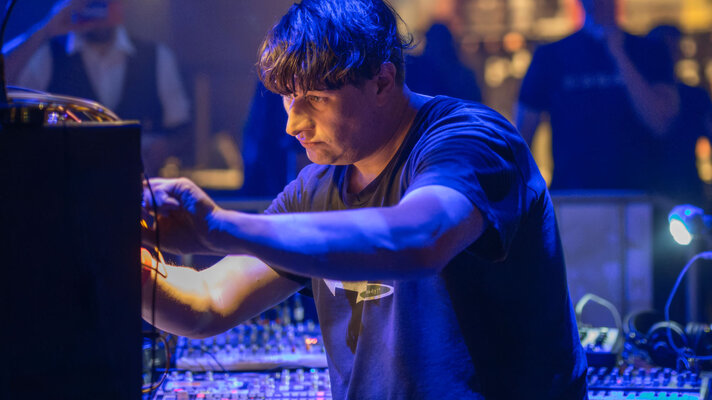 more links:
https://lsb-tv.net/
https://www.nrwision.de/mediathek/suche?no_cache=1&query=lsb.tv
https://674.fm/
https://www.stadt-koeln.de/leben-in-koeln/kultur/kulturfoerderung/index.html
https://www.musikfonds.de/