Microkorg XL – R3/Radias Engine goes Microkorg – Early 2009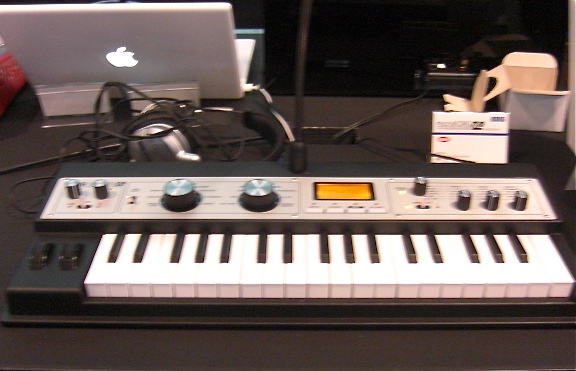 Update: This will be a full blown R3 Engine with full USB editable Sounds..
Great new Look (to me at least)
See full feature list -> first comment –
Der neue Microkorg XL ist technisch Nachfolger und praktisch mit der Klangerzeugung des R3 identisch, er hat auch USB und wird damit prima geeignet sein für Computermusiker und ist darüber auch editiertbar – wie genau und wie gut er über die Regler editierbar ist, muss sich zeigen.  Sieht schonmal nicht übel aus..
Genaue Features siehe Kommentar!
Spekulationen von vorher – nur als Humoreinlage – Spekulationsteil und Quelle:
2008年楽器フェスティバル 〜KORGブースレポート その2〜 – 株石橋楽器店 渋谷店 最新情報 – 楽天ブログ(Blog)
Microkorg XL on some japanese Photoshooting?.. NO, it's from (Inc.) Ishibashi musical instrument store Shibuya – Very speculative and not much more than this – Here's the Translation
But real Korg Look and looks like a cheaper version to me (less knobs less parameters)
Looks like there is no Step-Arper and a reduced Parameter Set or at least programmable via Display? So maybe it's more a Nano than an XL Microkorg? But cool: Display shows Sound name. Less Knobs, but possibly not less parameters?
In a few moments, we will know (Click Click)
>> mehr – Korg.de – Offenbar R3 Engine, unklar: USB? Weniger Parameter im Zugriff?
Features…
"The microKORG range expands with a new big brother to mega selling microKORG synth
The original microKORG is loved and used daily by musicians around the world – from keyboardists to guitarists – enabling everyone to experience the enjoyment of a great synthesizer. Now an advanced microKORG is available; a synthesizer that lets you generate your own personal sound, packing a cutting-edge sound engine and powerful effects into a compact, vintage-like body. Welcome the microKORG XL
Main features
New vintage design is both fresh and nostalgic.
Korg's renowned MMT Multi Modeling Technology, optimized for the microKORG XL.
Sixteeen band vocoder for voice controlled effects. A gooseneck microphone is included, so you can begin vocoding right away.
128 powerful sounds are built-in and ready for immediate use.
Intuitive sound selection; simply specify the music genre and instrument category.
Seventeen powerful KAOSS derived effects.
Newly developed natural touch mini keyboard is compact, yet easy to play.
Editing software can be downloaded from the Korg website, as well as converted MS2000 and microKORG programs.
Battery powered for on-the-go enjoyment.
The new top of the range microKORG — XL power in a micro body
The microKORG has continued to be a best-seller since its arrival five years ago, and remains enormously popular today. This latest model boasts Korg's powerful RADIAS/R3 derived MMT Multi Modeling Technology, as well as a powered-up vocoder. The updated ROM includes PCM data for recreating in-demand vintage keyboards such as piano, electric piano, and clav. Externally, the microKORG XL boasts a completely new vintage design with a textured black body and industrial silver panel. The interface has also been enhanced, making it easier than ever to use. Sound selection is controlled by two large dials; three smaller knobs allow the main parameters to be easily selected. The newly-developed mini-keyboard is firm and responsive for even greater playability. And best of all, it's battery-powered so you can take it anywhere and still enjoy serious sound. For beginners, advanced musicians, and sound designers, this is a synthesizer that will stimulate your musical creativity.
Korg's MMT Multi Modeling Technology
Korg's MMT engine provides a compendium of Korg's various modeling technologies, offering a robust range of sounds – including great analog re-creations. Korg's famed MMT is the same high-fidelity synthesis that powers our RADIAS, R3, and ElecTribe MX, optimized to provide the microKORG XL with phenomenal performance. The microKORG XL uses two MMT oscillators to generate powerful sounds. Oscillator 1 (OSC1) provides not only the standard waveforms you expect from an analog synthesizer, but a total of seven types of oscillator algorithms, including formant waveforms such as human voice, noise, and PCM/DWGS waveforms such as vintage keyboards and strings. Cross-modulation, unison, and VPM (Variable Phase Modulation) let you create sounds that would be impossible for a conventional PCM synthesizer. Oscillator 2 (OSC2) can be used for modulation (sync or ring) in conjunction with the first oscillator, making it easy to create complex and powerful sounds.
Dynamic synthesis power
Two multi-mode filters, a drive/waveshaping circuit for distinctively distorted sounds, and EG and LFO for creating time-varying tonal change, provide plenty of parameters for serious synthesis. Virtual Patching simulates the patching capability of Korg's classic MS series, and the arpeggiator can run six types of patterns, all adding up to a high degree of creative freedom. There's also an external audio input jack, so you can process external audio material from a sampler or other source device. In the full-edit mode you have unlimited access to all of the microKORG XL's synthesis parameters.
Versatile Vocoding covers every angle – including those robot voices
Using a microphone, the microKORG XL's amazing vocoder allows you to add vocal characteristics to any sound, creating everything from "talk-box" filtering, pseudo choirs, talking instruments and vintage Sci-Fi robots. You can also use a nother instrument – such a drum machine – to add rhythmic dexterity to your synth tracks. Our unique Formant Hold allows you to freeze the vocal input for continuous vocoder effects. In addition to simulating the classic vocoder sounds of the past, the microKORG XL also allows you to shift the filter frequencies (Formant Shift function) and adjust the level and pan of each of the sixteen bands, greatly altering the tonal character. This allows you to easily create fascinating textures and sounds that go far beyond traditional vocoding. A gooseneck microphone is included, so you can immediately start using these superb vocoder functions.
128 professional sounds, organized for immediate use
Finding the right sounds is easy. To choose a sound simply rotate the two large dials. The first selects the musical genre, while the second defines the instrument category. From the familiar "ROCK / KEYBOARD," the standard "R&B / LEAD," and the distinctive "HIPHOP / BASS," a wide range of presets are instantly available. For the diehard synthesists and sound designers, you can use the three performance edit knobs for fast, effective editing in performance. You're also free to select and assign your favorite parameters
Advanced dual effect engines
The two master effect processors were perfected on our KAOSS series. These up-to-the-minute effects go far beyond traditional delay and chorus, delivering a total of 17 powerful algorithms, including ring modulation and a grain shifter. In addition, delay effects can be synchronized to MIDI clock for expanded possibilities in a live performance and other "beat-sensitive" situations.
Compact expression and playability
Our new Natural Touch Mini Keyboard is firm and easy to play, inspiring confidence and greatly enhanced expressivity. The proportion of the black keys to white keys has been adjusted to make chording easier, and the improved touch allows rapid-fire phrases. The "waterfall" keys project a feeling of quality, and also make it easier to play glissandos, smears and slides.
FREE! Downloadable sound editing software
You can use a USB cable to connect the microKORG XL to your computer, and use the free sound editing software to organize your sounds and edit all of the parameters from your computer. In addition to the editing software, you can also download and use converted programs from microKORG and the MS2000/MS2000B free of charge.
Please note: Cosmetic and Technical specifications are subject to change without notice
microKORG XL Specifications
Tone Generator System: MMT (Multiple Modeling Technology)
Multi Timbral= maximum 2 (when using Layer, Split, or Multi)
Voices=8 voices
Structure: [Synth] 2 oscillators + noise generator, Oscillator 1: Wave: 8 types (Sawtooth, Pulse, Triangle, Sine, Formant, Noise, DWGS, Audio In), Modulation: Waveform, Cross, Unison, VPM, Oscillator 2: Wave: 4 types (Sawtooth, Pulse, Triangle, Sine), Modulation: Ring, Sync, Ring+Sync, Waveshape: Type: Drive, Decimator, HardClip, OctSaw, MultiTri, MultiSin, SubOSCSaw, SubOSCSqu, SubOSCTri, SubOSCSin, LevelBoost,
Multimode Filters: Filer 1: -24 dB/oct LPF ~ -12 dB/oct LPF ~ -12 dB/oct BPF ~ -12 dB/oct HPF ~ Thru, Filter 2: LPF, HPF, BPF [Vocoder] 16 channel vocoder, adjustable level and pan for each channel, Formant Shift function, Formant Hold function
Keyboard: 37 notes (mini-keyboard, velocity sensitive)
Effects: Timbre: 2 band EQ, Master effect x 2, 17effects
Arpeggiator: Six types: UP, DOWN, ALT1/2, Random, Trigger, Individual step on/off function
Programs: 128 programs (A/Bbanks x 8 genres x 8 category)
Inputs:
[AUDIO INPUT 1] jack (with MIC/LINE switch) – Rear Panel
Connector: 1/4" phone jack (unbalanced)
[AUDIO INPUT 1 (MIC)] jack – Front Panel
Connector: XLR jack (balanced)
Outputs:
[L/MONO, R] jacks
Connectors: 1/4² phone jacks (unbalanced)
[PHONES] jack
Connector: 1/4² phone stereo jack
MIDI: IN, OUT, THRU connectors
USB: Type B connector
Display: Custom LCD
Power Supply: DC 9 V (AC adapter), or six AA alkaline batteries (sold separately)
Battery Life: approx. four hours (with alkaline batteries)
Dimensions: 556(W)x231(D)x73(H)mm/21.89″(W)x9.09″(D)x2.87″(H)
Weight: 2 kg/4.41 lbs. (without batteries and included microphone)
Accessories: AC adapter, Gooseneck Microphone
microKORG XL Sound Editor
Operating requirements
Windows:
• Computer
A computer that satisfies the operating requirements of Windows XP or Windows Vista, and has a USB port
• Operating system
Microsoft Windows XP (SP3 or later), Windows Vista (SP1 or later)
Macintosh:
• Computer
An Apple Macintosh computer that satisfies the operating requirements of Mac OS X and has a USB port
• Operating system
Mac OS X version 10.4 or later