Updates: NAMM 2012 Synth Related Overview
time to detach the NAMM 2012 news – but for later reference – these where the cool things to remember:
• Note, that some posts are updated without notice – like more/new videos and some infos be added to the "old posts" rather than cluttering the blog with 3-4 updates on the same thing.so start from here. BTW I continue doing so after NAMM as well.
• Info: einige Updates zur NAMM und auch generell hier im Blog werden nicht extra angekündigt sondern einfach hinzugefügt zu bestehenden Einträgen, also – hin und wieder kommen hier und da noch Videos dazu. So wird es auch nach der NAMM weiter gehen.
analog synths (via NAMM)
– Arturia Minibrute, 499€ – some videos added
– Moog Minitaur – also more videos added
– Mfb Dominion X
– Waldorf Pulse 2
– MacBeth Minimac
– Eowave Koma
– Jomox Moonwind Filterbank (not a synth but analog)
interesting stuff:
– Akai – a CV/Gate Keyboard with built in MPC and 8 touch faders with LED $499 like the DSI Tempest and 32step sequencer inside those
Pads and MPC Fly Software for the iPad $299 and the Renaissance and MPC Studio ($299) do the "normal MPC business" .
– Korg Kaoss Pad Mini 2 and Kaossilator 2 Mini with Display and SD Card Slot and another Slider
– new 2 Casios – now with some more details PDF – videos added as well.
– Repackaged Blofeld (?) with Knobs Studiologic Sledge (not on NAMM), new video up
– UAD Audio Interface with Thunderbolt & Firewire 800, $2500
– Clavia NordDrum (video added)
– Euro-Modules Schippmann, XAOC, Malekko, WMD – UPDATE: Harvestman & Make Noise
 Forum – Diskussionen (german/deutsch):
Namm 2012 , Arturia NAMM 2012 – da kommt was völlig Neues, Und auf einmal wurde der Markt analog,
AKAI PRO MAX49 – Neuer Controller mit Sequencer und CV/Gate,

Casio baut wieder Synthesizer?


will keep this thread more or less on top – as a quick overview until all NAMM news have been collected… ;)
Seid heute im Verkauf / Abonnenten haben bereits das neue Synthesizer-Magazin #30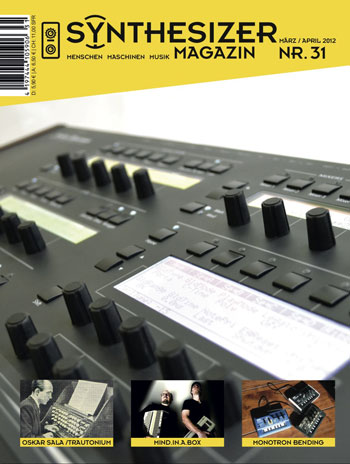 Augensteuerung hier hin für mehr==>