Bisher konnte man in Circuit die Klänge nur grob editieren, jetzt kann man das im Detail mit dem Editor. Man benötigt aber Max! (Win/Mac)
Die Software, steht unter http://isotonikstudios.com/novation-x-isotonik/novation-circuit-editor/ zum Download bereit. Der Support für die Software wird von den Isotonik Studios übernommen. Für den Betrieb ist unter Mac OS die Ableton Live 9.5 Suite erforderlich. Da die Software innerhalb von Live arbeitet, können Anwender Circuit einfach in den Workflow von Live integrieren.
Patches werden in Sessions gespeichert. 

Es stehen auch Stand-alone-Versionen für PC und Mac bereit, die jedoch relativ große Dateien enthalten, da sich darin auch die Max-Umgebung befindet. Die Stand-alone-Versionen bieten den gleichen Funktionsumfang und arbeiten auch ohne Live, Max4Live oder Max MSP. Allerdings sind es keine Plug-ins, sodass sie nicht direkt innerhalb einer DAW verwendet werden können.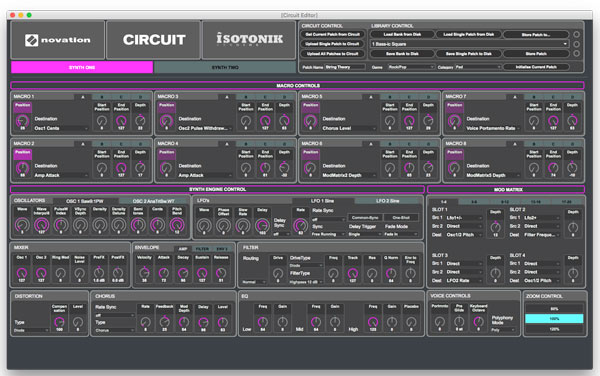 the problem with Circuit was – you can't edit those sounds in depth – now you can.