Dagger – Synthesizer (AU / VST)
Beepstreet sind eigentlich eher bekannt für iOS Apps, Gute Apps, Dieses Mal geht es aber um Plugins. Der erste Wurf für den "normalen" Rechner ist Dagger, der eher mit Qualität als mit Menge glänzen möchte – wobei es den Sunrizer schon als Plugin gibt, es ist also eher der zweite Plugin-Synths, jedoch der erste der nicht vorher eine App war. Ein klassischens 2 OSC – jeweils HPF/LPF-Filter mit gemeinsamer Modulationsabteilung – Amp – Prinzip mit einem LFO zur Modulation folgt einem Step-Sequencer.  und natürlich kommt Dagger dann auch auf iOS zurück. Dieses Mal also der klassische Weg vom Plugin zur App.
Beepstreet are well known for their iOS Apps like Sunrizer and the physical modeling synths Impaktor – here's Dagger for the Mac and PC – it's a simple but effective synth with focus on the filter sound and sequencer.  (btw beep street is a song by Squarepusher. ) – it is the first of maybe more upcoming softsynths generation (after sunrizer). And – can you believe it – Dagger will come to iOS as well, next year.
it is fairly simple – a 2 osc – 2 filters (but controlled from one source mod section) – one lfo synth.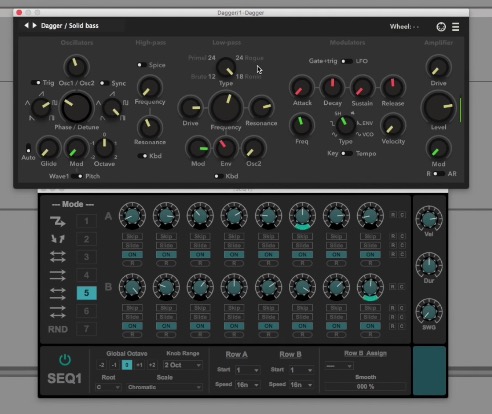 Exclusive Preview: BeepStreet Dagger Synthesizer (VST/AU)