pattysplanet "Andromeda" (Elektro-Kartell)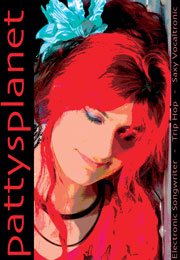 Klingende Zauberwelten. Musik vom Südmars und der Erde.
Nach über vier Jahren stellt die Schweizer Soundfricklerin Patty Stucki (Köln) ihr zweites Soloalbum vor.
Eine samtweiche Stimme, vielstimmige Chorgesänge, lyrisch-funkiges Saxofon, und das Ganze groovig umrahmt von elektronischen Klängen wie aus einer Märchenwelt. Die vielseitige Musikerin, die sich selbst als "Electronic Songwriter" bezeichnet und ihre Musik als "warme Elektronik" beschreibt, kreiert ihren eigenen Sound, eine Art Elektronische Weltmusik, irgendwo zwischen moderner Elektronik, Singer/Songwriter und Trip Hop.
Dabei schreibt sie nicht nur eigene Stücke und singt, sondern spielt auch alle Instrumente, programmiert und produziert selbst.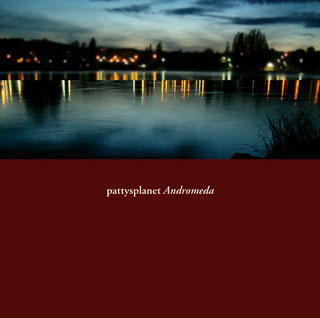 Track List:
01 Luna
02 Too Long (free mp3!)
03 Footprints
04 Signs of Time
05 Visitors
06 Essay on a Silent String
07 Bioley 'ndisha
08 Impressions
09 Still Follow
10 Ode to Saturn
11 Maybe (mizati Remix)
12 Finding Home
Total play time: 54:53
Für ein Stück (11) hatte die Künstlerin einen Remix Contest ausgeschrieben und ließ ihren PopSong "maybe" remixen. Von über 40 eingereichten Remixen gewann mizati, der bereits einiges auf den Netlabels tonatom und Acedia veröffentlicht hat.
Music, Lyrics, Vocals, Saxes, Electronics, Programming, Producing & Mix by Patty Stucki
Remix of "Maybe" by mizati (mizati.de)
Recorded 2002-2006 @ pattysplanet bedroomlab, Cologne
Mastered by Robert Babicz, Cologne (robertbabicz.de)
Artwork by Daniel Knef, Koblenz (gran.code23.de)
Das Album ist nicht im Handel erhältlich, sondern auf pattysplanet Konzerten und auf ihrer Webseite.
Hören, Bestellen, Infos, freies mp3 gibts auf ihrem Planeten:

www.pattysplanet.de
LIVETERMINE:
10.12.2006 Köln
"take me to the song"
mit Markus Apitius, Franz Kasper, Robert Gasper, Wolfgang A. Noethen
pattysplanet
im Herbrands, K-Ehrenfeld
ab 20h, 7€ (5€ ermäßigt)
17.12.2006 Frankfurt
newcomer.tv-Jahresnacht 2006

mit Waiting for Steve (Giessen), Good Heart Boutique (Frankfurt), My Baby wants to eat your Pussi (Mannheim), Dorfdisko (Köln), Zoo Army (München), pattysplanet (Köln)
in der Batschkapp
Eintritt frei!!

01.02.2006 Duisburg
mit Loop String Project, pattysplanet
im djaezz