Futuresonus Parva – 8Voice Polyphonic Analog Synthesizer with Class Compliant USB MIDI (no drivers!)
The Parva is an
8 voice
3 DCO analog synth, standard waveforms (incl PW/M)
2x 12dB/Oct. Multimode Filters make 24dB/Oct possible, filter FM, self osc.
4x ADSR, curves to set characteristics
4x LFO
40 destinations for MOD sources
Class Compliant USB – to be used on any dev like iPads (!) – because you don't need drivers!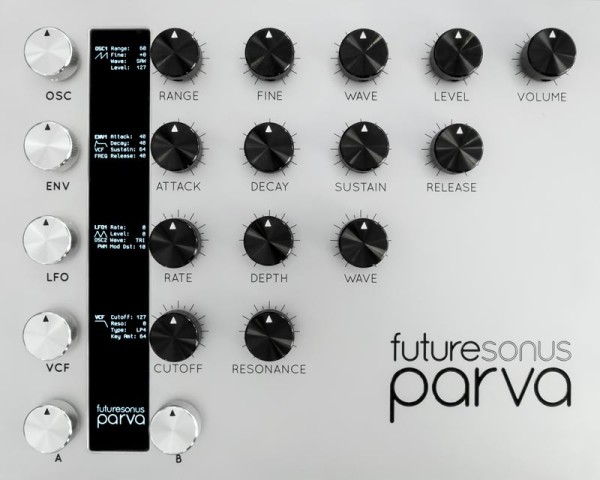 4 OLED Display next to controls
DIMENSIONS 10″ x 8″ x 3.5″ (25.4cm x 20.3cm x 8.9cm)
from Austin Texas, USA
about $1000
mono version $500
one of 8 voices: reminds a almost of DSI Prophet 12 / Pro 2 except it has 3 OSCs and one 2 Two-Pole Filters.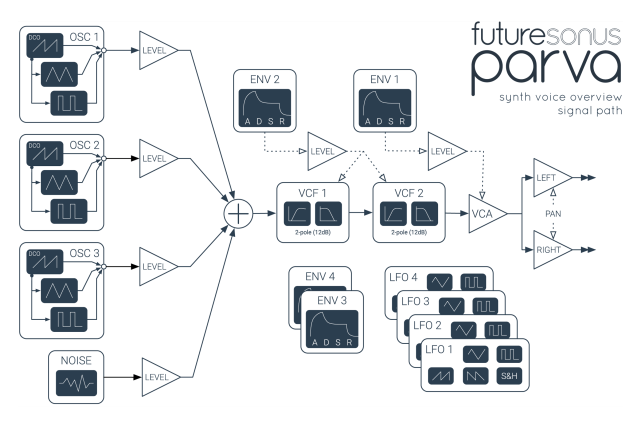 Der Parva ist ein interessanter Desktop-Synth mit 8 Stimmen und 3 DCOs – Forum für $1k – der auch USB MIDI Class Compliant ist, damit also auch an jedes iPad passt ohne Treiber: Futuresonus PARVA – Synthesizer