First Impressions – erste Impressionen vom Modularmeeting. Diese beiden Videos wird es auch auf der DVD des neuen Synthesizer-Magazins #21 geben (so hoch auflösend wie möglich).
nächstes Treffen / next Meeting 10-12.June 2011.
here's Footage from last weeks meeting 2011: 2 Videos up now – find the new Tinysizer (first 2 synths sold on the meeting! – saw the PCB as well..)

__
More Links to more videos and images 3.1 Modular Meeting 2010
Happy Knobbing Modular Meeting – Synthesizer Wiki.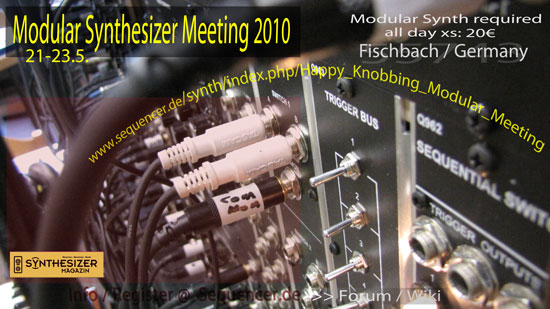 additional Pics & Videos so far:
VIDEO:
von Moondust (Chimera Check)here it is:

and from Jan van Volt

Photos
Modular Synth Meeting – First – quick & dirty iPhone Shots – you can see how bad it is! – more to come soon.
Die ersten schlechten Fotos per Dreck & Drop, sieht man mal wie schlecht die iPhone Cam ist.