one of my first pics I took when I started this page being a synth page not my band page (consequence) somewhere late 90ies.
a combi of ms20, ms50 and SQ10 sequencer in a rack..
and ms50's display digital now.. plus some more jacks.. this rack once belongt to the dr.walker who ran the club camouflage in cologne (where I played and stayed several time..)..
einer meiner ersten bilder, als ich entschied, die site zu einer synthesizer-site zu machen, meine band-site (die damalige) turschte auf eine eigene domain und dieser rack-ms20 mit sq10 und ms50 war einer seiner ersten inhalte.. er stammt von dr.walker , der jetzt auf kreta verweilt und wir frieren ohne ihn. schade.
my section is / was this.. korg synthesizer ms series ms20 ms50 sq10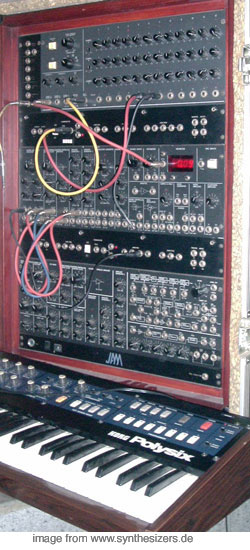 more pics there.. you will find moy modded MS20 on top, too (hpf can be used as LPF) and some other changes..
ein paar DIY mods für den ms20.. so wie bei meinem gibts im forum..