Radikal Paraphonic Synth (Module) Delta Cep A
Radikals Jörg Schaaf postete eben ein Bild eines Protypen, einer ersten Ausprobier-Maschine – Es handelt sich da offenbar um einen kompletten Synthesizer, der entweder als Modul oder gar als eigenständiges Gerät zu haben sein könnte. Für die Version Eurorack spricht die Form und die Anschlüsse unterhalb der Knöpfe und die Möglichkeit dem User die Verpackung selbst wählen zu lassen, für einen kleinen eigenständigen Synthesizer spräche aber auch viel, ist aber in diesem Stadium sicher noch nicht geplant. mehr
Desktop Version wird dann auf der NAMM vorgestellt, ist aber hier jetzt zu sehen.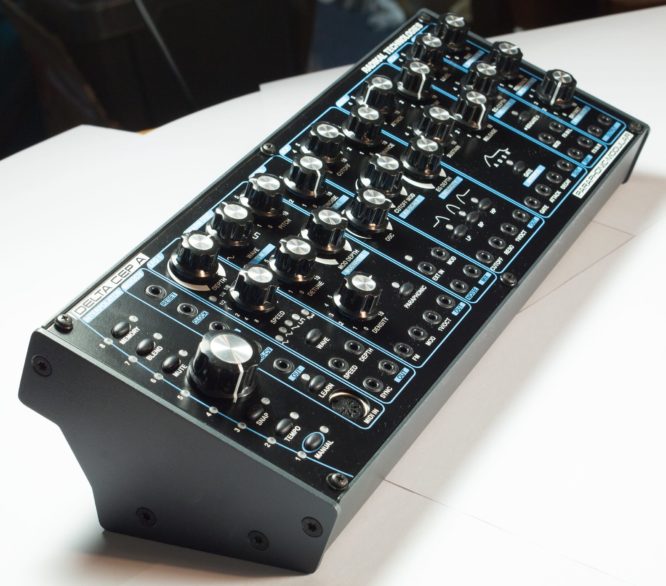 Update – Komplettansicht

Der Delta CEP A besitzt Snapshots, in denen er Klangeinstellungen ablegen kann. Anschließend erlaubt er sowohl das sequentielle Abrufen diese Snapshots, als auch das Interpolieren zwischen den Snapshots. In der Abfolge können Snapshotsy zur Laufzeit gemuted und wieder zugeschaltet werden, was immer neue Klangverläufe erlaubt. Die gleiche Technik kommt bereits im Swarm Oscillator und Effexx Modul zum Einsatz, ist aber bei einer kompletten Synthesizerstimme wesentlich umfangreicher.
Wie man bereits auf den Bildern sehen kann, können die Sektionen auch als unabhängige Module betrieben werden. Von daher ist der Delta nicht nur ein neuer Desktop Synthie, sondern auch ein handlicherEinstieg in die Welt der Eurorack Synthesizer.#mehr/Quelle
Das System bietet offenbar schon alle wichtigen Sektionen und Baugruppen wie Multimodefilter, Misch-Abteilung, Modulationszuweisungen, ADSR-Hüllkurve, VCA und Effekte, die durch "dry/wet" erkennbar sind
Höchstwahrscheinlich ist hier ein Oszillator am Werk, dennoch könnte mit der Swarm-Osc-Technik auch der Eindruck mehrerer Oszillatoren simuliert werden. Der Name Paraphonic bedeutet in der Regel die Anwesenheit von einem Filter, VCA und Hüllkurve(n) aber mehrere Oszillatoren können eingespeist werden und sogar Akkorde oder Intervalle spielen.
Dies spräche für mindestens 2 oder mehr Oszillatoren oder einer Simulation mehrerer – wie der Swarm das ja durchaus kann.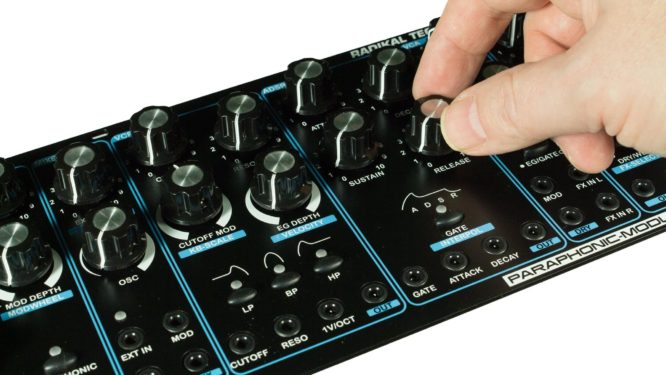 This synth is most likely a eurorack solution with one complete voice. Since it's name is paraphonic module it should be able to send one or more oscs though one filter/VCA and Env as one voice but those OSCs can have all different settings and be played individually – since it is not duo but paraphonic and the swam oscillator by Radikal is already there is capable of up to 7 oscs (if I remember correctly) – here we got a luxury multitude of OSCs with multimode filter and envelope with effects attached – in one module or synth – just shown on Jörg Schaafs Facebook account – could be a cool synth in one box and still be modular or eurorack – do me the 1st option would be more appealing as a standalone synth but incl. modular access to all modules by patch cable, still. the desktop version will be shown at NAMM 2018.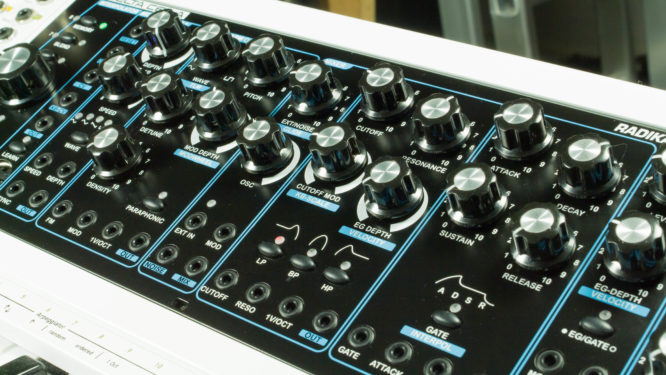 Interpolator
The Interpolator stores patch memories of the synthesizer and allows for automatic sequential recall and crossfading between these patches.
Controls:
-Interpolator/Patch Select knob
Buttons:
-Manual Mode/Shift
-Tempo
-Snap
-Mute
-Blend
-Memory
MIDI2CV
The MIDI to CV Interface controls the internal synthesizer and external synth modules.
Buttons
-MIDI Learn Button
Inputs
-MIDI
Outputs:
-Gate
-KB-CV
-CV
-Clock
-Clock Reset
LFO
Controls:
-Depth
-Speed
Buttons:
-Waveform Select
Control Voltage Inputs:
-Speed
-Depth
-Sync
Output:
-LFO Out
Swarm Oscillator
The swarm oscillator is a bank of up to 8 oscillators that can be tuned in chords, clusters or fat detuned multi-oscillator sounds.
Controls:
-Wave/TLM knob
-Pitch knob
-Detune knob
-Mod Depth/ Mod wheel depth
-Swarm density
Buttons:
-Paraphonic mode switch button
Control Voltage Inputs:
-FM
-TLM and Waveform Modulation
-1V/Oct Pitch Input
Outputs:
Swarm Oscillator Output
Mixer
The mixer controls the balance between external signals, the swarm oscillator and the noise generator.
Controls:
-External/Noise Level
-Oscillator Level
Control Voltage Inputs:
-External Input
-Modulation Input
Outputs:
-Noise
-Mix Output
Analog Multimode Filter & Digital Multimode Filter
The Delta has one analog and one digital multimode filter to choose from.
Controls:
-Cutoff
-Resonance
-Cutoff Mod/KB-Scale
-EG-depth/ Velocity
Buttons:
LP, BP and HP switches
Control Voltage Inputs:
-Cutoff
-Resonance
-Filtertype-Interpolation
Outputs:
-Filter Output
ADSR generator
The ADSR Generator creates fast, snappy envelopes and offers CV control over Attack and Decay times.
Controls:
-Attack
-Decay
-Sustain
-Release
Buttons
-Gate
Trigger Input
Control Voltage Inputs:
-Attack
-Decay
Outputs
Envelope Out
VCA
Controls:
-Level
-EG-Depth/Velocity
Button:
-EG/GATE
Control Voltage Inputs:
-Modulation
-FX In Left
-FX In Right
Outputs:
-Dry Out
FX Section
The FX section is the perfect addition to this synthesizer voice.
Controls:
-Time/Modulation Rate
-Feedback/Modulation Depth
-Dry:Wet/FX-Select
Outputs:
-Out L
-Out R
200 mA +12V
50 mA -12V
0 mA 5V
23 mm deep