Was Liquid Rhythm für Drums, versucht Sundog mit Melodien.
Man gibt einen MIDI-Kanal an und wählt, ob man eher einen Bass, einen Mono-Melodie-Lauf oder auch ein Argpeggio haben möchte.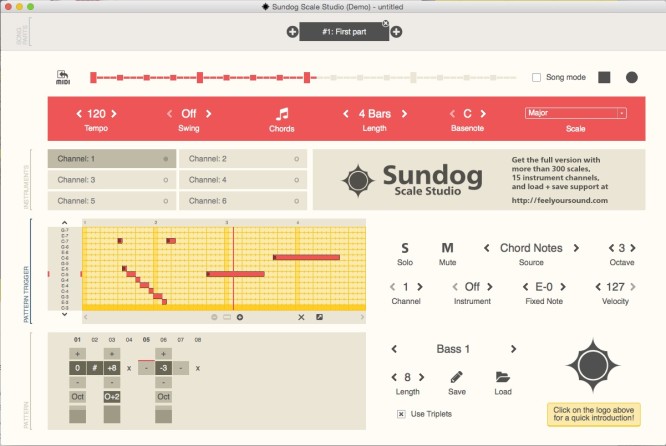 Unten links findet man ein bis zu 64 Steps fassendes System, was eigentlich eine Art Step-Sequencer Methode verwendet, um die Tön zu verändern (Transpose) – Die darüber befindliche Eingabe (hier im Edit Mode – größer) für den eigentlichen Verlauf der Töne.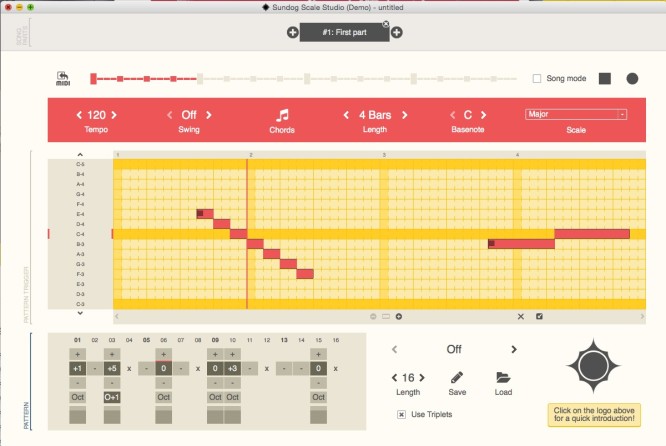 Für 8 MIDI-Kanäle kann man das wiederholen. Dazu also jeweils Typ, Tonart und Länge angeben und auch die Art und weise, wie dies nun gespielt werden soll. Dazu wird keine DAW Ankopplung gebracht, denn das Tool ist für sich alleine funktionsfähig. Aber es kann einer DAW zuarbeiten.
Wenn man sich für Akkorde entscheidet, kann auch hier auf einer Unter-Seite der Akkord als Name ausgewählt werden oder unten links gesetzt werden und einem Step in einem Takt zugewiesen werden. Wenn das Ergebnis gut ist – ok drücken und weiter machen…
So – das ist also natürlich keine KI sondern eine Art Rhythmisierungshilfe. Es handelt sich also noch nicht um algorithmische Musik(erzeugung) sondern eher um eine praktikable Hilfestellung. Auch sie kann hölzern klingen, wenn man einfach so etwas einzeichnet und ein bisschen klickt. Es ist also ein Werkzeug, welches nicht unbedingt ein intuitives Echtzeitspiel "ersetzt".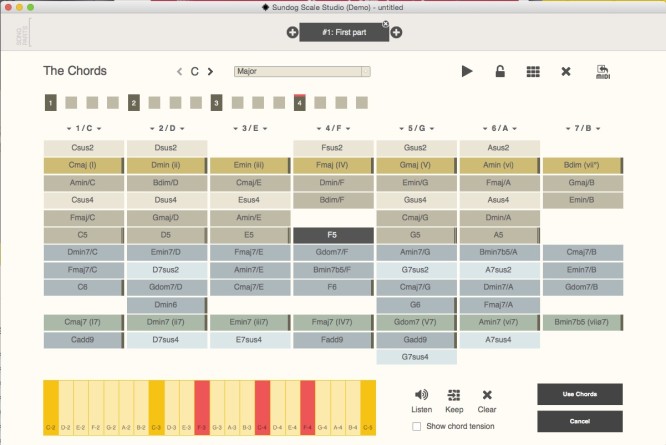 Das Prinzip ist eigentlich ziemlich einfach. Es ist in der Lage eher so etwas wie ein Step-Sequencer-Grid im Lauflicht-Stil als Master-Rhythmisierung auf Akkorde oder Tonfolgen zu legen, welche ihre Urtonöhe aus dem eingezeichneten gelben Verlauf bezieht.
Gedacht ist das als Ideenhilfe und natürlich für polyrythmische Umsetzung – quasi – out of the Box.
Damit ist Sundog:
Sequencer
-Kompositionshilfe
Variations-Werkzeug
Akkord Finder
Rhythmisierer für Melodien
Remixer für bestehende Melodien, die quasi anders phrasiert oder mit anderen Akkorden versehen werden sollen.
Hier noch ein Video dazu – es erklärt das eigentlich Vorgehen.