29.-31.5.09 Modular Synth Meeting – Fischbach (near no real city at all)
Happy Knobbing Modular Meeting – info at Synthesizer Wiki / Forum.
Everyone is invited but you need to bring a least 1 to x modular synths. Modular_Meeting Members
Wer Lust hat, kommt mit 1 bis x Modularsynthesizern und meldet sich vielleicht übers Forum oder kommt spontan…?
FORUM: 29-31.5.09 Modular Meeting / Happy K./Pfingsten/Fischbach
Übermorgen (FR) geht es los, Kerntag ist Samstag. Sonntag ist eher sowas wie ein Abreisetag, gemütlich.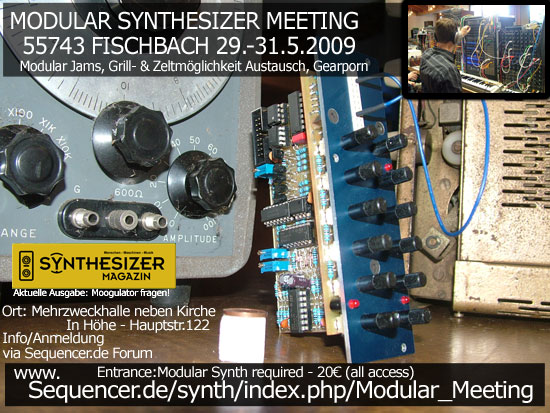 cum and kiss some germanz and their wiard modularz!
you be hear us talking and bleepin.. we don't speak languages! we just welcum ya!