wir spielen wieder live (dada-inn)! und danach spielten wir auch mit der EK-Lounge zusammen bis 1:30 open air, hier sind Bilder von der EK Lounge (bei uns konnte ich ja nicht fotografieren).. aber dest4b (danke dafür!!) konnte:

Videos:
Bulldogs www.sequencer.de/events/eklounge/bulldogs.MOV
dAdA-iNN www.sequencer.de/events/eklounge/dada-inn.MOV
update: 2 Seiten Fotos:
https://www.sequencer.de/events/eklounge/EK-Lounge_HD.html
EK Lounge Gruppenfoto ohne Dame (ohne Dada natürlich hier..)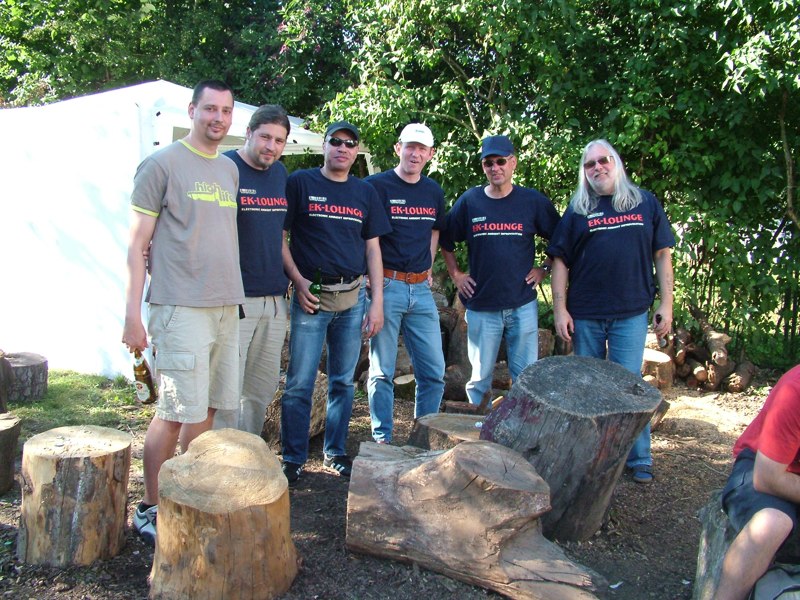 aufbau der EK-Lounge.. gleich gehts los..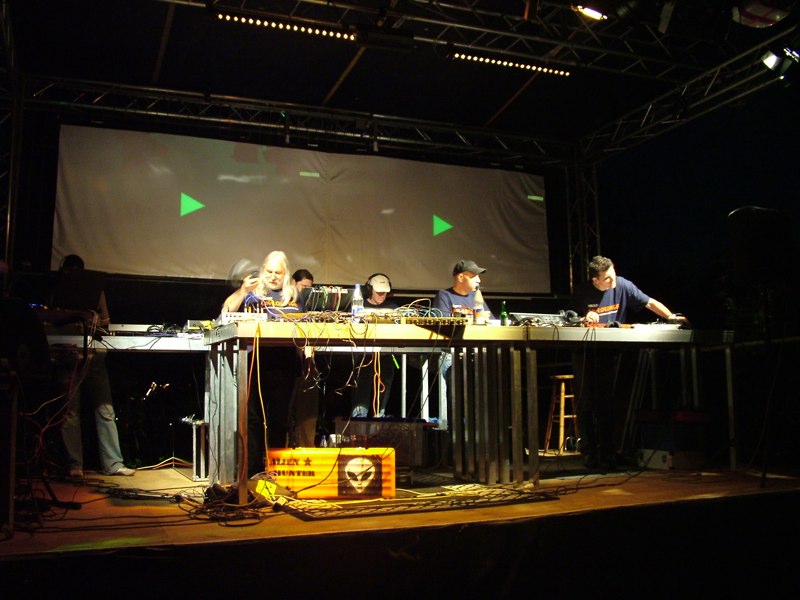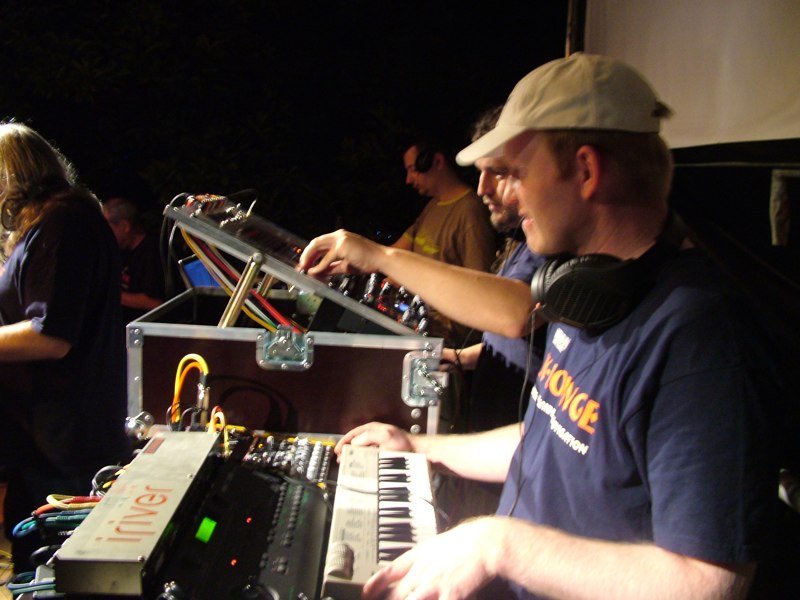 Theater gabs auch.. Er guckt doch ein bisschen wie Sven Väth?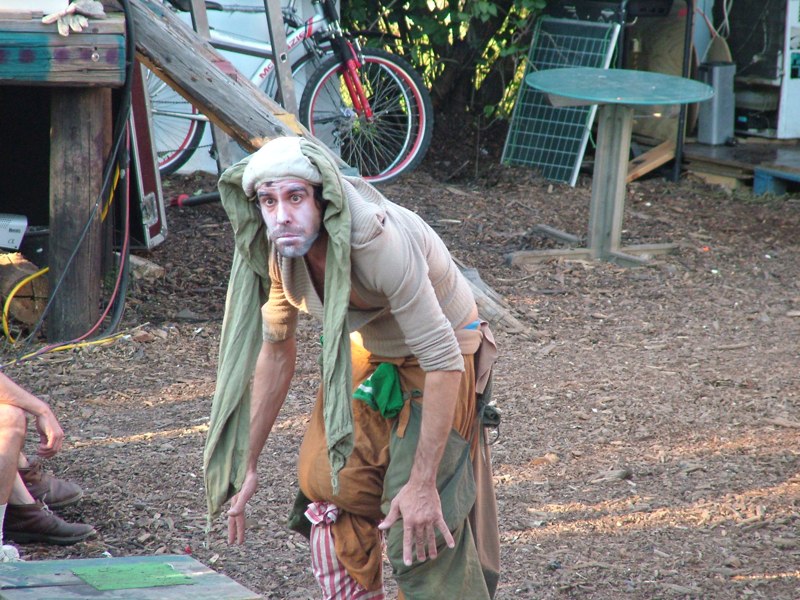 "Die Crowd" so gegen 22:30 etwa.. oder?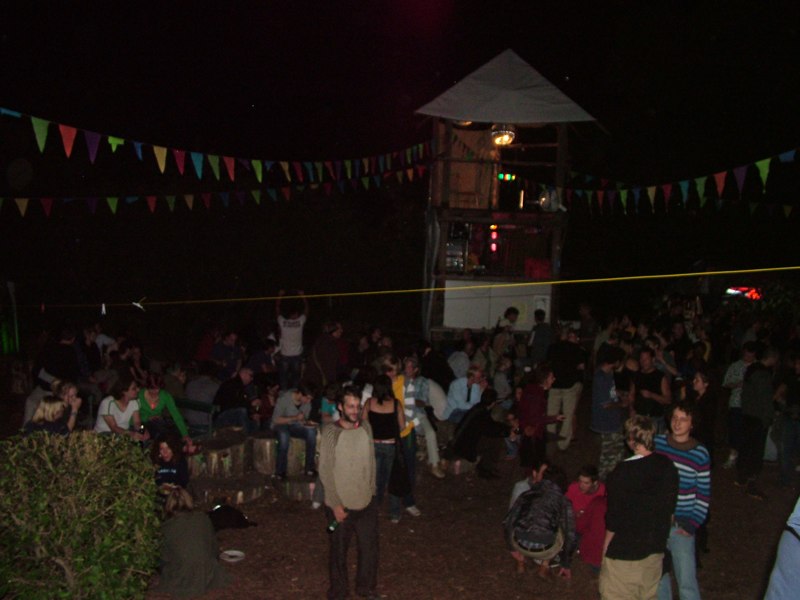 und G2 und K5000, nicht nur alles Analog, gelle?.. unserer linker Flügel der EK Lounge: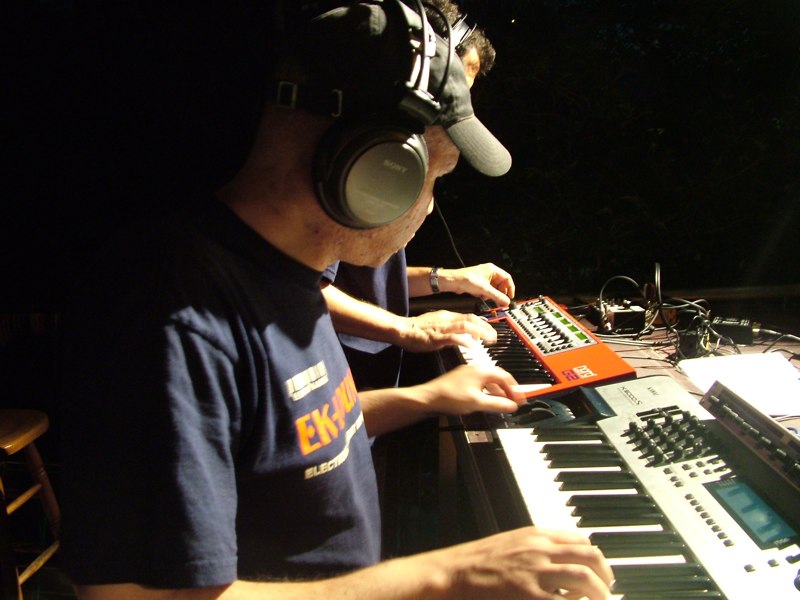 Die Bulldogs waren etwas früh dran, waren aber super (DRUMS!!! durchgehalten mit Hihats und so.. super!!)
Die Performance brachte dann währenddessen diese obskure Wäscheleine..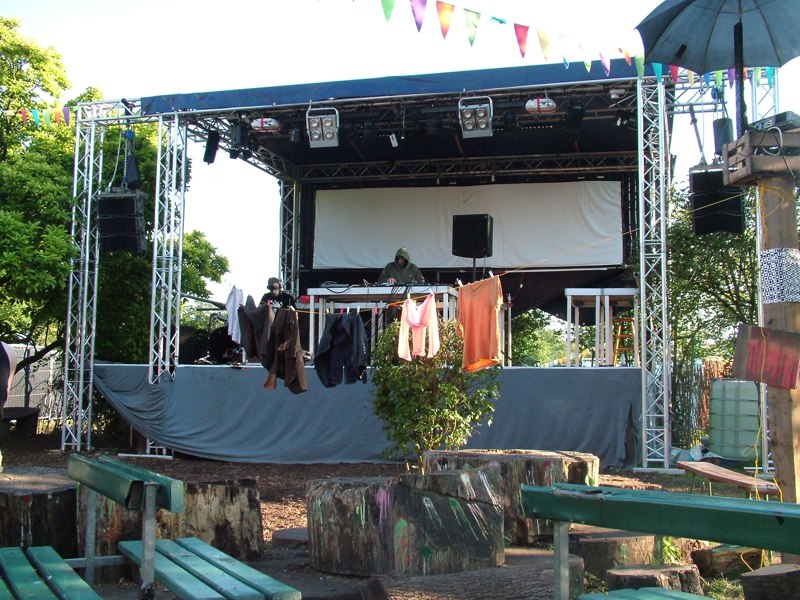 mehr FOTOS hier:
https://www.sequencer.de/events/eklounge/EK-Lounge_HD.html
Info:
http://www.villanachttanz.de/cms/index.php?id=28,82,0,0,1,
und mehr Fotos:
http://www.flickr.com/photos/34414328@N00/sets/72157601233894796/
http://www.flickr.com/photos/10999848@N07/sets/72157601237935884/

Eat Rabbit, Firestarter, Ek-Lounge, Elasticplatic, Dada Inn, Bulldogs, Der-Wartst, Zid, Undergrind



NACHTSTROM, das bedeutet 11 elektronische Liveacts auf 3 Bühnen/Floors mit Circuit- bendings, Ambience, Robotcore, Acid, Undergroundbeats, Gameboyromantik, expermental Downtempo, Noisepop, Detroit, 8bit werden so einige Facetten der hand- gemachten (Hardware only!) elektronischen Musik präsentiert. Und das 303 % live !!!
…..beginnen wird der Nachtstrom bei Tageslicht, ab ca 13uhr …..also früh kommen ist angesagt!!!

13.00 flaaps vs. Triggerz
http://www.myspace.com/flaaps
http://www.myspace.com/triggerb
14.15 undergrind (Berlin)
http://www.myspace.com/undergrinder
15.45 bulldogs (Karlsruhe)
http://www.myspace.com/dirtybulldogs
17.15 dada inn (Köln)
http://www.dada-inn.de
20.00 ek lounge (Rhein-Main)
http://www.myspace.com/elektrokartelllounge


nic knochel (dj)
andy (dj)
kaneda (live / Karlsruhe)
http://wetware.hypnotix.de
zid (live / Frankfurt)
http://www.myspace.com/ziddabit
elastic plastic (live / Würzburg)
http://www.myspace.com/bash64
http://www.myspace.com/daroeder
daniel genzen (dj)



der warst (live, Offenbach)
http://www.myspace.com/derwarst
firestarter (live / Rotterdam, Holland)
http://www.myspace.com/firestartermusic

eat rabbit (live / Lyon, Frankreich)
http://www.myspace.com/eatrabbit
Mforcer (dj)
D.N.Y (dj)

eat rabbit
A psycho dynamic music with a background of crazyness and humour,
that's what can this weird animal can bring. A rabbit which has
been eposed too long to FM radio stations. This weirdos has toured
around europe with many artists of the alternative scene during
these past 5 years and now he comes back with a new Robotpopcore
gameboy live set crazy as ever. This small carot eater will bring
you in his hole just the time of a stupid and hairy liveset.
firestarter
"firestARTer" aka Thomas Margolf, the self named 'Oldschool-Audio-Nerd'
makes music since a lot of years in his bedroom, which is located in
the oldindustrial city Wuppertal in Germany. In 1998 he got a good
base for his style at micromusic. Gameboys, Commodores and toy-instruments, mixed with modern synth and beats makes the characteristics of his tracks. In 'Live Mode' you can see him playing his songs with a Gameboy and a Commodore 64 on stage. Together its a nice danceable mixture !
der warst
der Warst ist eine Art Band, die aus einem Menschen und vielen bis zur tonalen
Unkenntlichkeit modifizierten Geräten besteht. Alle Mitglieder haben gleiches Stimmrecht,
deshalb wird's meistens seltsam. Musikalisch findet sich das ganze auf dem weiten
Feld zwischen Pop, Techno und Noise wieder. Für Schubladen- oder Hypefanatiker
könnte man dafür einen bekloppten Begriff wie "Breakhouse" erfinden. Mal ist der Beat gerade, mal nicht, mal ist er gar nicht da, dann kommt er wieder und so weiter…
EK-lounge
Die Elektro-Kartell Lounge (EK-Lounge) ist ein Projekt für live improvisierte Ambient-Musik. In regelmäßigen Sessions versuchen die Akteure mit Ihren elektronischen Instrumenten gemeinsam einen Gesamtklang mit Ausrichtung zu Ambient- und Chill-Out-Musik zu erreichen. Die zusammengeschalteten Klangerzeuger werden nicht zentral kontrolliert. Jeder Beteiligte versucht eigenverantwortlich, mit seinem improvisierten Beitrag möglichst zurückhaltend einen passenden Anteil am Gesamtsound zu liefern. Eine perfekte Sequenz entsteht, wenn eine Dramaturgie (Intro, Anstieg, Schluß) im sich selbst regulierenden, harmonischen Music-Flow erkennbar wird.
dAdA-iNN
dAdA-iNN ist ein elektronischer Liveact zwischen den Stilen, 2003 als Zusammenschluss dreier Kölner Musiker bei der Electro-Innnunk-Köln im Club Camouflage entstanden. Nicht nur durch den reinen improvisativen Charakter klingt kein Auftritt von dAdA-iNN wie der andere, sondern auch weil das "iNN" im Namen Programm ist: Zu fast jedem Gig werden Gastmusiker/innen eingeladen, um das Klangspektrum immer wieder zu erweitern.
Bulldogs – 100% Live Underground Beats
Wo viele HipHop-Acts noch immer in der Pflicht stehen glänzen die BULLDOGS aus
Karlsruhe und Mannheim mit ihrer Kür aus übermächtigen Drumbeats, hypnotischen
Elektrosounds und progressiven Scratches. Von düster daherstampfendem Minimal
über tanzwütigen Drum'n Bass bis hin zu experimentellen Jazz-Elementen, die musikalische Bandbreite der BULLDOGS umfasst alle Stilrichtungen des modernen HipHop und drückt ihnen gnadenlos ihren Stempel auf.
Drummer und DJ, handgemachte, energiegeladene Shows und wegweisende musikalische Kunst, das sind BULLDOGS – 100% Live Underground Beats.
undergrind
"Undergrind" ist der Liveact von David Perlzweig. Das Hardwarebasierende Instrumentarium (kein Computer) ist so angelegt, dass es spontane Aktionen und Reaktionen ermöglicht. Dadurch entwickelt sich die Musik in verschiedene Richtungen. So reicht die Bandbreite von ruhigen Klanglandschaften bis hin zu harten Passagen, von Tanzbar-groovigem bis zu experimentellem jedoch ohne zu lange auf einem Level zu verbleiben.
flaaps vs triggerz
werden das festivilla nachtstrom eröffnen.mit phatten,deepen sounds,
schrägem gepolter und geklickere werden die müden festivilla besucher wach geklappert…
prepared bad bad souuuuuuundz!
elastic plastic
kobayashi aka tom.K und marco.R frickeln Techno vom feinsten!
es clickt,rattert und phatteste Basslines krachen auf prägnanteste Beatz.
4/4 detroit Hardstuff. live!
zid
Noisy-Lofi-Beats? Ravey-8bit-Hymnen? Funky-Acid-Electro?
So in etwa kann sich das anhören was zid aka Frank Kumm mit seinem Live-Projekt [Gameboy Romantik] auf die Beine stellt bzw. Ohren bringt. Unüberhörbar ist zids Musik immer mit einer Prise 8bit Charme gewürzt. Kein Wunder, denn der Gameboy ist einer seiner Hauptklangerzeuger im Set. Dabei geht es nicht immer nur hart zur Sache,
der kleine Kamerad kann durchaus auch mal Herz und Melodie zeigen. Ein kleiner
Romantiker eben! Doch wird immer der Club und das Publikum im Auge behalten
und Emotionen & Reaktionen eingefordert. So werden Songs kurzerhand neu
interpretiert und neue Hymnen improvisiert.
kaneda
acidhouse aus karlsruhe. nen alter hase in sachen live geschraube,sequenziere und gebeat…live!!
dj andy
den sollte man mal beim auflegen gesehen haben,was der mit den vinylplatten , turntables,faders veranstaltet,…
ein vielfaches vom gängigen Crossfader switch…
da kann man sich ne scheibe abschneiden!!!