Apple Special Event October 2013 – OS X 10.9 free, new MacPro, MacbookPro Retina, iPad Air & Mini Retina
Ok, it's 2 hrs left till the beginning of the Apple Event. UPDATE: 
 OS X 10.9 Mavericks for free from now & available now. All OS X'es will be free from now!
Musicians – check under APPLE -> more (deutsch: weitere Informationen) -> Software/Apps (deutsch: Programme) what is listed under Power PC, if you are running Snow Leopard you will loose these, but there's replacement for quite a lot of those. you can sort your App List (the software you are using) by just klicking on "type" (deutsch: "art") – for everyone who feel well about finding replacements – do it, for keepers – maybe check out now and update when you are sure you don't need some old Power PC stuff..
INTEL Code will run, non Intel won't! and while you are looking 64bit is better than 32bit, that may be the next … prefering 64bit and maybe radically kill older stuff. if you need sounddiver oder older editors etc. don't update!
 Macbook Pro 13/15″ Retina with Haswell Processor  200$ cheaper: $1299 (13″) / $1999 (15″) – basic configuration – available now.
MacBook Pro 13″ 2,4 Ghz Intel i5, 4GB Ram, 128 SSD: 1.299 €
MacBook Pro 13″ 2,4 Ghz Intel i5, 8GB Ram, 256 SSD: 1.499 €
MacBook Pro 13″ 2,6 Ghz Intel i5, 8GB Ram, 512 SSD: 1.799 €
Config making sense: 
13″ i7, 2.8Ghz, 8GB,  512GB SSD, 1999€
with i7 and minimum 256 or 512GB SSD! add some money!
MacBook Pro 15″ 2,0 Ghz Intel i7, 8GB Ram, 256 SSD: 1.999 €
MacBook Pro 15″ 2,3 Ghz Intel i7, 16GB Ram, 512 SSD, GeForce GT 750M: 2.599 €
UPDATE- Unibody 15″ Books are GONE!! – es gibt keine Unibody Macbooks mehr! mit 15″
 Mac Pro – 4-12 Core, 12GB VRAM, $3k – so YES it IS expensive as expected. 3,7Ghz Quad Core Xeon, 12 GB RAM & Dual FirePro-GFX (D300 FirePro GPU). comes Dec 2013
yes, they want audio pros buying it, and it IS a cool machine but quite the price of normal MPs .. in € it might be at 2.5€ just if you check for currency 3k->€, so.. it's MP without Drive Bays or HDs..
this thing in the middle – that's the Mac Pro!!

so any Mac is now Haswell or the more-core-version equipped – except Unibody Macbooks and the Mac Mini. and has PCI speed SSD slots (which is really cool – the only exception for apple to have it this expensive and unique atm).
Garageband 32 Tracks now on iOs – in fact a smaller logic more and more but still more for newbies.
new iPad Air – finally out, a bit smaller. all rumours true -> like the iPad Mini it is thinner. has A7 and M7 processors like the iPhone 5s. – coming 1. November – iPad 2 is still available btw.$499 without LTE/modem.
new iPad Mini with Retina Display 2048 x 1536 & A7 as well! – old one still available.
iPad Air 16 GB, kein LTE: 479 €
iPad Air 16 GB, LTE: 599 €
iPad Air 32 GB, kein LTE: 569 €
iPad Air 32 GB, LTE: 689 €
iPad Air 64 GB, kein LTE: 659 €
iPad Air 64 GB, LTE: 779 €
iPad Air 128 GB, kein LTE: 749 €
iPad Air 128 GB, LTE: 869 €
iPad mini 16 GB, kein LTE: 389 €
iPad mini 16 GB, LTE: 509 €
iPad mini 32 GB, kein LTE: 478 €
iPad mini 32 GB, LTE: 599 €
iPad mini 64 GB, kein LTE: 569 €
iPad mini 64 GB, LTE: 689 €
iPad mini 128 GB, kein LTE: 659 €
iPad mini 128 GB, LTE: 779 €
whats left -> only iPad 2 with 16GB available – so not that interesting – incl. musicians since you may want more power and guess which iPad will no longer supported?
same with the old iPad Mini, only 16GB version. I don't get why they still selling iPad 2's – maybe they still have some and need to get them sold.
did I mention iOs 7.03 is ready for download as well? it adds the icloud keychain and some bug fixes.
do your downloads in 2 or 3 days if you got the time, since the servers will be burning and slow tonight.
what I expected to see: – New iPad 5 series – Mavericks OS X 10.9 being released – the final golden master (gm) has been released recently, so it should be downloadable soon  – and it's free (no €) this could happen possibly new iPad Mini with Retina (or still the old display)
new Mac Book Pro Unibody (*)!?
and Pro Retina since they got rare in the shops…
they need these updates -> upgrade to new processor generation HASWELL – SSD via PCI – the Macbook Air had it's update, so the pro series needs updates, will the Unibody Books be continued – those were best for us musicians because you could still replace the DVD drive by another HD and use one SSD and the HD to keep all your samples and Apple charges more than normal for SSDs and upgrading it to 512GB or more is more than just "not cheap". also interfacing with Firewire is still better on the older unibody series compared to the retina ones. also – 3. THE NEW MAC PRO should get it's start and – we may see the prices. I expect it to become expensive or very expensive. and possibly the first Mac Pro – for audio people it might be the first really hard dicision.. ok – things like Apple TV may not be that interesting to us, .. they have a stream of the 19:00 keynote (euro time)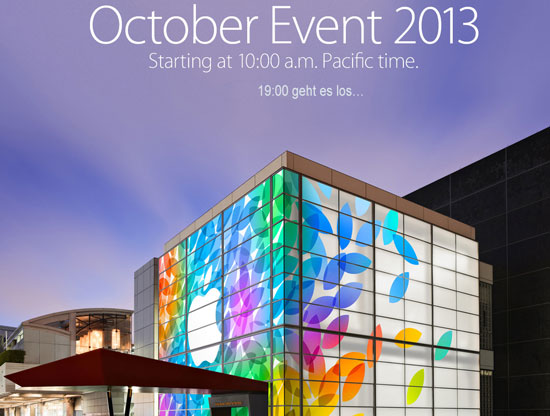 soooo, es ist wieder Zeit Apfelkeynotes anzuschauen.  Es wird sicher ein neues iPad 5 geben und das neue OS X Mavericks OS 10.9 wird bereit gestellt werden NICHTS kosten und – wie immer inzwischen – ein reiner Download sein aus dem Mac App Store. Sehr wahrscheinlich sind neue MacBook Pro Linien, da 2 Dinge unbedingt fehlen, die beim Macbook Air bereits zu finden sind:
SSDs die an PCI angebunden werden (das bringt gut 2x schnellere Operationen gegenüber dem schnellen klassischen SATA Bus – dh, den Bussen, denn es gab SATA 1-3 mit verschiedenen Datendurchsätzen)
Neueste Prozessorlinie Haswell  (bringt gut 20% mehr Leistung)
Was ist mit dem Mac Pro? Preis? Das wird spannend oder .. enttäuschend.
Ja, wie es aussieht ist das schon recht nett was Apple da gebracht hat. Der MP ist jetzt schon teuer, das ist schon auch Pro, denn man braucht ja noch Festplatten – Alles neu, jetzt fehlt nur noch der Mac Mini in der Reihe der 4.Generation – also Haswell und PCI-SSDs fehlen noch, er ist damit noch nicht so schnell wie er sein könnte.
und es ist denkbar, dass die Unibody-Serie beendet wird und man alles auf SSD-Retina umstellt. Vorteil für Musiker der Unibody-Serie war immer, dass man eine HD einbauen konnte und auf der DVD-Laufwerk verzichten konnte und somit genug Platz hat für Samples und ähnliches. Deshalb haben nur wenige Musiker bisher Retina-Macs (die zudem auch im Vergleich lange sehr teuer waren, da die SSDs klein bis superklein waren und eben insgesamt bei vernünftigen Größen ab 512GB traditionell extreme Apple-Strafpreise kosteten). Also – mal sehen was kommt. Diskussion dazu: 22.10. Cupertino, Apple Event – Neue iPads, OS X10.9, MB MP?